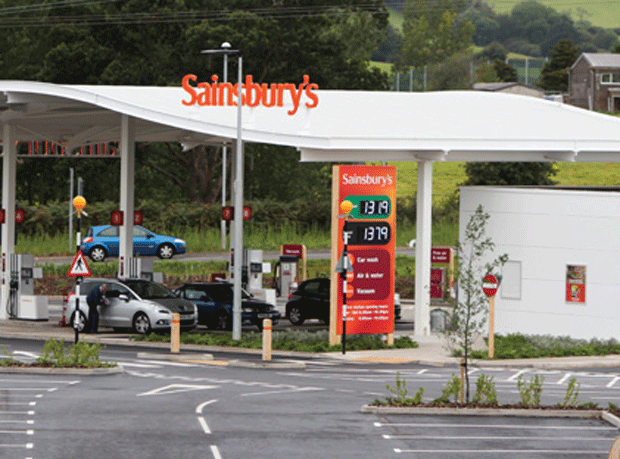 Petrol prices have opened as a new front in the supermarket price war after aggressive fuel price cuts from three of the big four.
Sainsbury's kicked off the latest wave of cuts yesterday, announcing a price reduction of up to 5p per litre for both unleaded and diesel. It was soon followed by a 5p cut from Tesco, while Asda committed to lowering its national fuel cap.
Given the falling price of wholesale crude oil, the cuts to pump prices are not necessarily unexpected and are not the first in recent months. The previous cuts, before the August Bank Holiday, were, not unusually, led by Asda – interestingly, this time it was Sainsbury's that was leading the way.
It looks to be too much of a coincidence that Sainsbury's taking the initiative over the cuts came within a week of it overhauling its in-store pricing strategy. The price cut also comes as Sainsbury's prepares to release what is expected to be its worst sales performance for a decade in its first-half results tomorrow.
Could Sainsbury's petrol price cut point to a more aggressive approach on pricing generally as it looks to get on the front foot? The depth of the 5ppl cut (far in excess of the usual 1-2ppl cuts) certainly suggests a mood of boldness at Sainsbury's HQ.
But if the supermarkets are hoping that any extra volumes of petrol sales will lead to higher revenues in-store, they are likely to be disappointed.
As Shore Capital analyst Darren Shirley explained back in August: "Historically there was a healthy correlation between cuts in fuel prices and in-store spend in supermarkets. Such a relationship, however, seems to have broken down in recent times as many consumers divert any new-found spending capability away from weekly groceries into non-food and experiences."
Additionally, the competition at the pumps has already been escalated by Tesco with its own Fuel Save scheme – the results of which are probably too early to evaluate.
But Sainsbury's action on petrol prices – and in particular its ditching of Tesco from Brand Match and shift to a "mid-low pricing strategy" – suggests the "business as usual" mantra that accompanied Mike Coupe's ascension to the CEO role has already been consigned to the past.
Of course it could be that Sainsbury's is rushing through the implementation of new strategies because of the depth of its recent drop in sales (forecast to be 4% down like-for-like in the second quarter). But it might just be that Sainsbury's has learnt from Tesco's insufficient response to its own falling sales and will look to reassure investors with a punchier strategic narrative tomorrow. "Business as usual" will no longer cut it.