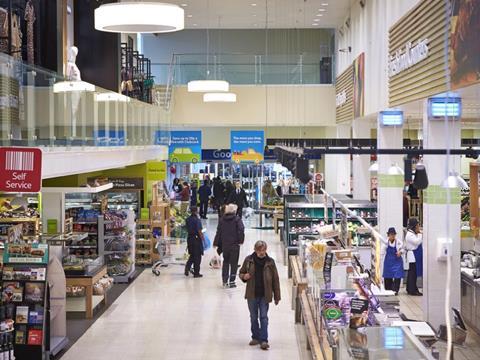 Supermarket price wars and the Rugby World Cup have provided a shot in the arm for retail sales in food stores last month, according to the latest official figures.
The Office for National Statistics (ONS) said the quantity of food bought in stores increased by 3.2% compared with September 2014 as shoppers responded to the high number of promotions centred around the Rugby World Cup and prices continued to fall.
However, deflation continued to be a double-edged sword for the entire retail industry as average shop prices, including petrol stations and non-food retailers, were 3.6% lower in September than a year earlier.
Total retail sales on the high street rose by 6.5% year-on-year – the 29th consecutive month of growth recorded by the ONS. Compared with the previous month, the quantity bought in the retail industry is estimated to have increased by 1.9%, the fastest monthly rate rise since December 2013.
The growth rate was flattered by the fact that the period covered included the August bank holiday weekend at the end of the month.
The value of online sales increased by 15.2% in September year-on-year and by 4.5% compared with August.
Ben Perkins, head of consumer business research at Deloitte, said: "With the addition of the late August bank holiday weekend, it is no wonder that September has seen bumper retail sales numbers.
"An increase in spending on groceries brings some relief for food retailers. However, the sales volume data shows that there is still significant deflation in the market due to price competition driven by continued pressure from the discounters."
Perkins added that retailers would now be busy readying themselves for what is expected to be another record-breaking Black Friday.