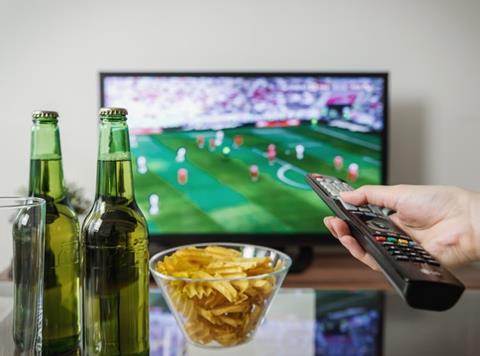 Top story
Grocery sales have jumped 3.6% in the 12 weeks to 15 July, the faster growth so far this year, as the World Cup and the prolonged hot weather boosted trading according to Kantar Worldpanel.
Kantar found Asda saw sales jump 3.7% to post its strongest growth in more than five years, and it was the best performing of the big four for the first time since December 2014.
Morrisons (MRW) posted growth of 2.9%, with the retailer's premium line 'The Best' outperforming its cheaper own-label options. Tesco (TSCO) grew by 2.3% in the period, while Sainsbury's (SBRY) was once again the weakest performer of the big four with sales up 0.8%.
Fraser McKevitt, head of retail and consumer insight at Kantar Worldpanel, commented: "Over the past month, football-frenzied customers visited supermarkets an extra 13 million times as they hurried to stock up on World Cup-viewing essentials, with alcohol in particular the stand-out winner. Christmas and Easter aside, the week that the England football team played both Colombia and Sweden saw more spent on alcohol than ever before – a colossal £287 million."
"Over the past 12 weeks Co-op experienced growth of 6.4% – its highest recorded since October 2011 – as shoppers' desire to maximise the sunshine encouraged them to shop more locally. The past month in particular saw a boost to the retailer's popularity, with shoppers returning to Co-op stores on average a record 10.1 times."
Official sponsor of the England team Lidl saw sales increase by 9.7%, but behind Aldi's growth of 10.9% in the period.
Aldi and Lidl are now on the verge of hitting a combined market share of 13% for the first time.
Nielsen also found that grocery volume sales accelerated to 2.2% over the latest four week period, the best volume growths outside of Christmas and Easter since July 2013.
Nielsen also found that shoppers spent 4.5% more on groceries in the last four weeks to 14th July, as the hottest June in more than 40 years, and the continuation of the heatwave in early July coincided with the feel-good factor of England's strong performance in the World Cup.
Excluding the discounters, sales at major supermarkets rose 3.8% and peaked at +8.7% in the week ending 30 June when the current heatwave began, with sales growth driven by shoppers buying more fresh foods, beverages and snacks.
Over the 12 weeks ending 14 July, of the top four supermarkets Asda has the most improved growth (+4.2%), followed by Morrisons (+2.6%) and Tesco (+2.3%). Co-operatives also grew by +5.6%, affirming the trend towards convenience.
Mike Watkins, Nielsen's UK head of retailer insight, said: "The last four weeks have been a strong trading period for food retailers, with volume growths the best they've been since July 2013. This is great news for retailers and manufacturers as shoppers are buying more food and drink. It's also good news that the hot summer weather looks set to continue for the next few weeks, with the hottest days of the year (35 degrees C) expected later this week.
"With the summer holiday season now truly underway, retailers will be planning inspiring media campaigns supported by compelling in-store promotions, to encourage shoppers to keep spending."
Morning update
Fever-Tree (FEVR) expects its full year results to be "comfortably ahead of expectations" after posting first half revenue growth of 45%.
In the first six months of 2018 group revenues at the upmarket mixer brand were up 45% to £104.2m, driven by 73% growth in the UK.
The Off-Trade accounted for 50% of UK sales and the company said it has continued to see strong performance driven by underlying rate of sale growth across major retailers
Fever-Tree said there is also "clear evidence" of consumers being attracted to the category for the first time, driving further category growth.
The UK mixer category continues to see rapid transformation and remains the fastest growing category in the carbonated soft drinks sector, with growth of 31% at retail in the 12 months to June 2018 and Fever-Tree increasing to a 40% value share of the market.
In the UK on-trade channel, continued strong revenue growth was achieved, driven by underlying rate of sale growth as well as an expanding distribution footprint.
International growth was slower, 15% growth in the US to sales of £15.1m, growth of 15%, which represents growth of 23% on a constant currency basis when taking into account the weakening of the US dollar.
The group transitioned to wholly-owned operations in the US on 1 June 2018 with the Fever-Tree US team now directly managing marketing, sales and distribution efforts
It has also signed with Southern Glazer's WINE and Spirits, the largest North American wine and spirits distribution company, to be the group's exclusive distribution partner in the on-trade channel across 29 US states effective from 1 August 2018
In continental Europe, revenue growth of 17% to £25.8m represented growth of 15% on a constant currency basis.
Overall gross profit margin was in line with expectations at 53.2%, with the group delivering an adjusted EBITDA up 35% to £34.0m representing a margin of 32.6%.
Tim Warrillow, CEO of Fever-Tree said: "The first half of 2018 has been one of major progress for Fever-Tree. The Group delivered a strong performance, most notably in the UK, as we continue to drive and lead the evolution of the wider mixer category. Furthermore, our relationships with key customers and spirits partners mean we are increasingly well positioned as the growing move to premiumisation and long mixed drinks continues to develop across the globe.
"We have successfully launched our wholly owned US operations with a talented team recruited and now in place. The exclusive distribution agreement with SGWS, the largest North American wine and spirits distribution company, is a significant endorsement and provides a strong platform for Fever-Tree US in 2019 and beyond.
"Given the strong performance in the first half of the year, the Board anticipates that the outcome for the full year will be comfortably ahead of its expectations."
Britvic (BVIC) has reported a 3.4% increase in third quarter revenues to £366.9m, though revenue excluding the soft drinks levy fell 0.6% in the period as the CO2 shortage hit sales.
GB revenue increased 8% in the period (up 1.9% excluding the sugar levy), with GB carbonates revenue increasing 6.1% (representing a fall of 2.9% excluding the soft drinks levy).
Pepsi continued to gain share, led by MAX, however the disruption to the supply of carbon dioxide into the UK and Ireland within the period impacted sales.
Britvic temporarily scaled back promotional activity and reallocated some of its secondary feature space to stills. Supply has now normalised, enabling it to start rebuilding stock levels and gradually reintroduce promotions.
GB stills revenues were up 11.9% in the period, with underlying performance continuing to improve, led by strong growth for both Robinsons and J20.
Ireland revenue increased 11.3% (+6.6% excluding the soft drinks levy), France revenue declined 15.0% reflecting both a very strong comparative last year and exceptionally poor weather in June this year, while international revenue increased 8.7% in the quarter.
CEO Simon Litherland commented: "Britvic has delivered a strong underlying performance in the third quarter, through continuing outstanding execution of no sugar carbonates and substantial growth from our stills brands. Whilst the industry-wide shortage of carbon dioxide held back our ability to fully capitalise on the exceptional weather in GB and Ireland, we leveraged the breadth and strength of our portfolio to moderate the impact. Consequently, we remain confident of achieving market expectations for the full year."
PZ Cussons (PZC) has reported a full-year fall in revenues and profits in the year to 31 May due to weakness in its key market of Nigeria.
Group revenue was 5.8% lower on a reported basis and 2.3% lower on a constant currency basis at £762.6m.
PZ Cussons blamed "very tough" trading conditions in Nigeria for the majority of the reduction in adjusted operating profit, which was 18.2% lower on a reported basis and 15.9% lower on a constant currency basis.
After higher interest charges for the year, adjusted profit before tax was £80.1m versus a prior year result of £102.0m. Statutory profit before tax fell to £66.6m from £86.5m in the prior year.
PZ Cussons said Asia contributed good profit growth and Europe delivered a creditable result given the challenging trading conditions in the UK, the sharp decline in Africa profits resulted in a "disappointing outcome" for the group as a whole.
It said the markets in which the group operates in Nigeria contracted sharply as a result of a lack of liquidity at both consumer and trade level.
As macro conditions remain challenging across its business, further margin improvement initiatives are being implemented across all aspects of the supply chain as well as further optimisation of the group's operating model to reduce overheads and improve the speed at which new products are brought to market.
Sales in Africa were down 9.8% and by 2% on a constant currency basis caused by a significant market contraction in Nigeria resulting in competitive trading conditions and lower volumes, prices and margins.
Asia's revenue was 4.8% lower on a reported basis and 1.8% lower on a constant currency basis, while Europe's revenue was 2.1% lower on a reported basis and 3% lower on a constant currency basis.
A good performance by its beauty division both in the UK and in the US partially offset lower revenue and profit in the UK Washing and Bathing division which was noticeably affected by the tight UK retail landscape.
On the markets this morning, the FTSE 100 is up 0.1% to 7,664.7pts.
Fever-Tree has jumped 6.9% so far this morning to 3,693p on yet another earnings upgrade.
Britvic (BVIC) has fallen 0.8% to 773p after this morning's news, while PZ Cussons is down 3.4% to 210.4p.
Elsewhere, risers include Stock Spirits Group (STCK), up 2.9% to 228.5p, Premier Foods (PFD), up 1.7% to 44.5p and McBride (MCB), up 1% to 138.5p.
Fallers include Sainsbury's after the market share data, down 1.1% to 321.6p, Associated British Foods (ABF), down 0.6% to 2,433p and Marks & Spencer (MKS), down 0.5% to 307.2p.
Yesterday in the City
The FTSE 100 slipped back 0.3% to 7,655.7pts on Monday to start the week on a downbeat note.
Convenience group McColls (MCLS) plunged 13.8% yesterday back to 181p after announcing its profits had been slashed by the collapse of wholesaler P&H in the first half of the year.
There was better news for Ocado (OCDO), which was the FTSE's biggest riser as it climbed 5.5% to 1,143p yesterday and set another all-time share price high of 1,150.5p in the process.
Other risers yesterday included Nichols (NICL), up 1.9% to 1,510p, Just Eat (JE) up 1.8% to 878.4p, Applegreen (APGN), up 1.7% to 534p, and Associated British Foods (ABF), up 1.6% to 2,448p.
Fallers were more numerous, including PZ Cussons (PZC) ahead of its annual results this morning, down 2.5% to 217.8.
Also down were Greencore (GNC), down 2.2% to 174.4p, TATE & Lyle (TATE), down 1.9% to 622.6p, Imperial Brands (IMB), down 1.8% to 2,863.5p, Greggs (GRG) down 1.7% to 953.5p and WH Smith (SMWH), down 1.7% to 1,910p.