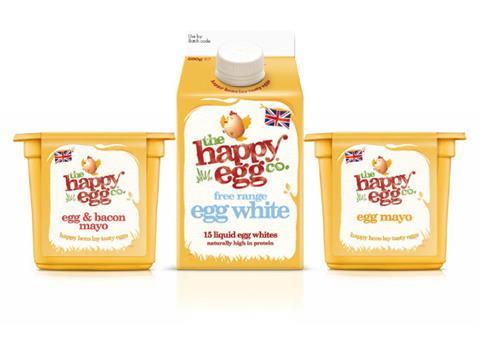 Noble Foods has expanded the scope of its Happy Egg Co brand outside shell eggs with the launch of new liquid egg white and sandwich filler variants.
The free-range egg brand rolled out cartons of egg whites into Asda and MuscleFood last week (rsp: £3/500ml), while the egg mayo and egg & bacon mayo sandwich fillers are set to launch in Morrisons from 21 April (rsp: £1.50/220g).

The Happy Egg Co previously launched non-shell egg products - in the form of quiches - in 2011. However, they were delisted within a year after going on sale.

To promote its egg white cartons, Happy Egg has collaborated with MuscleFood on a three-month social media campaign focusing on educational messaging, which will aim to harness the online retailer's 80 million brand views per month.

"The product is fat-free and carb-free, so it appeals to those looking to build and maintain muscle mass," said MuscleFood commercial director Nick Preston. "But the fact they've taken the hassle out of an everyday product will appeal to people looking for convenience as well.

"We sell 15,000 litres of liquid egg whites per month, so the size of the prize for a major producer like Happy Egg could be huge. Our campaign will be showing people what they can do with egg whites, from scrambling them, making egg white pancakes and traditional desserts like meringues and soufflés too."

The chilled cartons contain 43 calories and 10g of protein per 100g. Both the egg whites and egg mayos are also set to benefit from PoS signage and digital outreach to support the launches.

The sandwich fillers would become the first branded offering in the £108m chilled dairy filler market, where egg mayo was a bestseller [Kantar 52 w/e 25 March 2018], the brand said.

"We are confident that by applying the principles of bringing innovation that meets consumers' needs and stays true to our welfare credentials to our latest NPD, at a time when eggs are booming, we'll be setting ourselves up for success," said category & marketing director for parent company Noble Foods Stuart Agnew.

Noble Foods was forced to defend its animal welfare standards earlier this month after a Sunday Times exposé claimed eggs sold under the Happy Egg Co brand were laid by 'mutilated' hens.

It said it would take legal action against the newspaper after its article claimed the Happy Egg Co sourced chicks from German hatchery Brüterei Hölzl, which had been subjected to "cruel" beak trimming methods.

But in response, Noble Foods said the piece was factually incorrect "on a number of issues", with no chicks from the hatchery used by the Happy Egg Co brand, with all of the brand's chicks bred in the UK.