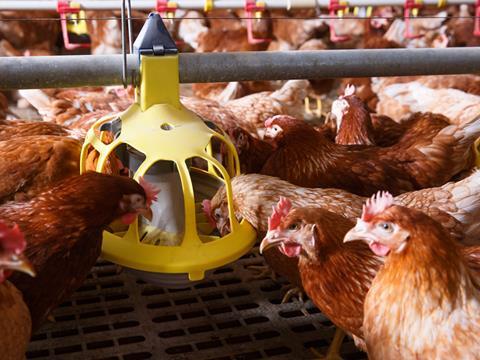 Nestlé has committed to bettering the welfare of chickens used by its Buitoni, Herta, Wagner and Maggi brands by 2026 with a series of pledges designed to improve standards in its supply chain.

As part of a responsible sourcing push across its European business, all Nestlé products that use chicken will have to adhere to the requirements laid out by the European Broiler Ask, a document approved by 25 ­animal welfare groups.

Nestlé's brands will have to ensure its chicken suppliers comply with all EU animal welfare laws and regulations, in addition to implementing a maximum stocking density of 30kg/m2 or less, and eradicating cages and multi-tier systems.

Chicken suppliers will also have to open their doors to third party auditors, improve air quality, natural light and space standards, and adopt "breeds that demonstrate higher welfare outcomes".
Chilled meat brand Herta will start the process by making changes to its sourcing of chicken from 1 January 2019, as part of a longer-term transition to higher welfare standards.

Meanwhile, Buitoni, Wagner and Maggi would "engage suppliers and stakeholders to assess how chicken ingredients sourced for these products can meet higher welfare standards while maintaining consumer access to affordable, high-quality product choices", Nestlé said.

Consumers wanted to know where their food came from and how it was made, said Nestlé Europe, Middle East and North Africa CEO Marco Settembri, who added the commitment would ensure the company "improves welfare standards for millions of chickens used in our food products".

It follows a similar pledge to improve animal welfare in Nestlé's US business and a global pledge to source only cage free eggs by 2025 last year.