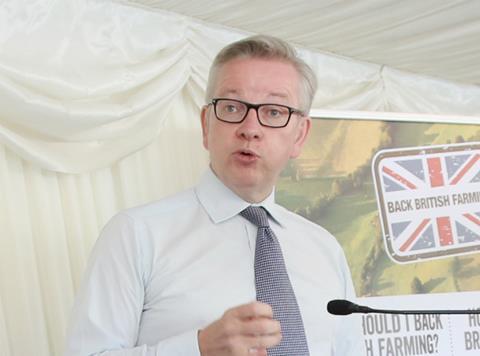 Environment secretary Michael Gove has pledged to "liberate" the UK agrifood sector and invest in the environment ahead of the unveiling of his long-awaited Agriculture Bill later today.

The new system of "public money for public goods" will be presented to parliament this afternoon and would support a 'green Brexit' and deliver better environmental outcomes, Gove said. This would allow the UK to "take back control for farmers after almost 50 years under EU rules".

The legislation will include the gradual abolition of "ineffective" Common Agriculture Policy direct payments to farmers over a seven-year transition period. The payments will be replaced by a new Environmental Land Management system, which will be phased in from the beginning of next year. It will pay the agriculture sector based on how it contributes to improving aspects such as air and water quality, soil health and animal welfare standards.

Defra said the bill would also set out how the government would "strengthen transparency in the supply chain to help farmers get a better deal in the marketplace".

Funding will also be made available for farmers to develop and "get the research projects that they want and need, whether that be on soil health or sustainable livestock farming", Defra said. Farmers would also get payments to invest in new technologies and methods that boosted productivity.

This would lead to practical gains for farmers that helped them become "more profitable and reduce their environmental footprint".

"This bill will allow us to reward farmers who protect our environment, leaving the countryside in a cleaner, greener and healthier state for future generations," Gove said.

"Critically, we will also provide the smooth and gradual transition that farmers and land managers need to plan ahead."

The publication of the bill comes amid growing speculation over the government's Brexit negotiating position and the future of prime minister Theresa May, following rumours of a rebellion by hard-line Brexit-supporting MPs who favour a no-deal scenario.

Meanwhile a report published by the National Audit Office yesterday warned Defra would not be ready for a no-deal Brexit and had "missed a high proportion of its project milestones".

It paid particular concern to its failure to strengthen its control and enforcement activities in English fishing waters, its negotiations with 154 non-EU countries to agree the acceptance of UK versions of over 1,400 export health certificates, and a failure to significantly increase the UK's veterinary capacity.

But in response on the BBC's Today Programme this morning, Gove said Defra was preparing for "every eventuality", and was increasing the number of vets available.

"We won't have food rotting or animals being destroyed by the side of the road," he said.