Consumer demand is seeing retailers and brands swap out plastic packaging and bags in favour of paper and cardboard. But is this the right move?
The humble paper carrier bag is back with a bang. Earlier this month Morrisons announced it will offer them in all stores from May. The 20p bags will save 1,300 tonnes of plastic a year, it claims, and follows its switch to paper bags for loose fruit & veg last summer.

But it's not just Morrisons. From straws to pizza bases, from Iceland's paper banana bands to the cardboard packs for Guinness cans launched this week, the industry is reconverting to paper and cardboard.

So how big is the shift from plastic? And is it actually good for the environment?

According to Andy Barnetson, director of packaging affairs at the Confederation of Paper Industries, it's a sea change. He thinks Morrisons' paper bag is the start of a trend that will quickly spread across the mults.

"The consumer wants it and retailers respect that," he says. "We're going to see a major change. It's been commonplace in America for decades and that's the way we're headed."

CPI figures show production of board and paper packaging rose by 5.8% from 2016 to 2018, a figure that belies sharper rises in specific areas and uses, such as e-commerce, according to Barnetson. "We all know Amazon deliveries come in cardboard and that's an area of huge growth."
"The consumer wants paper and retailers respect that"
The Grocer's test of rapid delivery services from Sainsbury's, Waitrose and Ocado Zoom last month found they, too, were dispatching ­groceries in paper bags. It's "a new market" which has been an "opportunity for paper and cardboard", says Barnetson

It's also making inroads in old markets, usurping polystyrene trays for fish & chips and other takeaways. A couple of years ago supermarket pizzas "almost exclusively had flat white polystyrene trays and now it's nearly always cardboard," adds Barnetson.

In the supply chain, too, plastic fruit & veg crates are being steadily displaced by cardboard ones thanks to new standards that make them stackable and more durable for journeys "sometimes literally halfway round the world", says Barnetson.
A close call
But while more carbon emissions are produced by the production of the plastic crate, at the end of its journey it can simply be reused, whereas the cardboard must be recycled. The difference between the environmental impact of the two is "very, very close", Barneston admits. In the cardboard crate's defence, he adds that it can be recycled in the country of destination, while plastic one will need to be washed and may make a return journey empty. "In which case there's a journey there that you wouldn't need to take with cardboard."

The benefit is no clearer when it comes to carrier bags. Comparison studies "tend to support the notion that polyethylene comes up trumps," according to Angela Fredericks, industrial issues exec at the British Plastics Federation.

And a 2011 report by the Northern Ireland Assembly found it took more than four times the energy to make a paper bag as it did a single-use plastic one. It claimed 'forests must be cut down', with 'subsequent manufacturing of bags 'resulting in greenhouse gases'.

Because they were bulkier it would also take 'approximately seven lorries to transport the same number of paper bags as can be transported by a single lorry full of plastic bags'.

Barnetson disputes some of those conclusions. "We're harvesting trees that have been grown for the job," he says.

Morrisons says its paper bag is made from "sustainably managed forests" using "100% green energy" in a Welsh paper mill running on less than 2% fossil fuels, giving it a carbon footprint no bigger than a plastic bag for life. But it's certainly accepted that, as with plastic bags for life, paper bags must be reused to have a lower global warming potential than a single-use plastic one. A 2006 Environment Agency study calculated how many times bags needed to be reused to achieve that potential. It put the number for paper bags at three, one fewer than was needed for plastic bags for life.

Barnetson argues four or five uses from a paper bag is realistic, while Morrisons says its new bag is "tough enough to be reused many times". And though it remains frequently cited, the EA study is out of date, says the Carbon Trust. "Things will definitely have changed since 2006," says director of business services, Laura Timlin. "The UK electricity grid has massively reduced in its carbon intensity. In some places there have been big improvements in manufacturing energy efficiency. And vehicles have become far more fuel-efficient. However, we haven't done any recent life cycle assessment work ourselves in this area."

According to Timlin, there is "no simple answer" on which is best for the environment. And other factors should be considered beyond carbon emissions, including the spectre of "plastic waste in the natural environment" and the finite nature of oil as a resource.

Paper has the "advantage of being readily recyclable in home waste collection", though there are problems if it is not. "If paper bags end up in the wrong bin and decompose in landfill the organic matter can break down to produce methane, which is more powerful as a greenhouse gas than carbon dioxide," says Timlin.

Neither are compostable plastic bags a straightforward solution, because most "need to be put into a commercial composter at a high temperature, which often doesn't happen." Home compostable bags arriving on the market have not yet been thoroughly evaluated.

The Co-op last year introduced a 5p plastic bag approved for home composting while also promising reusability, according to Iain Ferguson, its food policy environment manager. "We need to encourage use of reusable bags, made from recycled materials and designed to be recyclable at the end of their life," he says. "That's where our compostable carrier bag comes in. It's as strong as a single-use bag, but designed with an invaluable second purpose: as a food waste caddy liner."

But reuse for other purposes also raises problems, according to Barnetson, "There are starting to be real concerns over hygiene. If you reuse a bag you have to be conscious of how it was used before."

Barnetson accepts paper and cardboard ending up in landfill is undesirable. But he argues the industry can recycle the material even if it's greasy "as long as solid food has been removed", and the solution is more consistent council collections. "We need government focus on what local authorities can and should collect and to be fair we're going through that exact process now with a series of consultations."

Indeed, consistent local authority recycling schemes across England, including uniformity of bin colours and collection of paper and cardboard, are part of the government's Resources and Waste Strategy.

Perhaps this, then, is how the rise in paper and cardboard will cut plastic waste, without a price to pay in global warming.
Bigger than bags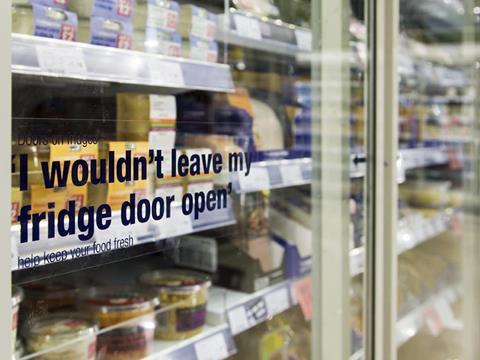 While the relative carbon footprint of bags draws attention, their impact is small compared with other environmental measures supermarkets could take, according to the Carbon Trust's director of business services, Laura Timlin. Here are four she says would more than offset the difference between single-use plastic and paper bags.
Fridge doors: Having a closing door on chiller cabinets can massively reduce overall energy consumption.
Smart logistics: There are a lot of ways to cut fuel consumption, from improved training for drivers to double-height trailers and better reverse logistics.
Communication: Consumer change can be unlocked through providing information on sustainable choices, such as highlighting seasonal produce and benefits of concentrated products.
Waste prevention: Small changes can make a serious difference when considering approaches to best before dates and promotions on perishable goods.