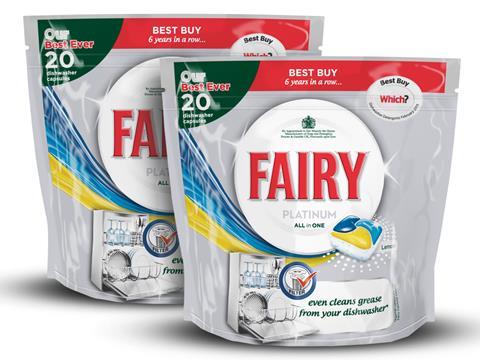 Procter & Gamble has unveiled plans for a major green initiative that will see the company eliminate phosphates from all Fairy dishwasher lines globally by the start of next year, in line with new European restrictions.

The move to reduce the brand's global footprint in retail and hospitality will result in the removal of 14,000 tonnes of phosphates from Fairy products, enough to cover 270,000 football pitches.

P&G will go beyond the requirements of the EU regulation, which states that dishwasher soaps must be limited to a phosphate content of 0.3g per standard dose by 1 January 2017. An excess of phosphates can cause algae to grow at the expense of other aquatic life when discharged into water.

P&G has been reducing phosphates since 2005 and has already replaced them in more than 95% of its cleaning products, according to global home care president George Tsourapas.

The company had spent 30 years researching environmentally friendly dishwasher formulas before finally making "a breakthrough innovation to ensure we are able to improve Fairy's ability to cut through tough food first time while removing phosphates from our ­formula," he said.

The new technology would also remove the need to pre-rinse dishes, saving up to 21 billion litres of water annually.

Other moves by Fairy to reduce its environmental footprint include concentrated handwashing liquid that the brand claims saves almost 24,000 tonnes of packaging per year.