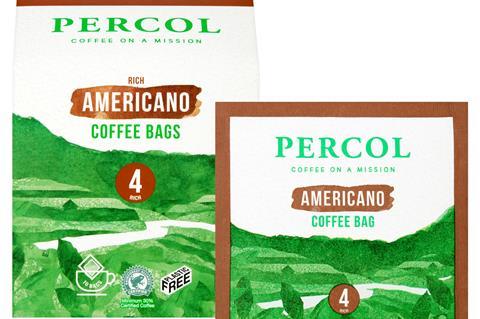 Percol has claimed a world first with the launch of a plastic-free coffee bag – as part of its ambition to become "the most ethical and sustainable retail coffee brand".
The new teabag-like format is made from a 100% plant-based material. It is polylactic acid, a biopolymer made from sustainable and renewable sources. It has a neutral odour and taste, and is industrially compostable. It can be disposed of in a food waste bin, taking 12 weeks to break down into water, carbon dioxide and biomass.
The eco-friendly bag is available now in Tesco, Co-op and Ocado across Percol's Rich Americano, Smooth Colombian and Intense Espresso ground coffee (rsp: £3.49/10 bags). It will land in Waitrose on 29 April.
Coffee bags were a fast-growing format, "attracting coffee lovers with the convenience of being able to enjoy ground coffee anytime, anywhere" said Percol MD David Brooks. "Our new range goes one step further by offering the consumer a 100% plastic-free option."
It comes around six months after the coffee brand unveiled a plastic-free, compostable pouch for its ground coffee and beans – in what it claimed was a European first.
The packaging is made from renewable materials including plant fibres and eucalyptus wood pulp. It breaks down within 12 weeks through industrial composting, or within 26 weeks when home composted.
Both innovations are part of Percol's 'Coffee on a Mission' sustainability strategy, which last saw the brand become the first UK coffee supplier to receive the Plastic Free Trust Mark from campaign group A Plastic Planet.
Percol intends to make all its products plastic-free, using only sustainable materials, by the end of 2019.