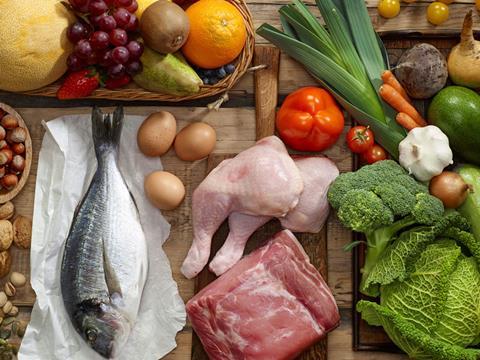 After recent calls for a meat tax, continuing Brexit uncertainty and the rise of veganism, probably the last thing the meat sector needed was a report calling for massive reductions in consumption to avoid, well… Armageddon.
But that's exactly what it was digesting today, after a new report by the Eat-Lancet Commission warned the Earth would be doomed by 2050 if the planet didn't quickly change its ways and stop gorging itself.
Feeding a growing population of 10 billion people by 2050 with a healthy and sustainable diet would be impossible "without transforming eating habits, improving food production and reducing food waste", said the commission.
Food production was currently "exceeding planetary boundaries", it warned, and was driving climate change, biodiversity loss and pollution, which would only worsen as the world's population got richer and adopted meat-heavy diets.
It is instead advocating a shift away from meat to a new 'planetary health diet' that advocates a 50% decrease in global consumption of foods such as red meat and sugar. It also recommends consumption of nuts, fruits, veg and legumes should double.
Such a shift could prevent approximately 11 million premature deaths per year, the group suggested. It was welcomed as "ground-breaking" by the Soil Association, but the resulting response from the meat sector was unsurprisingly negative.
It downplayed "the much-needed nutritional benefit of animal protein in the human diet", according to the British Meat Processors Association. Meanwhile, the AHDB pointed out "no study has specifically assessed the environmental impact of diets based solely – or largely – on plant-based protein".
Others, such as the NFU, said the importance of livestock production on the UK's grassland had been downplayed. It was "a very good store of carbon, helping to mitigate the effects of climate change" it said.
Meanwhile, Patrick Holden, CEO of the Sustainable Food Trust, took issue with the report's focus on poultry as a sustainable alternative to red meat, despite its intensive production and dependence on highly processed feed.
It also ignored the importance ruminants had in vegetable production, he added. "They've thrown the grass-fed ruminant baby out with the bathwater at the expense of intensive chicken," he claimed.
It wasn't just the meat sector that voiced concerns.
Food journalist and Grocer columnist Joanna Blythman questioned the vegan-friendly slant to the research, and Eat-Lancet's big business backing, pointing to its links to the World Resources Institute thinktank.
She slammed the research as a "top-down attempt by a small, unrepresentative, dogmatic global elite to mould public agriculture policy".
But one of the report's authors, Tim Lang of City University, told The Grocer the report was far from "an anti-meat report". Instead, he said, "meat has got to be produced in a sustainable way".
He also stressed: "We need more signals to farming to produce more plants, more horticulture and less intensive agriculture" of the sort found in intensive dairy and meat farming.
"It's a waste of land and a waste of water. It's bad for biodiversity," he added.
As for the suggestion he and his fellow report authors were part of an 'elite', he said: "We're elite because we're a bunch of professors. That's our job. You either enter into [Michael] Gove territory where you say you don't want to know what experts say [or you don't]."
"Ultimately, this report says you can eat meat as part of a healthy diet in multiple different ways," Lang insisted.
"But it is saying if we don't do this, a brick wall hits us later. If food carries on developing in the way that it's doing at the moment, were adding to humanity's extinction."
Getting the food industry to agree on a way forward on such a thorny issue could make the current Brexit impasse look like a walk in the park.