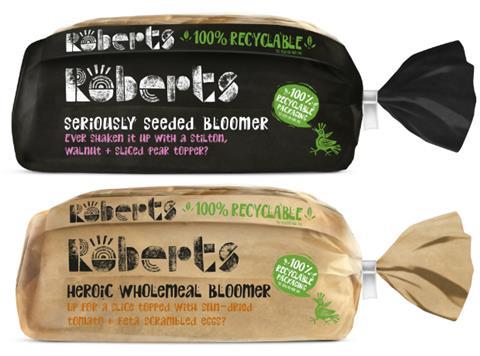 Roberts is set to pack its loaves in a 100% recyclable wrapper, which the business claims is a first for a UK bakery brand.
From mid-October, a three-strong range of artisan bloomers – Heroic Wholemeal, Wondrous White and Seriously Seeded – will be available in packaging wholly suitable for domestic kerbside collection bins.
It will replace the current wrapper, introduced a year ago as part of Roberts' major brand overhaul, which is 85% paper with an unrecyclable polypropylene window. The new pack's window, however, is PET, which is widely recycled. Rsp is unaffected.
The launch marked the business' first step in its commitment to making all its packaging 100% recyclable or compostable, it said. "It's also a move that supports Roberts' sustainability aspirations and meets growing consumer and customer demands – and, indeed, expectations – for manufacturers to provide alternatives to plastic packaging."
The bakery was "absolutely delighted to now embark upon this exciting journey and even more so to be the UK's first bread brand to take the lead in doing so" according to MD Stuart Spencer-Calnan.
Roberts' packaging team was "continuously researching and trialling different products – and working with many international suppliers – to cut plastic pollution and widen our sustainable offering and help reduce the environmental impact of plastic" he added.
"The steps we've taken so far are relatively small but highly significant, for both Roberts and the category as a whole, and we urge other bakery brands to catch us up."