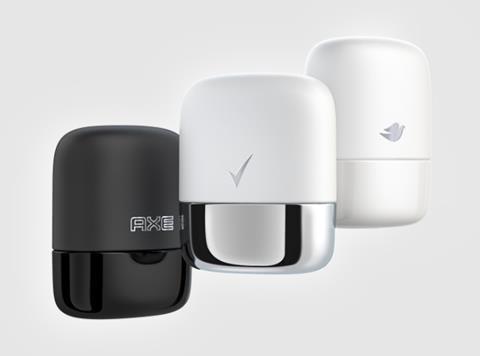 Unilever has unveiled a ground-breaking sustainability initiative that will see nine of its brands available in reusable packaging via an online store.
Packs and refills are to be trialled on Loop, a global e-commerce platform unveiled today (24 January). The "waste-free, first-of-its-kind" service brings together a coalition of consumer goods companies including Mondelez, PepsiCo and Nestlé, along with international recycling company TerraCycle.
How Loop works
The consumer orders products from the likes of Unilever, Mars Petcare, Mondelez, Procter & Gamble, Jacobs Douwe Egberts, PepsiCo and Nestlé.
The goods are delivered to the shopper's door
Empty packs are placed in the provided t ote bag.
The bag is collected and shipped back to Loop to be cleaned and resold
"Consumers will no longer own the package" says TerraCycle. They will own only the contents, while "the manufacturer retains ownership of the packaging".
Loop was "an innovative new business model for premium durable packaging, which is delivered directly to the consumer, returned and refilled" for resale, Unilever said.
The platform offered "the opportunity to work with others at scale to test reuse models and shift consumer behaviour, which will help make circular packaging systems commercially viable".
Unilever will offer new, reusable packaging made from aluminium and glass for Hellmann's, household ranges Seventh Generation and Love Home & Planet, and personal care collections REN Clean Skincare and Love Beauty & Planet.
Three Unilever deodorant brands will test a new format via Loop. Dove, Rexona (known as Sure in the UK and Degree in the US) and Axe (Lynx in the UK) – which together reach more than one billion people globally every year – come as a refillable deodorant stick called Minim.
Made from stainless steel, the design was "minimal, compact and sustainable, offering a new consumer experience without any unnecessary materials" according to Unilever.
Each Minim stick will last one month on average, with the packaging designed to endure at least 100 cycles – meaning it will last about eight years.
Unilever's oral care brand Signal has also unveiled a new product format: refillable toothpaste tablets called Tooth Tabs, which will allow consumers to clean their teeth using less water. They chew the tablet, brush and rinse.
Unilever wanted to "put an end to the current 'take-make-dispose' culture" and was "committed to taking big steps towards designing our products for reuse" said CEO Alan Jope. "We're proud to be a founding partner of Loop, which will deliver our much-loved brands in packaging which is truly circular by design."
The first markets to pilot the Loop platform will be France (Paris) and the US (New York) in the spring, followed by the UK later in the year, when Tesco will be the retailer partner.
Fragrance ingredients
Also this week, Unilever delivered on its 2017 commitment to voluntarily disclose fragrance ingredients across its homecare and beauty & personal care products in Europe and the US by the end of 2018.
Shoppers can now go online to see fragrance ingredient information down to 0.01% of the formulation for more than 3,000 lines including Dove, Lynx, Comfort and OMO.
The decision to disclose fragrance ingredient information was "an industry first, paving the way and encouraging many other companies to do the same" Unilever said.