Whether it's a new e-commerce platform, AI-based robotics, media measurement solutions, big data analytics, shopper traffic management or an app, technology is transforming the grocery experience like never before. While innovation was key, just as crucial was execution and a demonstrable impact on performance as a result of the initiative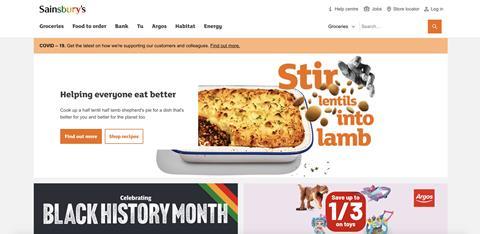 Winner: Nectar360 and CitrusAd - Next-generation e-commerce retail media for Sainsburys.co.uk
In September 2020, Nectar360 launched a new e-commerce media platform for suppliers advertising on Sainsburys.co.uk in partnership with retail media technology company CitrusAd.
At a time when the pandemic was fuelling record shopper demand for Sainsbury's online services, the service gave suppliers an easy-to-use, self-serve, performance-based media platform so they could design, deliver and measure digital campaigns.
Now, instead of booking in media campaigns as much as 12 weeks in advance, like the previous tenancy-based model, suppliers can create customer-led e-commerce campaigns that can be updated in real time to respond to changes in the environment, for example a shift in the weather or the lead-up to a major event. Once updated, the Nectar360 team then checks and approves these ready to go live within half an hour.
Shortlisted:
b2b.store - b2b.store E-commerce Platform
Just prior to the pandemic, RNF realised its longheld vision to transform into a software-as-a-service (SaaS) business.In March last year it launched b2b.store, an e-commerce platform for wholesalers and distributors.
Growth has been phenomenal. Prior to March 2020 the company was supporting 30 wholesaler apps – by the end of February this year, that number was close to 80.
SMG - Plan-Apps
Created in 2017, SMG's Plan-Apps solution was initially designed to provide a cross-retail evaluation service for shopper media to fmcg brands.
The platform now has an offering for retailers. Its client base is indicative of how effective the platform is – Plan-Apps is subscribed to by 14 fmcg brands, including multi-portfolio brands PepsiCo, Pladis, Mars Wrigley and General Mills.
Ocucon - Occupi
To operate safely in the pandemic, retailers had to limit the number of people entering their stores at any one time.
Ocucon developed a solution – Occupi – in just three weeks when the UK went into lockdown. It allows retailers to remotely monitor and manage shopper flow in and out of stores using signage, CCTV and traffic lights. Aldi has installed it in all 1,040 UK and Ireland stores.
Time Wholesale Services - Voice of the Customer
Having moved to a new 82,000 sq ft depot in Rainham in 2019, TWS became a much larger business overnight, with more complex needs, challenges, opportunities and risks.
To help, it rolled out a technological initiative last year called Voice of the Customer (VOTC), which has resulted in hundreds of improvements,and given TWS a competitive advantage over wholesale groups that are many times larger.