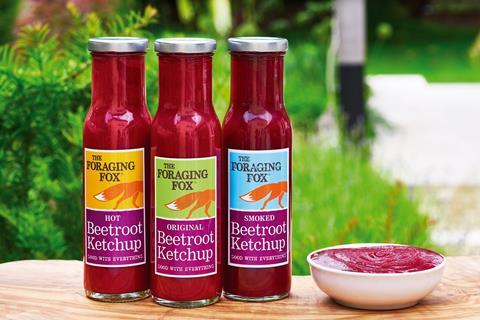 The Foraging Fox All Natural Beetroot Ketchup has been named Product of the Year at the Chefs' Choice Awards, which took place on Tuesday (5 March) at London's The Shard.
Head judge for the awards Mike Faers states the product bagged the top prize of the night because "the judges liked its bright, vibrant colour and great taste. They also praised the great packaging and appearance and felt it was really innovative. And a massive plus is it's all natural."
The brand made its foodservice debut with its three all natural beetroot ketchups at the start of the year in Honest Burger. Co-founder Frankie Fox states further out of home partnerships are in the pipeline.
"Winning the award has really set us apart and elevated our offering," says Fox. "It's a huge bonus and really gives us that credibility with larger distributors, which isn't always easy as a smaller brand entering foodservice."
The Foraging Fox range is entirely vegan and low sugar, and includes its three ketchups in Original, Smoked and Hot variants alongside a range of all natural mayonnaises, which hit retail shelves in September last year. Since launching in 2015, the beetroot ketchups have gained listings in Ocado, Sainsbury's and Waitrose, as well as several major listings in the US including Walmart.
The year ahead will see several new Foraging Fox products land in retail stores and foodservice, says Fox. "Our aim is to become a full condiment brand," she said. "We're working on new products right now, and our mayo's will be joining our foodservice range in the coming months."
Created by BigHospitality's parent company William Reed Business Media, the annual awards are designed to highlight the quality credentials of mid-market food service products and bring together professionals from the hospitality, wholesale and food manufacturing industries.
This year's awards received a record amount of entries, with over 100 products shortlisted across 19 categories including chilled salads, preserves, meat, and cheese and dairy products. Booker took home the most gongs with six Winners and eight Highly Rated products, followed by fellow foodservice giants Brakes and Bidfood.
But smaller companies were better represented than ever before. Winners included Callestick Farm Ice Cream, Map Trading, Creative Foods Europe and Essential Cuisine. The full list of Winners and Highly Rated products will be published on the Chefs' Choice website later today. [INSERT LINK: https://www.chefschoiceawards.co.uk/]
The products were judged at Food Innovation Solutions' Waterloo development kitchen by a panel that included experienced chefs from a number of different sectors. All the entries were assessed on a range of criteria including appearance, aroma, flavour, texture, value for money and innovation.
The awards give category Winners, entrants achieving a Highly Rated standard and Finalists the use of respected endorsement logos on packaging and in all marketing at no cost.
"The awards enhance the sector," says event director Sonia Young. "They allow businesses in the food service supply chain to compete head-to-head in core product categories and secure a competitive advantage via independent assessment of eating quality, value and taste.
"They also highlight great development work that's delivering value to thousands of customers in pubs and bars, restaurants, hotels, cafes and other hospitality outlets." The Chefs' Choice Awards will return next year.