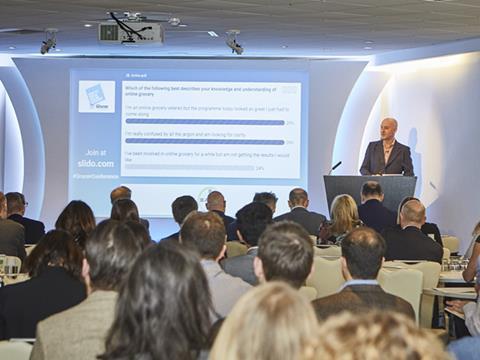 Snapchat, YouTube, Fifty, Blis, Nectar, Ocado and Virtual Store Trials are among a host of technology-enabled suppliers showcasing the digital transformation of food and drink sales and marketing at The Grocer's annual conference next month.
The conference, on 12 March, will explore how to grow sales using the latest technology and techniques in the fast-moving consumer goods space.
With insights from digital natives, seasoned practitioners and world-renowned consultants, it will offer delegates practical advice and stimulating insights into the most cost-effective sales and marketing technology solutions, as well as invaluable debates on key questions surrounding future developments.
Among the highlights, John Vary, the John Lewis Partnership's futurologist, will explore what the shop of the future will look like and how suppliers can evolve to fit in.
Nectar Loyalty MD James Moir will explain how brands can use the power of shopper data to run more effective, relevant and integrated digital campaigns. It's one of several sessions on shopper marketing.
We'll also hear from marketing experts who are driving next gen entrepreneurial brands in successfully digitising their operations.
In terms of themes, one of the most important at the conference is the role of social media: how to use it to drive shoppers into stores, including a debate led by Snapchat's head of consumer packaged goods Adrian King.
We'll also look at whether social media is a viable alternative to conventional advertising, with Google's senior industry head Emma Cremin among the keynotes.
Digital coupons and shopper marketing are among other themes explored in this wide-ranging event.
And with online grocery sales growth slowing, we will hear from Ocado's head of buying Rose Price and a host of e-commerce experts about how suppliers can work more effectively with the leading supermarkets and what the catalysts for future growth might be.
Delegates can also choose from one of three breakout sessions tackling how to get the best value out of data, how to maximise opportunities to work with supermarkets and how couponing has evolved in the digital age.
"Growth is elusive right now," said Adam Leyland, editor of The Grocer. "This conference will offer important insights into techniques and technologies that successful suppliers are using to maximise opportunities and minimise cost."
The Grocer Conference is sponsored by Attest, Criteo, E Fundamentals, Edge by Ascential and Shopmium. It will be held on 12 March at the Cavendish Conference Centre, London.
This event is always a sell-out event, so book now to avoid disappointment at www.thegrocer-conferences.co.uk.