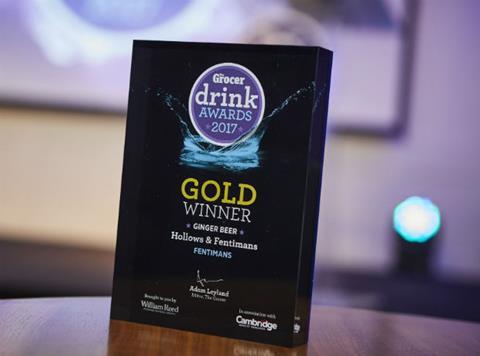 Sadly, David Beckham couldn't attend The Grocer Drink Awards on Monday. We tried to get him involved, honest, but we hear he's too busy talking head lice with HuffPost these days.
It's a shame Becks couldn't make it, because Haig Clubman, the brand the star part-owns with spirits giant Diageo, scooped a gold medal win, thanks to glowing reviews from consumers and expert judges alike.
Haig Clubman's performance in the awards is particularly impressive because the brand goes against all the rules of whisky. There isn't a whisper of an age statement or Highland region, and its bottle looks, quite frankly, like a posh Eau de Toilette.
Meanwhile, the cider win wasn't scooped by one of the UK's prestigious West Country cider houses, or even a bestselling own-label offering. Instead, it was won by none other than US whiskey giant Jack Daniel's for its recently launched Tennessee Cider. A curveball indeed.
That's without mentioning that Aldi raked in three wins for its own-label lines, its Medusa Ruby Red Ale seeing off competition from some seriously well-established brands.
But that's what makes The Grocer's booze awards (run in association with Cambridge Market Research) stand out, and, I dare say, considerably heightens the stakes. No drink has won its gold medal by virtue of any of its price, marketing or even taste credentials alone.
A resounding endorsement
Win one of The Grocer Drink Awards, and it's a resounding endorsement of the whole package, thanks to the fact that bona fide shoppers and experts' views are weighted equally in our judging process. After all, it's ordinary consumers who ultimately decide whether booze brands sink or swim.
Needless to say, though, the experts we do enlist aren't just snooty wine snobs and bearded beer geeks. They're pub owners, bartenders, brewers and buyers – people who genuinely understand the business of selling booze, and what really constitutes 'great value for money'.
It means genuine innovation is celebrated, and smaller and crossover brands that might otherwise get sniffed at by armchair commentators are given a chance to shine.
So while this year's awards are over – and believe me, we saw them through with a bang (I'd wager more than a few hangovers needed a thorough nursing across the drinks industry on Tuesday morning) – they've set an exceptionally high benchmark for next year.
We can't guarantee any sports stars will attend, but I hear Conor McGregor's 'Notorious' whiskey may hit shelves in the near future. Perhaps he'll be ready to challenge another champ by next November.
Cheers!