The Grocer Own Label Food & Drink Awards 2017 winners revealed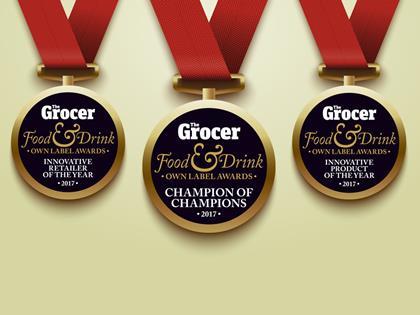 A riot of colour. Meat and cheese glazes. Lashings of beetroot. And clean eating. Just some of the themes of the 134 winning entries in The Grocer's Own Label Food & Drink Awards 2017, unveiled today (Friday).
TV and radio presenter Anneka Rice co-hosted the awards with Adam Leyland, editor of The Grocer at a glittering ceremony in London's Hilton Park Lane.
Over 1,000 entries were whittled down to a shortlist of 350 products through consumer testing, conducted by our partners Cambridge Market Research, with the finalists then subjected to a second round of blind-tasting sessions by our panel of experts.
And this year, the gold and silver awards in each category were replaced with a Category Champion award and an Innovation Winner award, to better recognise and reward outstanding innovation coming through in own-label.
There were also two new awards – for the Innovative Product of the Year and the Innovative Own Label Retailer of the Year.
Winners
Aldi stormed home with 25 Category Champion awards, while Lidl took second place with 16 awards and Asda third with 13.
The Champion of Champions – chosen by our expert panel from the 68 category champions - went to Marks & Spencer for its outstanding M&S Dessert Menu 2 Melting Chocolate Domes.
Aldi also led the charge on innovation, winning 15 awards, followed by Lidl, with 12 awards and The Co-op with 10.
However, Tesco's Finest King Prawn & Pickled Butternut with Pomegranate Dressing won the Innovative Product of the Year award after impressing our expert judges and consumers with its beautiful presentation and outstanding delivery.
Tesco also took home the Innovative Own Label Retailer of the Year award after scoring the highest marks for innovation among the Top 20 most innovative products.
"There's much to learn from, admire and enjoy among the winning entries," said Adam Leyland. "The Grocer's Own Label Food & Drink Awards are a real showcase this year for the latest trends, from slow cooking and clean eating, to miniaturisation and the liberal use of beetroot.
"With brilliant cost engineering and exciting innovation our winners demonstrated all the ingredients necessary to excite consumers and their tastebuds in these changing times."
"And while Aldi stole the show with its winning haul, the numbers don't tell the whole story, with a strong showing from M&S (as you would expect), but also Tesco, Morrisons, Asda and The Co-op, as well as Lidl."
Full details of all the winners can be found here.
Read more about our awards here: Lessons from The Grocer Own Label Food & Drink Awards 2017