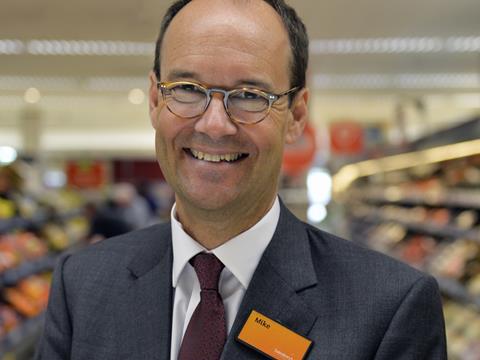 Sainsbury's (SBRY) chief executive Mike Coupe has been handed an annual pay package worth £3.43m after receiving higher performance-related bonuses during the year.
Coupe's pay packet has risen 46% from £2.34m to £3.43m for Sainsbury's 2017/18 financial year as the company's exec team received an annual bonus after missing out in 2016/17.
His fixed pay of £1.24m was boosted by bonuses totalling £2.19m.
Coupe received 42.3% of his maximum annual bonus, representing a payout of £427k, after the supermarket group met, though not exceeded, profits target and he achieved key individual and customer objectives.
The sales target aspect of the bonus was not met.
The exec team received 73% of their maximum award under Sainsbury's differed share award programme and 42.5% of the maximum vesting sum under its long-term incentive plan.
These were worth 758k and £1m to Coupe respectively.
The increased bonuses saw CFO Kevin O'Bryne's pay rise from £138k last year (as he only began work on 9 January 2017) to £1.44m.
Former CFO and head of Argos John Rogers' pay was up from £1.6m to £2.21m.
The three were also awarded a salary increase of 2% effective March 2018.
Sainsbury's remuneration committee has altered the bonus in future so that 70% of the maximum bonus opportunity will be based on group profit and 30% on business specific annual operational objectives.
During the year to 10 March 2018, Sainsbury's sales were up 9% to £31.7bn with group like-for-like sales up 1.3%.
Underlying profit before tax was up 1.4% to £589m, but statutory profit before tax dropped from £409m to £503m.
The exec bonuses come at a time when Sainsbury's is pushing through a controversial group-wide change to pay terms of its staff.
The supermarket intends to increase base pay rate from £8 an hour to £9.20, and £9.80 for those in London's zones one and two, in March. However, these awards are being offered in tandem with scrapping bonuses, paid breaks and overtime, leaving some with less take-home pay.
The supermarket has since tweaked the terms to include an additional 25p per hour for online delivery drivers and shop floor staff working in London outside zones one and two and a rise in the supplementary rate for night shift workers from £1.55 to £2.45 extra per hour.