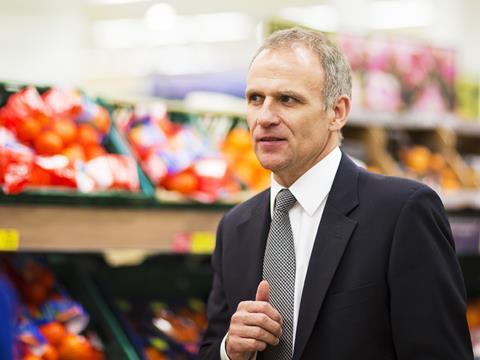 Tesco shareholders have voted against its executive pay policies that saw the supermarket give CEO Dave Lewis a £6.4m pay package.
A decisive 67.3% of shareholders that voted on Tesco's remuneration policy voted against the measures.
Shareholders representing 7.3m of shares voted on the executive pay policy, with investors holding 4.9m worth of shares voting against the package and just 2.4m in favour of the report.
The revolt was triggered by Tesco removing Ocado from the list of peers it measures its performance against.
Tesco said Ocado considers itself more of a technology company rather than a supermarket and should no longer be considered a direct competitor.
However, the move effectively inflated Dave Lewis' executive bonus for the year from £800k to £2.4m.
Shareholder advisory services Institutional Shareholder Services and Glass Lewis had both urged shareholders to vote against the pay policy ahead of the vote.
The vote is advisory, meaning Tesco's defeat at the hands of its shareholders does not mean it must revisit the awards given out under the terms of the adjusted policy.
Tesco said today it was "disappointed" the advisory vote on the directors' remuneration report was not passed.
It said meetings with shareholders had reassured it that "the majority agree that the overall outcome of the 2017 PSP award is proportionate given the outstanding turnaround delivered by management".
However, it recognised that a "significant number of shareholders" had concerns related to the principle of the adjustment to the comparator rules.
Tesco stated today: "Following the AGM, the remuneration committee will continue to engage with shareholders to fully understand their concerns and will consider the full range of feedback as we prepare to put our remuneration policy to shareholders at the 2021."
It must publish an update on its engagement within six months of today's AGM vote.
Today was Lewis' last AGM at the helm of the supermarket as he steps aside for incoming CEO Ken Murphy on 1 October.
All other measures at the AGM were passed with at least 90% support.