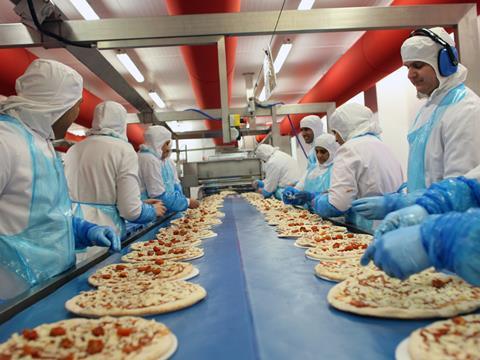 2 Sisters has become the largest food and drink player in the UK, according to the 2015 OC&C Top 150 Index.

The report, published in this week's issue, shows the poultry giant has overtaken Associated British Foods to claim top spot for the first time in the table, based on annual revenues.

2 Sisters has been on a five-year long acquisition spree with revenues soaring from £838m in 2010 to £3.4bn last year.

ABF's 6.5% revenue fall to £3.3bn enabled Boparan to edge ahead as sales rose by a further 16.3%.

Sales in the core protein business were boosted to the tune of 35% by the integration of Vion's poultry and red meat divisions following a £38m deal for the UK-based food producer, whose annualised revenues are around £1bn.

"Scale and consolidation continue to prevail in own label given the cost efficiencies and improved balance of power they enable," said OC&C head of consumer goods Will Hayllar. "2 Sisters is a prime example of consolidation within own-label production, with a series of deals over the past five years propelling them to become the UK's largest food producer."
A spokesman said 2 Sisters was no longer just a chicken player: "As well as building on our sound foundations in the UK Poultry industry, our chilled, branded and red meat businesses are all seeing good progress based on our ambitious group investment and innovation programmes."
"We have also taken steps to ensure that improved sustainability is at the heart of our business. We are cutting our carbon impact, for example through the installation of bio refineries which will generate renewable heat and power from site waste."
The Vion acquisition helped drive a 35% increase in its protein business, which helped negate the impact of falling chilled (–9%) and branded revenues (–3%).
However, the jump in revenues has also been accompanied by a slide in profits following a significant restructuring, with operating margins slipping to 1.3% from 3% in the previous year.

2 Sisters reported losses of £143m as "transformational" restructuring costs took a heavy toll on its P&L.In the latest quarter 2 Sisters returned to profitability as it continued to focus on its cost base.
With chilled sales down 9% and branded revenues falling 3%, one senior City source said the company now needed to "prove it could run profitable businesses away from its core chicken offer". "They know how to run a protein business but it's far from obvious they know what they are doing in their other businesses."

Other notable movers were also boosted by acquisitions, with Arla Foods rising five places to third following the integration of Arla Milk Link and Kellogg's rising four places to 23rd on the back of its Pringles acquisition. Moy Park rose four places to 15th, driven by strong underlying revenue growth.

Big fallers included Premier Foods, which dropped 12 places to 22nd after divesting its Hovis bread operations, and Karro Food, which dropped 14 places to 34th after it restructured and removed its red meat and poultry businesses.

Overall, the revenue growth across the Top 150 dipped to 2.9%, which represents a heavy fall from last year's 5.8% average growth rate.

"UK producers continue to face a very challenging market, with turmoil amongst the grocery retailers holding back growth and keeping profits depressed near to their all-time lows," Hayllar said.

"However there are encouraging signs that producers are reacting to ensure a better future, with increased capex to support innovation, a growing proportion of sales to overseas markets and a step up in corporate M&A."

109 companies reported annual revenue growth, while 38 firms saw sales fall.

The highest new entry on the table were Muller UK and Ireland, after a 2013 restructure to report its accounts separately.