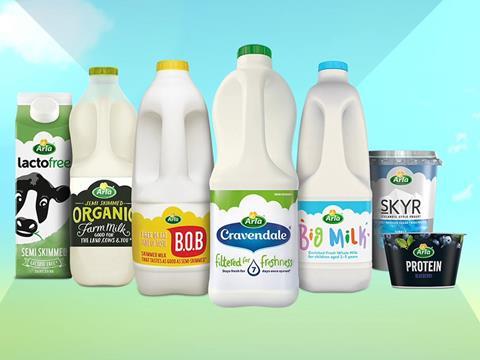 Arla Foods has hailed the impact of turnaround plan Project Calcium after it helped the dairy giant deliver cost savings "far beyond targets".
The efficiency drive, launched last April in a bid to cut €400m (£347m) of costs from Arla's global business by 2021, had helped the dairy co-op "regain its competitiveness" it said in its annual results this week.
Savings of €114m in 2018 had dwarfed its initial target of €30m, Arla said. Its performance had been buoyed - despite a "difficult first quarter" - by group sales growth of just under 1% to €10.4bn (£9bn) for the year, driven by a 3.1% increase in branded sales volumes. A net profit of €290m also allowed it to pay out a one-off bonus to farmers, worth the equivalent of 2p per litre.
Arla's largest market, the UK, also contributed to a solid year for the global business, with total revenues from retail and foodservice exceeding £2bn for the first time as it climbed by 3.3% to reach £2.01bn, compared with £1.94bn in 2017.
Sales had been underpinned by 8.6% value growth for products under the Arla masterbrand, with its Best Of Both milk seeing sales rise by 39.2%, and Arla Organic up 80%.
Arla said other brands such as Big Milk, Arla Protein and Lactofree also saw significant growth. Meanwhile, its branded portfolio delivered a 6.8% increase in sales, with Lurpak up 5.8% and Anchor up 3.5%.
Elsewhere, sales into foodservice through the Arla Pro division grew by 49.3%, with revenues from its long-term partnership with Starbucks growing by 17.8%.
"We continue to face major challenges, such as volatility in the global milk market and on-going uncertainty about Brexit," said Arla Foods UK MD Ash Amirahmadi.
"But despite these factors, we have delivered a strong performance and have been able to return all of the net profit for 2018 to our farmer owners, showing the benefits of our cooperative, farmer-owned model."