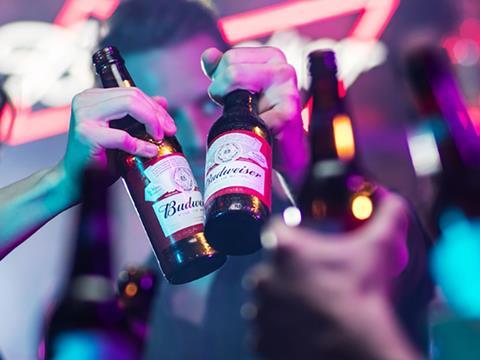 The world's largest brewer AB InBev (ABI) slashed its dividend this week to help cope with the effects of the coronavirus and the pressures of its debt pile.
The Budweiser maker cut its previously announced final dividend from €1 per share to €0.50 a share on Tuesday amid the damaging impact of the coronavirus crisis, to save about €1bn. AB InBev said the "prudent" decision was taken "given the uncertainty, volatility and continued impact of the Covid-19 pandemic" and has delayed its AGM from late April until early June.
The brewer has yet to publicly comment on the depth of the impact of the coronavirus and shutting of bars, hotels and restaurants across the world, though fellow brewers Heineken and Carlsberg have both withdrawn earnings guidance in recent weeks due to the outbreak.
Hargreaves Lansdown analyst Nicholas Hyett commented: "The closing of pubs and restaurants around the world has cut off a major source of sales for brewers like AB InBev. This would be a problem at any time but it's especially worrying given the outstanding debt pile, courtesy of the group's 2016 acquisition of SAB Miller."
AB InBev's net debt still stands at a vast $96bn even after the $5.8bn part IPO of its Asian operations and the $11bn sale of its Australian business earlier this year. Hyett added: "Once conditions return to normal AB InBev should be able to keep paying the debt down, but this looks like it might come at the cost of shareholder returns."
RBC Capital called for further reductions in capital spend, adding: "While we believe Anheuser-Busch InBev can handle the amount of debt it's carrying, this [the dividend cut] is a welcome step to ensure that it does just that."
AB InBev shares were flat on the news at €43.61 in Brussels on Tuesday, having plunged from a high of €92.71 in the summer of last year.
Elsewhere, consumer products group PZ Cussons (PZC) has reported decidedly mixed performance under the coronavirus outbreak, with sales of its soaps and hand sanitisers booming, while its beauty range has been "severely impacted".
It warned of the "significant" impact of the coronavirus outbreak on its business as it revealed a further drop in third quarter revenues. In the UK, it has experienced "exceptionally high demand" for its Carex handwash and sanitiser gel products and Imperial Leather soap. However, its St Tropez brand has been hit hard by social distancing measures, while the situation in its key Nigeria market is "uncertain".
Shore Capital struck a positive note: "With management consciously choosing not to access UK government support or to furlough staff across its Beauty activities, we fully expect PZC to continue to be a source of income for investors."
Shares eased back 1.7% to 176.8p on Thursday morning and are down 13.8% so far in 2020.