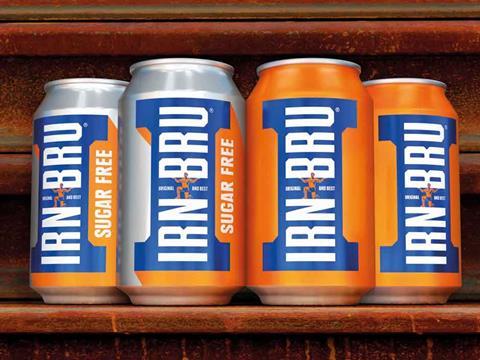 Irn-Bru maker AG Barr (BAG) has increased full-year profits 7% to £41.3m despite revenues slipping from £260.9m to £258.6m as consumers turn away from fizzy drinks.
The soft drink producer said it had maintained market share of the total soft drinks market in the UK under challenging conditions in the 53 weeks to 30 January 2016.
CEO Roger White added the group had kept a tight control of costs, rigorously managed cashflow and invested further in the brands.
AG Barr is one of a handful of publicly listed drinks producers to come under pressure since Chancellor George Osborne announced a levy on sugary drinks in his Budget. The group said in its results this morning that it planned to accelerate its exposure to high sugar products in the coming year, continue reformulation efforts and focus UK marketing on 'lower' and 'no' sugar products.
White added: "Market conditions in the core UK soft drinks market are not expected to substantially change as we look forward. Top-line growth remains under pressure and changes in consumer preferences offer challenges and opportunities in equal measure.
"Although the details of the Chancellor's proposed soft drinks levy are still to be consulted upon, we believe our combination of brand strength, ongoing product reformulation and consumer driven innovation will allow us to minimise the financial impact on the business at the proposed point of implementation in April 2018."
AG Barr added the Funkin cocktail mixer business it acquired last year had a "strong" performance in its first year of ownership. International business volume growth also came in at 40% in the financial year.
The share price has slipped 0.4% since the markets opened this morning to 517.2p.
Morning update
Private label soft drinks bottler Refresco Gerber has acquired Dutch beverage manufacturer DIS for €72m. The price, including debt, equals 7.5x EBITDA. DIS is focuses on carbonated soft drinks and energy drinks, as well as filling beer in cans for regional and international brewers. The business has a turnover of €90m and employs 198 staff at a site in Sittard in the Netherlands producing approximately 300 million litres (800 million cans) a year. Co-packing for international brands accounts for 95% of the volume and the remaining 5% is private label business with European retailers.
Refresco Gerber CEO Hans Roelofs said: "With DIS we take a next step in the execution of our buy & build strategy and enhance our co-packing position in the Netherlands. We also broaden our proposition and capabilities in the filling of cans. DIS' international co-packing concept has been very successful over the years and will be continued and broadened in the Refresco Gerber setting."
Real estate investment trust Tritax Big Box has acquired an Argos national distribution centre in Staffordshire for £74.7m. The hub comprises 653,670 sq ft arranged over 26 acres in Burton-on-Trent and is let to Argos with an unexpired lease term of approximately 12 years.
Following the Easter break, the FTSE 100 has opened 0.7% higher this morning at 6,146.88 points, with Tesco (TSCO) up 1.7% to 193p, Sainsbury's (SBRY) up 1.3% to 279.2p and Morrisons (MRW)up 0.7% to 201.4p.
Premier Foods (PFD) has also leapt almost 8% to 56.1p to get closer to the 60p price offered by McCormick.
Stevia producer PureCircle (PURE), which has been on a good run since the announcement of the sugar tax, has fallen 3% so far to 376.5p. Poundland (PLND) is another big faller this morning, down 2% to 162.8p.
This week in the City
It's looking like a quiet week after the long Easter weekend on the London Stock Exchange.
Hilton Food Group (HFG) is set to provide a trading update on Thursday and Booker will update on Q4 on Friday. There is also the monthly GFK Consumer Confidence survey on Thursday morning.