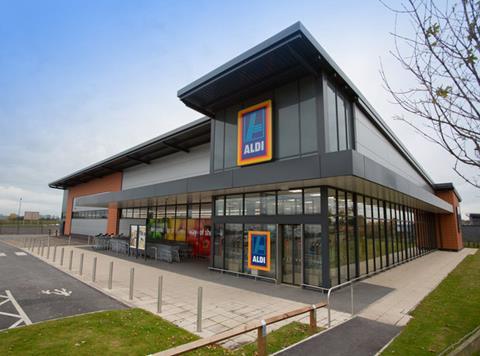 Top story
Aldi has accelerated passed Co-op to take its place as the fifth biggest food retailer in the UK, the latest Kantar Worldpanel data has revealed.
Sales at the German discounter were up 12.4% to £1.7bn in the 12 weeks to 29 January, increasing its market share by 0.6 percentage points to clinch fifth place for the first time.
The overall market also continued to grow faster than in 2016, with supermarket sales up 1.7% on last year and eight of the nine major retailers recording sales growth.
"Just a decade ago Aldi was the UK's tenth largest food retailer, accounting for less than 2% of the grocery market," said Fraser McKevitt, head of retail and consumer insight at Kantar Worldpanel. "Since then the grocer has grown rapidly, climbing the rankings by an impressive five places to hold a 6.2% market share. Underpinned by an extensive programme of store openings, the past quarter has seen Aldi attract 826,000 more shoppers than during the same period last year."
Despite being overtaken by Aldi, Co-op's 2% sales increase was well ahead of the market, continuing a run of growth stretching back to July 2015. A significant own label sales increase of 7% was behind the strong performance, with healthier ranges catering to consumers' good intentions for the new year.
Morrisons was the fastest-growing retailer within the big four, increasing its market share for the first time since June 2015 with a sales uplift of 1.9% year on year. Although growth came from across the store, premium own label was a particularly strong area – sales were up by 35%, while its revamped The Best range made its way into 14% of Morrisons baskets.
Growing for the fifth period in a row – albeit at a slower rate than previously – Tesco's sales were up 0.3% year on year as its market share fell to 28.1%. Sainsbury's sales remained flat, while its share fell by 0.3 percentage points to stand at 16.5%.
Meanwhile, Asda's 1.9% fall in sales signalled a decline which continues to slow. Although its share dropped by 0.6 percentage points over the quarter, the retailer did manage to increase the number of shoppers visiting its stores compared to the same period last year.
Elsewhere, Waitrose, Lidl and Iceland all continued to grow. Boosting sales by 3.4%, Waitrose increased its share of the grocery market to 5.3%, while Iceland – up 8.6% year on year – saw sales growth for the tenth consecutive period. A 9.4% year-on-year sales increase for Lidl buoyed the retailer's market share by 0.3 percentage points, leaving the discounter holding 4.5% of the UK grocery market.
Prices have continued to rise in January after Kantar found inflation had crept back into the market over Christmas for the first time since 2014. Like-for-like inflation on a basket of everyday groceries climbed to 0.7% in the past 12 weeks.
"If prices continue to rise at the same rate for the rest of 2017, shoppers will find themselves around £27 worse off," McKevitt said.
Although not significant enough to dampen the market, well-publicised supply issues over the past few weeks have affected sales in fresh produce. McKevitt added: "11 million households buy courgettes annually, but supply issues contributed to 759,000 fewer shoppers buying them this January – that's a 31% drop in spending compared with the same month last year. Sales of spinach also fell by 12%, in a clear sign that the poor weather in southern Europe has had a tangible impact on British shopping baskets."
Morning update
Morrisons shares are performing best this morning on the Kantar figures, up 1.1% to 242p, with Tesco up 0.2% to 193.5p and Sainsbury's slipping 0.3% into the red at 259.6p.
The FTSE 100 has also rebounded from yesterday's falls and is up 0.4% to 7,202.20 points.
Nielsen's data showed that despite a dip in sales after Christmas for the grocers, this year looks set to be a positive one for the sector. Takings at the tills for the four weeks ending 28 January fell 1.1% versus the same period last year, while the volume of groceries purchased fell 2.7%.
"Partly due to the timing of New Year negatively affecting comparative sales, the figures don't really reflect how the industry started the year," said Mike Watkins, Nielsen's UK head of retailer and business insight. "A better indicator is the last three weeks, during which till takings were up 0.3%."
Watkins noted that the return of cold weather in January probably helped sales as the "possibility of snow meant some shoppers were of a mind to stock-up on supplies, just in case."
January saw significant price cutting from the retailers to appeal to consumers who prioritised saving money post-Christmas. However, a move to more simple and permanent offers saw the level of basket spend that went on promotional items falling to 27% from 31% last year.
Beers, wine and spirits (sales up 2.1%) and frozen (1.8%) were the best performing 'super' categories. Hot drinks (15%) and cold remedies (12%) featured among the fastest-growing sub-categories, as did sushi (15%), reflecting shoppers broadening tastes and desire to eat more healthily.
Watkins added: "We anticipate the industry to grow around 2% this year, an improvement on 2016, primarily due to the return of cost price inflation after three years of deflation and the depreciation of sterling – yet grocery spend remaining robust despite price rises. The discounters will continue to grow faster than this due to the acceleration of new store openings which should push their market share to 13% for the first ever time."
After a bumper Christmas for the supermarkets, food sales remained solid in January while the rest of the high street registered a notably slowdown, according to the latest stats from BRC – KPMG monitor. UK retail sales decreased by 0.6% on a like-for-like basis last month versus January 2016, when they increased 2.6%. Over the three months to January, food sales increased 0.6% on a like-for-like basis and 2% on a total basis, clearly ahead of the 12-month total average growth of 1%. This is the second consecutive three-month average total growth of 2% or above. The three-month average for non-food showed retail sales in the UK rose 0.2% on a like-for-like basis and 0.3% on a total basis – below the 12-month total average growth of 0.8%, which is the lowest since July 2012. Online sales grew 8.6%, while in-store sales declined 2.2% on a total basis and 2.4% on a like-for-like basis.
British Retail Consortium CEO Helen Dickinson said: "After a strong end to the Christmas trading, year-on-year sales growth ground to a halt, compensated only by stronger furniture sales and a boost for some retailers from Chinese New Year. While this may appear disappointing overall, retailers were up against a strong January last year.
"Looking across the last three months, we've seen the slowest growth of the festive period since 2009. Closer inspection reveals that this was driven by slowing sales in non-food sectors."
Paul Martin, UK head of retail at KPMG, added: "Performance in January is likely to have left retailers feeling a little deflated, particularly following the strong top-line sales growth reported by many over the Christmas period. Food and drink sales remained in the black, much to the relief of grocers. However, with New Year resolutions rejigging the shopping list, healthier items are likely to have been the focus.
"With consumer price inflation beginning to kick-in alongside retailers' costs also rising, the sector will need to continue to examine its cost-base as this will be a vital element of success in 2017."
IGD chief executive Joanne Denney-Finch said: "After strong Christmas sales, grocery retailers were relieved to see solid, if unspectacular, sales in January. The first week was dampened by an extra Bank Holiday Monday but the rest of the month was positive, helped along by a small amount of inflation.
"Shoppers will be watching food prices closely. Two-thirds believe food prices will have the biggest impact on their personal finances this year, ahead of energy bills, petrol prices and interest rates. Some recent cost increases for producers have begun to take effect but with currencies in such a state of flux, the picture for later in the year is very hard to predict."
Yesterday in the City
The FTSE 100 was dragged lower by political uncertainty in the US as traders in New York awaited the latest policy moves from the Trump administration. London's blue-chip index ended the day down 0.2% to 7,172.15 points.
FTSE big hitters in food and drink were affected by the weak market sentiment, as Tesco (TSCO) fell 2.2% to 193.1p, Sainsbury's (SBRY) was down 1.8% to 260.1p and Reckitt Benckiser (RB) slipped 1.3% to 7,035p.
Marks & Spencer (MKS), Compass Group (CPG), Associated British Foods (ABF), Morrisons (MRW) and Unilever (ULVR) were all in the red.
Glanbia (GLB) ended the day up 0.7% to $15.81 after it announced two acquisitions, totalling €181m, of US-based Grass Advantage and Netherlands-based Body & Fit.
TATE & Lyle (TATE) and Dairy Crest (DCG), which both report results on Thursday, were up 1.1% to 683.5p and 0.9% to 589p respectively.