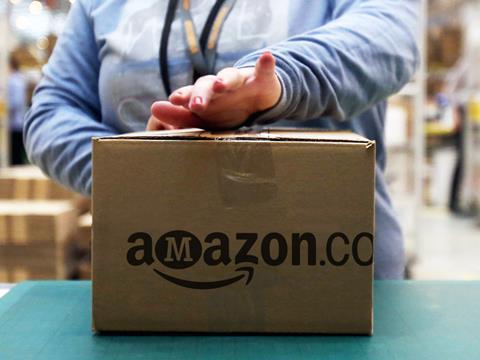 Top story
Amazon has launched its much anticipated Amazon Fresh grocery delivery service in the UK.
The online giant is offering a full grocery delivery service in Central and East London with a 30-day free trial offer.
Amazon Fresh will give customers in 69 London postcodes access to same-day delivery on 130,000 products costing £6.99 a month for unlimited deliveries on orders over £40,
Amazon's range will include "thousands" of Morrisons (MRW) own label products, major brands such as Coca-Cola, Kellogg's and Walkers, as well as products from London producers such as Gail's Artisan bakery and butcher C. Lidgate.
Morning update
PZ Cussons (PZC) said this morning it has shrugged off tough conditions in Africa to meet trading expectations in the year to 31 May 2016.
The consumer goods firm said its full-year performance "has been in line with expectations with performance in Europe and Asia offsetting more difficult trading conditions in Africa".
In the UK washing and bathing division, all brands have performed strongly driven by strong NPD. Its Imperial Leather portfolio has been extended, while its newly launched Carex shower and bath products have "performed well" as has Original Source.
Strong UK performance helped negate difficulties in its key African market of Nigeria.
The company stated: "In Nigeria, all business units are selling relatively well despite a challenging macro environment where consumers are being affected by inflationary pressures.
"There continues to be low levels of dollar liquidity in the economy with an additional cost of funding naira from the secondary market. Our focus is on securing materials for the key selling product lines, developing local sourcing to reduce our overall dollar requirements and ensuring relative pricing remains competitive."
An exceptional charge of circa £17m is expected in relation to settling a brought forward dollar liability in Nigeria in the secondary market.
In Australia, good performance across personal care, beauty and food & nutrition has offset more difficult trading conditions in the home care category, while Thailand and the Middle East has been in line with expectations and Inonesia saw "good revenue growth".
In terms of outlook, PZ Cussons said performance in Europe and Asia is "expected to be strong" driven by brand innovation. In Nigeria trading conditions are "expected to continue to be challenging, with a range of potential outcomes for the new financial year dependent on the translational and transactional impacts of any movement in the naira exchange rate."
Elsewhere, European soft drinks bottler Refresco Group will be included in the Euronext Amsterdam's AMX Index from the start of trading on June 20 following the index's quarterly review. The AMX reflects the performance of the second largest 25 stocks on the index.
Refresco CEO, Hans Roelofs, said: "This is an important milestone since our listing on Euronext in March 2015. The inclusion in the AMX midcap index will strengthen our investment profile and enhance our visibility on the financial markets."
The FTSE 100 has opened down 0.9% at 6,244.3pts this morning.
Sainsbury's is up another 1% to 253p after its share price rise yesterday (see below) and Tesco is up 0.7% to 161.7p.
PZ Cussons has fallen 1.6% to 327.6p in early trading, while Hotel Chocolat (HOTC) is 3.4% down to 198p and Poundland (PNLD) is 3.4% down to 171.5p.
Yesterday in the City
Sainsbury's (SBRY) announced its like-for-like sales fell 0.8% in the first quarter yesterday, but the market was in forgiving mood with the supermarket ending the day up 1.6% to 250.6p.
Despite Sainsbury's CEO Mike Coupe warning industry conditions remained "challenging" the rest of the grocery sector also had a decent day. Tesco (TSCO) ended the day up 2.4% to 160.6p, while Morrisons (MRW) was 0.3% up to 188.6p. Marks & Spencer (MKS) also ended the day 3.3% up to 375.5p.
It was not such a good day for WH Smith (SMWH), which plunged 4% to 1,670p after announcing a 2% rise in first quarter sales but disappointing numbers on the high street, where sales were down 4% and like-for-like sales fell 3%.
Overall the FTSE 100 ended the day 0.3% up to 6,301.5pts – its fourth consecutive day of gains.
Other notable movers included Coca-Cola HBC (CCH), up 3.3% to 1,456p and Greencore (GNC), up 3% to 333.8p.
Dairy Crest (DCG) fell 1.2% to 567p, Cranswick (CWK) dropped 1.3% to 2,295p and PayPoint (PAY) was down 2.8% to 970p.