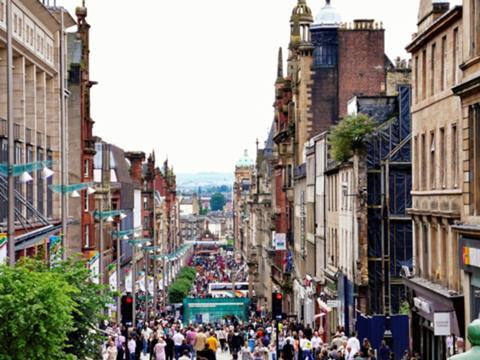 Top story
UK retail sales decreased 0.4% on a like-for-like basis from November 2014, according to the latest figures from the BRC-KPMG Retail Sales Monitor.
On a total basis, sales were up 0.7%, against a 2.2% rise in November 2014. The 0.4% like-for-like drop compares with an increase of 0.9% recorded in November the preceding year.
UK food sales grew 0.1% over the three months to November and 0.3% over the twelve months, but declined for the month. On a three-month basis, total non-food sales were up 3.5%, ahead of their twelve-month average of 2.9%.
Total growth was below the 3-month average of 2.0% and the 12-month average of 1.7%.
David McCorquodale, head of retail, KPMG, said: "Despite the hype around Black Friday, there was minimal loosening of the family purse strings compared to last year and retailers, facing significant cost increases next year, will be striving to wean UK shoppers off the discounting drug."
Joanne Denney-Finch, Chief Executive, IGD added: "It was an uneventful month for grocery sales although beers, wines and spirits enjoyed a strong uplift in the final week, helped by price promotions.
"The spotlight will now fall on the grocery sector and all signs point towards a 'multichannel Christmas' with spending spread across a variety of formats. Supermarkets will remain the most popular destination but seven in ten shoppers say they will use discounters for some of their Christmas food shopping and a fifth will order online."
Morning update
It's another quiet morning on the markets as we head towards Christmas.
There is a study from EY, which has found two thirds of consumer goods and retail companies are planning to pursue acquisitions within the next 12 months. Some 66% of fmcg and retail executives said they would actively look for M&A opportunities next year, a 13 percentage point increase on the figures from EY's last survey six months ago.
Nearly 60% said they have three or more deals in the pipeline and more than four out of five respondents are expect to see a more buoyant M&A market over the next 12 months. Read the full story here.
The Grocer also has the story that WH Smith has handed CEO Stephen Clarke a bumper pay rise of more than 12% to take his salary to £550,000 as a reward for the retailer's strong performance in recent years.
The FTSE 100 has edged down 0.3% this morning to 6,207pts.
Despite the overall gloomy retail sales, the rise in food sales has seen Tesco (TSCO) rebound from yesterday's falls. Tesco is back up 3.2% to 161.9p, Sainsbury's (SBRY) is back up 3.5% to 250.1p and McColl's has shot up 4.3% to 144p this morning.
Yesterday in the City
The market is fast losing faith in the grocery sector as we head towards the crucial Christmas trading period.
Fresh from Morrisons' ejection from the FTSE 100, Tesco (TSCO) fell to a new year-long low yesterday of 155.4p – its lowest level for around 15 years – before edging back up to close to 157 – a drop of 3.4%.
Tesco fell on a heavy downgrade from Exane BNP Paribas, which cut its price target for the grocer to 195p slashed its target price on the supermarket by 15% to 195p despite retaining its "outperform" rating.
The rest of the sector was dragged down too, with Sainsbury's (SBRY) 1.4% down to 241.7p and Morrisons (MRW) dropping once more to another new low, down 1.3% to 145.7p.
Ocado (OCDO) also fell 2.6% to 371.5p ahead of its crucial market update on Thursday.
Elsewhere the day was dominated by oil – as crude prices dropped to a new low after OPEC refused to limit production. The price of brent crude fell 5.6% to $40.60 per barrel – the lowest price since 2008.
However, the likelihood of cheaper input costs helped a number of fmcg giants – with Unilever gaining 2.1% to 2,852p, Associated British Foods (ABF) up 1.9% to 3,550p and Reckitt Benckiser up 1.5% to 6,300p.
Elsewhere, Dairy Crest was up 1.9% to 640p and Finsbury Foood Group once more gained 2.2% to 114p.