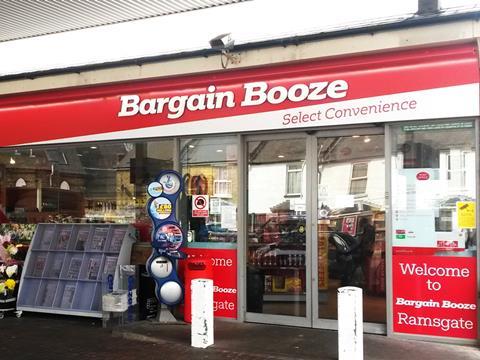 Top story
Full year sales more than doubled at Conviviality (CVR) in the 53 weeks to 1 May 2016, rising 137% to £864.5m following the "transformational" acquisition of Matthew Clark in October 2015.
Bargin Booze owner Conviviality said its wholesale acquisition Matthew Clark increased in revenue from 7 October to 1 May 4.9% by 4.9% to £497.
Its retail operations saw a more modest sales increase, growing 0.8% to £366.9m as the benefit of an extra week's trading was offset by a reduction in very low margin services sales from company-owned stores following the franchise of 36 stores to James Convenience Retail in April 2015.
The increase was driven by higher store numbers, with a 15% increase in stores to 716 as at 1 May 2016 and 38 new franchisees joined the group.
Conviviality Retail's sales grew more slowly than the average number of stores, reflecting a like for like sales decline by franchise and company owned stores of 1.3%, the impact of acquiring 37 GT News stores in February 2015 which generated lower sales, and lower sales from stores closed or opened in the year.
Overall adjusted group EBITDA increased 135% to £30.2m. Gross margin improved to 11.5% from 10.2% as Conviviality Retail's margins increased 0.6% points and Matthew Clark generated gross margins of 12%.
Adjusted profit before tax was up 124% to £21.7m.
Reported pre-tax profit fell from £18.9m to £9m due to exceptional costs of £9.9m relating to the Matthew Clarke acquisition.
Diana Hunter, CEOof Conviviality, said: ""We look to the year ahead with a stronger and more resilient business able to thrive in uncertain economic times. It is our intention to continue to deliver against our integration plan during the year, ensuring the benefits are realised from our transformational acquisitions.
"The performance of the businesses is encouraging, with the team's relentless focus on serving their customers well and supporting franchisees in the Retail business evidenced by the consistent delivery of results. We continue to review the market within which we trade ensuring that we strengthen our position as the UK's leading drinks and impulse wholesaler and distributor."
Morning update
Speciality baking firm Finsbury Food Group (FIF) has reported sales grew 24.8% to £319.7m for the 52 weeks ending 2 July, following the successful integration of the prior year acquisitions of Fletchers and Johnstone's.
A pre-close trading statement this morning said "strong trading has continued in the second half" and the group is delivering profits in line with market expectations, which were upgraded following the strong first half year.
The full year sales growth includes like for like growth of 5%. Its UK Bakery division grew by 3% on a like for like basis and its overseas division, the group's 50% owned European business, grew by 25.7%. Sales to the foodservice channel accounted for 21% of total UK Bakery sales revenues and grew by 5.3% on a like for like basis.
The statement said: "Whilst it is too early to fully understand the impact of the exit of Britain from the EU, the Board believes that as a strong multi-channel business and a large diversified speciality bakery group, it is well equipped to manage the potential effects of this outcome and continue to deliver growth and improved shareholder value over the coming years."
John Duffy, chief executive of Finsbury Food Group, added: "Delivering significant growth across all divisions on a like for like basis is a true achievement and we are very pleased to see our sales revenues ahead of the markets we operate in.
"This growth is underpinned by capital investment and our continued focus on innovation, maintaining our position as one of the UK's largest speciality bakery groups. More than ever we are well placed to continue our solid performance and drive growth."
The BRC-Springbobard footfall and vacancies monitor for June 2016 has shown that footfall in June was 2.8% down on a year ago, worse than the 0.3% rise in May and the sharpest decline since February 2014.
All three locations reported a decline in footfall for the first time since December 2013
High Streets reported a 3.7% fall in footfall in June, followed by shopping centres, which recorded a 2.3% decline. Footfall in Retail Parks fell 1.0% after rising 1.0% in May, its worst performance since November 2013.
The FTSE has opened strongly this morning, with the FTSE 100 0.7% up at 6,713.3pts so far today.
Conviviality has leapt 8.9% to 193.7p this morning - its highest post-Brexit level. Finsbury is up 0.6% to 115.6p.
Elsewhere, Premier Foods is continuing its rise back towards 50p, rising another 2.8% to 46.25p this morning. AG Barr (BAG) is up 2.3% to 527p, Britvic (BVIC) up 2.1% to 625p and Marks & Spencer (MKS) continues its rise after a troubled couple of weeks, rising 2.1% to 332.2p.
This week in the City
A week will be headlined by Unilever's (ULVR) first half results on Thursday, but there is plenty else in the diary too in a busier week on the markets.
Travel food specialist SSP Group issues a third quarter trading statement tomorrow, but most of the week's action takes place on Thursday.
Sweetener producer Tate & Lyle (TATE) posts a Q1 update on Thursday, Britvic (BVIC) will issue a third quarter trading update on the same day, as does SABMiller (SAB) for Q1 while drinks producer Nichols (NCLS) issues its first half results.
Tate & Lyle and SABMiller host their AGMs on Thursday too, while Dairy Crest (DCG) has its AGM tomorrow.
In the US tobacco giant Philip Morris issues its second quarter earnings update on Tuesday.
Tuesday brings the UK CPI and RPI inflation figures for the month and the official retail sales figures on Thursday. Friday sees the issue of the monthly CBI Industry Trends survey.