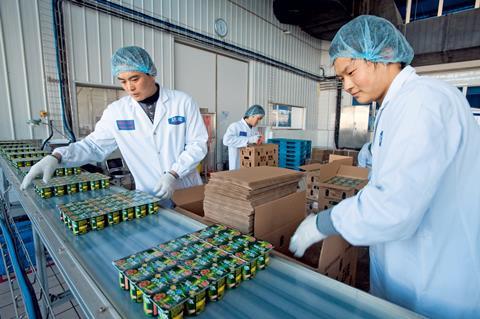 Top story
Danone has made a strong start to its financial year after posting first quarter sales growth of 8.1% and 4.8% on a like-for-like basis.
Unlike many of its global fmcg contemporaries, the weakening euro has given a boost to Danone – with the strengthening US dollar, the Chinese renminbi and the Indonesian rupiah representing a currency tailwind of 3.7%.
Sales were up 2.9% in Europe, 2.8% in North America and8% in Asia-Pacific / Latin America / Middle-East / Africa.
The 4.8% like-for-like growth rate is towards the higher end of Danone's previously stated aim to grow revenues by 4-5% in the 2015 financial year.
Danone CEO Emmanuel Faber said: "With a solid 4.8% organic growth, we are in line with our expectations for the quarter and with our roadmap, delivering further adaptation of our products and organization in Europe, confirming our leadership in North America and CIS and maintaining dynamic growth in emerging countries.
"In a continued difficult and unstable environment, Danone's teams are focusing on our 3 priorities: anchor our model of sustainable profitable growth, continue to make our brands and businesses more competitive to serve our consumers and shape the Danone 2020 agenda.
The growth was driven by strong performance in waters and baby foods.
Waters reported 8.7% like-for-like growth, driven by a 6.7% increase in volume and a 2% increase in value. Early Life Nutrition division sales grew by 11.6% like-for-like in the quarter.
Its fresh dairy division recorded flat like-for-like sales in the first quarter of 2015 (+0.2%), as a 5% increase in price/mix effect was negated by a 4.8% decrease in volume.
Morning update
The other big news this morning is that Nestlé has confirmed it is "exclusive" talks to sell its frozen food unti Davigel to UK supplier Brakes Group.
Nestlé declined to reveal and financial details of the potential spin-off and said any deal was "subject to consultations with the relevant works councils and the approval of the competition authorities."
Nestle said it was "exploring strategic options" for Davigel in mid-November last year. Brakes Group is owned by US private equity giant Bain Capital.
Elsewhere, Chilean wine giant Concha y Toro broke through the US$1bn sales barrier last year, selling 33.2 million cases and achieving sales growth of 22.6% over the previous year. Its total sales reached US$1,018m and sales in the UK totalled 6.5 million cases, an increase of 16.9% compared to 2013.
AIM listed butchers Crawshaw Group has acquired 100% of the share capital of Gabbotts Farm for £3.9m from Cribbin Family Butchers. Gabbotts Farm (Retail) generated a turnover of c. £10.8m and an EBITDA of £0.8m in the last financial year. The deal has been financed on a debt-free basis.
In share news, this morning has started off encouragingly for a number of retailers – Morrisons is currently 1% up at 200.9p and M&S has opened 1% higher at 573.6p
Yesterday in the City
Despite the UK election ramping up with the release of the Conservative Party manifesto yesterday, Tuesday was a fairly quiet day for the City.
The FTSE edged up just 3.9pts to 7,068.1pts and there were few notable movers amongst the big players in the grocery/fmcg sector. Morrisons (MRW) slipped 0.6% to back under 200p at 199p and SABMiller (SAB) was 0.7% down to 3,610.5p – but most of the bigger movers were outside the FTSE 100.
Thorntons (THT), which has had a tough run since a December profits warning, was up 7.3% to 80.5p, while Carr's Group (CARR) was up another 5.1% to 154.5p after posting solid half year results on Monday. Majestic Wine's (MJW) share price edged back yesterday after big gains on Monday, falling 1.6% to 356.1p.
Poundland (PLND) shares lost some of their momentum having reached 345p after announcing its full year sales reached £1.1bn last year – with the shares ending the day 0.9% up at 335p.