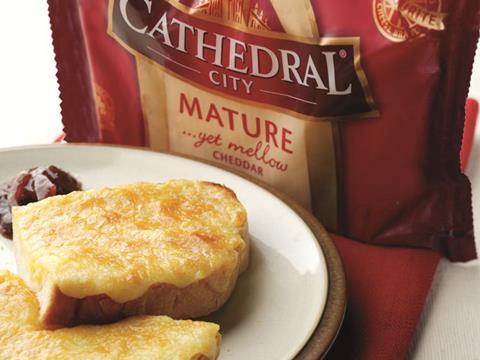 Top story
Dairy Crest (DCG) has reported a strong quarter for its cheese brands, driven by continuing gains for Cathedral City, but more difficulties in the tough spreads market left expectations for the full year unchanged.
The dairy producer said in a trading statement ahead of its AGM later today that Cathedral City continued to grow sales and market share in the three months ended 30 June. Frylight has also continued to perform "very strongly".
However, Clover and Country Life sales fell again in a butter and spreads market which continues to decline.
CEO Mark Allen said: "The year has started off as we expected. Higher sales of Cathedral City and Frylight are encouraging in markets that remain challenging. Dairy Crest is well positioned for profitable and sustainable growth. Our full-year expectations remain unchanged."
He added that he expected the sale of the dairies operation to Muller to have completed by the end of 2015, with an announcement from the Competition and Markets Authority set for 21 August.
Production of demineralised whey powder and galacto-oligosaccharide is also close to getting underway at the Davidstow creamery, with the new infant formula business expected to be lucrative for Dairy Crest.
After rising yesterday, shares in Dairy Crest have fallen 0.8% to 561p so far this morning.
Morning update
Ferrero has reached 72% ownership in listed chocolatier Thorntons (THT) as its £112m takeover bid becomes "unconditional in all respects". The Italian confectioner behind Ferrero Rocher, Kinder and Tic Tacs now controls a total of almost 50 million Thorntons shares. It encouraged shareholders who had not already accepted the 145p offer to do so "without delay".
Elsewhere in the chocolate world rival group Lindt has reported almost double-digit organic growth and market share gains in its first half. Lindt & Sprüngli said the 9.4% rise in the first six months of 2015 was "above-average" in the face of slowing and, in some cases, stagnating chocolate markets and record high prices for raw materials, as well as an "extremely strong" Swiss franc.Consolidated sales in the period were up 17.4% to CHF1.41bn (£962m), with growth coming from the European core markets and North America, as well as from emerging markets. "This ongoing success confirms that Lindt & Sprüngli continues to be one of the most successful premium chocolate producers in the world," the group said. However, the negative currency effect on group sales from the further strengthening of the Swiss franc amounted to -7.5% in the half. "The strength of the Swiss franc and high prices for raw materials will continue to present major challenges," Lindt added. "Nevertheless, Lindt & Sprüngli is maintaining its 6-8% target for medium-to-long-term annual organic growth in this financial year."
Total Food sales grew again in June for the seventh month in a row, excluding Easter distortions, ahead of their 0.3% decline over the past 12 months, according to the latest BRC-KPMG retail sales monitor. UK retail sales increased 1.8% on a like-for-like basis from June 2014. BRC director general Helen Dickinson said: "The retail industry performed strongly last month, experiencing the best overall sales growth in eighteen months, albeit on the back of a weak June last year. We saw welcome signs of growing consumer confidence, with people more willing to 'trade-up' and spend a bit more on big-ticket purchases, likely boosted by the growth in the supply of credit and other factors such as low inflation and rising real incomes."
Yesterday in the City
It was a good day for European equities – and grocery and fmcg stocks – on the back of news of a long-awaited Greek bailout deal. The agreement, which followed overnight talks, avoids the much-dreaded default and exit from the single current and pushed up the FTSE 100 1% or 64.6 points to 6,738. The CAC 40 in Paris and the DAX 30 in Frankfurt also climbed.
Morrisons (MRW), Tesco (TSCO), Sainsbury's (SBRY) and Marks & Spencer (MKS) all helped steady London's leading share index, moving up 3% to 178p, 2.3% to 212.5p, 1.7% to 263.1p and 1.5% to 545.9p respectively.
Online supermarket Ocado (OCDO) also joined the party, with its stock rising 4% to 469.8p.
Ahead of its AGM this week, Dairy Crest (DCG) was up 3% to 566p, as were most grocery stocks, including Booker (BOK) – up 2.8% to 168.2p, one of last week's big risers Fever-Tree (FEVR) – up another 2.3% to 346.8p and Premier Foods (PFD) – up 1.9% to 40p.