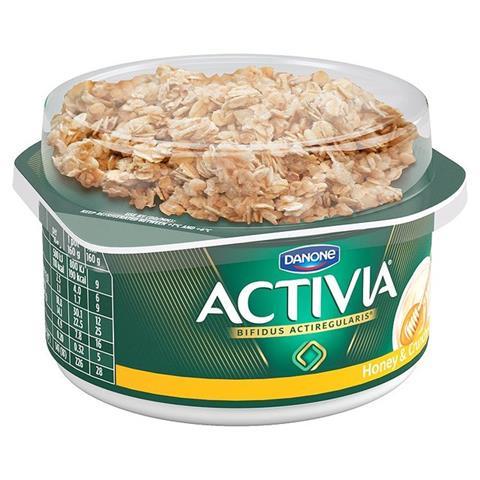 Top story
Soaring sales of baby food and water in China helped Danone (BN) comfortably beat expectations in the third quarter, but the dairy division of the global giant continued to struggle.
Revenues in the three months ended 30 September increased 4.7% on a like-for-like basis to €6.5bn (£5.8bn), reflecting a 0.4% rise in volume and 4.3% in value. It represents a big improvement in growth compared to the second quarter of 2017 when like-for-like sales rose just 0.2%
The performance was driven by an almost 18% jump in sales for the specialised nutrition division, with rising birth rates in China translating to a more than 50% bump for Danone's infant formula brands in the country.
A return to growth in China also helped the water division, which recorded a 7.6% increase in sales.
However, the French group reported another quarter of declining sales in its core diary and plant-based arm. Sales in the international division, excluding the US, fell 2.3% in the quarter as volumes slumped 7.4%, mostly due to a steep decline in recession-hit Brazil.
It added that it continued to adjust its plans around Activia, which suffered an unsuccessful relaunch last year. Danone said early results of new packaging and advertising campaigns in Spain, France and the UK to support distribution of newly launched products had been "encouraging".
CEO Emmanuel Faber said the integration of WhiteWave, which Danone acquired last year for $12.5bn, was on track and starting to deliver results.
"As expected, Danone has posted accelerated sales growth in the third quarter," Faber added.
"This reflects the strength of our portfolio of cohesive consumer health-focused brands and a solid execution against our strategy, with a step-up in innovation and activation plans. The increase in like-for-like sales has been underpinned by the allocation of additional resources to serve rising demand in specialized nutrition, especially in China.
"Strong headwinds remain in Brazil, which continue to impact essential dairy and plant-based international negatively."
CFO Cécile Cabanis warned that economic conditions would remain volatile and uncertain overall in the final quarter, with "persistently fragile consumer trends" and a deflationary environment in Europe.
For the first nine months, consolidated sales stood at €18.6bn (£16.5bn), up +2.1% on a like-for-like basis.
Danone reaffirmed expectations that it will deliver full-year double-digit recurring earnings-per-share growth at constant exchange rates, above +12%.
Faber said: "Our increased resource-allocation ability, served by an adaptive organization, will enable us to pursue our decoupled growth and efficiency agendas to generate profitable growth in the coming periods. This confirms my confidence in meeting our objectives for the year, delivering solid shareholder returns and positioning the company for long-term sustainable growth."
Shares in Danone have jumped 1.9% to €70.67 this morning after it beat analyst expectations for the quarter.
Morning update
Rising prices in the supermarkets boosted sales last month but at the expense of volume as shoppers spent more on fewer items, according to the latest market share data from Nielsen.
In the four weeks ended 7 October, UK supermarkets saw sales revenue rise 3.9% year on year – the seventh consecutive month of sales growth above 2% – while the volume of goods sold increased by just 1.6%. Excluding the discounters, volumes didn't increase at all, Nielsen said.
Supermarket food inflation of at 2.2% is at its highest for almost four years, with retailers doing their best to absorb most of the rising costs, but this can't last for ever, warned Mike Watkins, Nielsen's UK head of retailer and business insight.
"Inflation is helping supermarkets' growth and the good news for them is that shoppers are still spending," he said.
"Meanwhile, the good news for shoppers is that grocery inflation is still below that in other parts of the economy – such as travel and fuel – and should peak later in the year. Furthermore, retailers are likely to up their use of price-saving promotions at Christmas, offsetting some of the inflation."
Kantar Worldpanel confirmed like-for-like grocery inflation remained at 3.2% for the 12 weeks to 8 October, but added consumers could be welcoming a slowdown in price rises in the new year, with the rate projected to fall below 2% in the first quarter of 2018.
Supermarket sales increased in value by 3.1% compared with last year, marking the 17th period of growth in a row for Britain's grocers, Kantar added.
However, each of the big four grocers saw a decrease in market share despite a growth in sales as smaller operators continue to entice new customers through their doors.
Aldi and Lidl collectively added £390m to their sales this period – that's half of the entire market's overall growth in the 12 weeks.
Fraser McKevitt, head of retail and consumer insight at Kantar Worldpanel, said: "Morrisons was the fastest growing of the large supermarkets this period, increasing sales by 2.8%. The biggest wins came from ambient and fresh food products with cakes and pastries and fruit both up by 10%. Growing sales at Morrisons' bricks and mortar stores were supplemented by rapid expansion on its e-commerce platform, particularly in London and the south where online sales have risen 29%. Despite the growth, however, the retailer's overall market share fell by 0.1 percentage points to 10.3%."
Closely following Morrisons, the remaining big four have each continued to increase sales every month since April. At Tesco, sales grew by 2.1% though share was down 0.3 percentage points to 27.9%. Asda meanwhile has sustained its recent recovery, with sales up 1.8% in the past 12 weeks. McKevitt added: "Despite traditionally selling a higher proportion of brands than its major rivals it is own-label sales which are driving the growth at Asda. They now account for 45% of sales, with Asda's value-focused Farm Stores line and premium Extra Special range leading the charge."
Recent stories about the poultry supply chain have not materially dented chicken sales, Kantar said. Fresh poultry sales remained flat in the month of September, while chilled processed poultry has increased in value by 6%.
Yesterday in the City
Hilton Food Group (HFG) closed down 2% to 773p after spending most of the day above Friday's close. The meat packer announced it was expanding in New Zealand, with plans to construct a new meat processing facility in Auckland and supply Progressive Enterprises, New Zealand's leading retailer, trading as Countdown Supermarkets.
It was a quiet day for grocery and fmcg on the markets, with Ocado (OCDO), Nichols (NICL) and Reckitt Benckiser (RB) all registering heavy falls.
Ocado was down 2.6% to 300.8p, Nichols fell 2.8% to 1,780p and Reckitt, which updates on the third quarter on Wednesday, declined 2.3% to 7,025p. The Nurofen maker made strong gains last week on news that Pfizer was looking for a buyer for its consumer healthcare business.
PZ Cussons (PZC), Marks & Spencer (MKS) and TATE & Lyle (TATE) were all in the red, down 1.3% to 325.1p, 1.2% to 346.7p and 1.1% to 654.5p respectively.
Sainsbury's (SBRY), B&M European Value Retail (BME) and WH Smith (SMWH) all rose, up 0.8% to 243.7p, 0.8% to 397.1p and 0.7% to 2,077p.