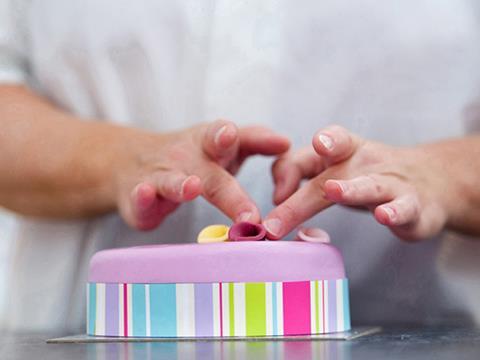 Top story
Cakes and bakery goods supplier Finsbury Food Group (FIF) has overcome "sustained market-wide headwinds" to post a rise in first half sales and profits.
Group revenues for the 26 weeks ended 30 December 2017 rose 0.7% to £157.8m, with like-for-like revenues up 2.5% to £144.8m.
Operating profit was up 4.7% to £8.7m at an improved margin of 5.5% up from 5.3% in the same period last year, while profit before tax was up 6.3% to £8.4m.
Finsbury said it had made a number of strategic improvements during the year, including the opening of its new "state of the art" cake line and the closure of its loss-making Grain D'Or bakery.
In the UK, revenue in the period increased by 1.1% to £140.5m, though operating profit fell back by 0.7% to £7.3m.
UK Bakery Operating profit margin decreased to 5.2% due to commodity price pressure, particularly the spike in butter prices.
Overall bread and morning goods foodservice like for like revenues were up 8.2%.
Its overseas business of Lightbody Europe, which trades primarily in France, saw sales fall 2.1% to £17.3m but operating profits were up 24.2% to £1.2m as a result of the impact of the euro against the pound.
Net debt also reduced from £21m in the first half last year to £16.6m.
John Duffy, chief executive, commented: "Our revenue and profit growth in the period illustrates the Group's resilience to what has been a sustained period of market-wide headwinds. The investment into the business that we have implemented over this and previous years, alongside a focus on operational excellence has positioned us well and enabled us to continue to deliver robust results. This, alongside the strength of our balance sheet has underpinned our ability to increase our interim dividend.
"The headwinds will persist into the period ahead, but we are determined to deliver against our strategic objectives and continue to drive growth both organically and through acquisition. With our resilient and diversified group, by category, channel and geography, we are confident that we will continue to deliver steady progress in the period ahead."
Finsbury said the UK grocery market continues to be "challenging" with "food inflation becoming entrenched" and increasing commodity prices, the weak pound and the above inflation increase in the National Living Wage.
Finsbury said: "The froup is working hard to mitigate this input cost inflation through continued operational efficiency, investment in automation and, inevitably, price increases.
"Whilst we are cognisant of the price recovery process, we expect the Group's steady performance to continue into the second half of the financial year and are confident that we have created a resilient business that can not only withstand the current headwinds but will continue to progress."
Finsbury shares have opened down 0.2% to 115.8p so far this morning, though the shares are up around 10% year-on-year.
Morning update
There was plenty in the papers about the woes of Conviviality (CVR) (see today's Media Bites for full details).
Most notably, reports suggest CEO Diana Hunter is set to leave the group this week after City investors demanded she step down as a condition of providing cash to the business to enable it to continue trading.
According to reports, Conviviality will seek £100-150m from investors in the form of a placing of new shares in plans set to be announced this week. Conviviality said on Friday it was exploring an equity fundraise to attempt to recapitalise the business after a "material error" in its forecasts and a £30m tax bill saw its shares loss two-thirds of their value before being suspended on Thursday.
Elsewhere, eight major fmcg firms including PZ Cussons (PZC), Johnson & Johnson and Kellogg's (K) have refused to take steps towards eliminating palm oil from Indonesian forest destruction from their supply chains, charity Greenpeace has claimed in a report published today.
As members of the Consumer Goods Forum these brands promised in 2010 to help protect forests and limit climate change by cleaning up global commodity supply chains by 2020, Greenpeace said.
The campaign group added: "Yet with less than two years to go before the deadline, Greenpeace found some leading consumer brands unwilling to disclose even basic information needed to turn that pledge into reality."
The report reveals that eight brands made steps towards transparency – General Mills, Mars, Mondelēz (MDLZ), Nestlé (NESN), Procter & Gamble (PG), Reckitt Benckiser (RB), Unilever (ULVR) and ColgatePalmolive. The other half has so far failed, including Ferrero, Hershey, Kellogg's, Kraft Heinz (KH), Johnson & Johnson, PepsiCo (PEP), PZ Cussons and Smucker's.
Kiki Taufik, global head of Indonesian forests at Greenpeace Southeast Asia, said: "Brands have repeatedly promised to end deforestation for palm oil by 2020. With less than two years to go they are way off track. Some, such as Nestlé and Unilever, have at least come clean about that. Others, including PZ Cussons, Johnson & Johnson and Kraft Heinz, are still keeping customers in the dark."
On the markets this morning, the FTSE 100 has dropped 0.9% to 7,102.4pts ahead of another expected interest rate rise in the US this week.
Amongst the early fallers are Hilton Food Group (HFG), down 2.7% to 802p, Bakkavor (BAKK), down 2.2% to 179p, B&M European Value Retail (BME), down 2.2% to 414.3p and Tesco (TSCO), down 2% to 209.8p.
Early risers include Devro (DVO), up 4% to 209p, AG Barr (BAG), up 2.6% to 643p, Applegreen (APGN), up 2.5% to 519.9p PayPoint (PAY), up 2.5% to 830p and Greencore (GNC), up 1.8% to 131p.
This week in the City
In a quieter week, the main scheduled announcement of interest is Ocado's (OCDO) first quarter trading statement tomorrow morning.
Sports supplement group Science in Sport (SIS) will issue its full-year results on Wednesday. Vegetable supplier Produce Investments, parent of potato provider Greenvale, will issue its half year results on Thursday.
In wider retail, high street bellwether Next (NXT) will release its full-year results on Friday morning.
In the US, food group General Mills will issues its third quarter earnings on Wednesday.
Tomorrow will bring the UK's monthly inflation numbers when the Office of National Statistics releases the Consumer Price Index and Retail Price Index numbers for March.
The CBI's Industrial Trends Surveys are out on Tuesday, while the ONS retail sales for the month and the Bank of England's interest rate decision will both be published on Thursday.
A number of household brands, including Coca-Cola, Diageo, Ocado and Sainsbury's will present at the Credit Suisse Consumer/Retail Conference tomorrow.