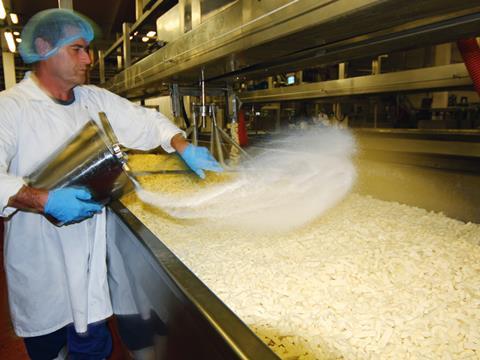 Top story
Food and drink manufacturing continues its rise as a major UK growth industry, with the production of dairy, meat and pastry products now worth £21bn to the economy alone.
The whole of UK manufacturing grew 3% to £364bn in 2014 – the equivalent of £9.2bn – according to the latest official PRODCOM Report from the Office for National Statistics (ONS) by Santander Corporate & Commercial.
The manufacture of luggage, handbags and saddlery became the fastest-growing sector in the UK, with production worth £205m in 2014 compared with £133m in the previous year – a year-on-year increase of 54% and a seven-year high for the sector.
Overall, the manufacture of motor vehicles remained the largest UK manufacturing sector in terms of production, worth £36bn produced.
The operations of dairies and cheese-making businesses, which produce a combined £8bn, processing and persevering of meat (£7bn) and manufacture of bread, pastry, goods and cakes (£6bn) were found to be three of the 10 largest manufacturing sectors in the UK. The three sectors registered year-on-year growth of 12%, 7% and 4% respectively.
Charles Garfit, head of manufacturing for Santander Corporate & Commercial, said: "Santander is increasingly working with and supporting manufacturers of high-end food and drink products, usually with a strongly British branding as these sorts of products are becoming increasingly well received domestically and also around the world."
Morning update
There is little else of note this morning during half-term week, with results to come on Thursday from Asda and Nestlé.
The FTSE 100 continued its recovery, opening another 0.8% higher at 5,871.3 points, with Tesco (TSCO) nudging up 0.5% to 179.6p and Sainsbury's (SBRY) up 0.8% to 249.1p.
Yesterday in the City
Reckitt Benckiser (RB) lifted the FTSE 100 yesterday as its fourth quarter figures exceeded City expectations, with Bernstein analyst Andrew Wood calling the full-year figures a "phenomenal set of results". Shares in the Durex, Dettol and Vanish owner soared 7% to 6,371p to lead London's blue-chip index. The group's fourth quarter revenues were up 7% on a like-for-like basis, comfortably beating consensus expectations of a 4% like-for-like rise.
The FTSE 100 made more ground in its recovery from the three-year lows of last week to close the day 2.3% higher at 5,836.1 points.
Other big risers included Ocado (OCDO), which jumped 5.8% to 259p and Poundland (PLND), which climbed 4.8% to 155.6p despite the latest terrible accounts of 99p Stores being filed at Companies House.
Greencore (GNC) and Conviviality (CVR) both made gains of more than 4%, and B&M (BME), Morrisons (MRW), Tate & Lyle (TATE) and Sainsbury's (SBRY) all rose more than 3% to complete a generally good day for food and drink stocks.
At the opposite end PureCircle (PURE) continued its miserable run to close 6.9% down at 323p. The stock is down more than 20% so far this year.