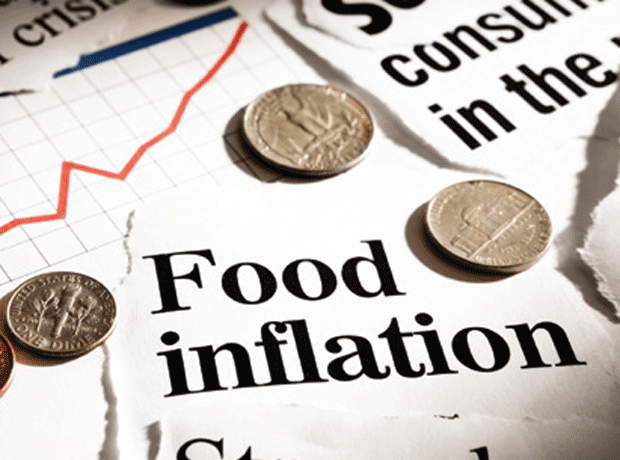 Top story
Food inflation gathered steam in December despite supermarkets investing in price on key lines to win over shoppers during the crucial Christmas period, according to the latest figures from the BRC-Nielsen.
The acceleration came as shop prices for non-food on the high street slid deeper into deflationary territory last month, falling 2.1% on last year compared with the 1.1% decline in November, the shop price index revealed. The fastest rate since January 2017.
Food inflation increased to 1.8% in December, up from 1.5% in the previous month. Fresh food inflation picked up, increasing to 2%, a significant jump on November's 1.3% rate. Ambient continued at similar pace as last month: prices increased by 1.7% year on year in December, slightly down from the 1.8% recorded in November.
"Food inflation picked-up pace this month, fuelled by climbing global food prices earlier in the year," said Helen Dickinson, chief executive of the British Retail Consortium.
"While retailers will continue to do their best to absorb cost increases for their customers, the challenges to the industry remain stark with more inflationary pressures in the pipeline.
"Therefore, this year we will continue to press the government for clarity on the principles and terms around the Brexit transitional arrangements, to ensure businesses have the certainty to plan and invest and that consumers don't face higher costs or delays from tariffs or onerous customs barriers."
Mike Watkins, head of retailer and business insight at Nielsen, added that food prices may have risen in December but retailers will still fight hard to keep shoppers happy.
"Whilst food prices have edged up a little due to supply chain increases in fresh and seasonal foods, pricing across supermarkets will remain competitive as we start 2018 with consumers still coping with higher household bills," he said.
Overall shop prices, including food and non-food, fell 0.6% on last year, compared with the 0.1% decline in November. This is the deepest deflation since March 2017.
Dickinson added: "After several months of shop prices teetering on the edge of inflation, December saw them retreat deeper into deflationary territory. Prices in December fell at the fastest rate since March this year when only last month we saw the shallowest rate of deflation for four years.
"This is good news for shoppers. Retailers offered lower prices at the beginning of December than last year on many of their non-food ranges, providing welcome options for Christmas shoppers on a stretched budget. These discounts allowed consumers some much needed breathing room during the festive period at a time when the cost of their food shop is on the rise."
Morning update
The Grocer also examines inflation levels for December in our monthly GPI analysis.
Supermarket price hikes eased back to their lowest level for six months as the wave of inflation that characterised the first half of 2017 appears to be stabilising, we found.
The Grocer Price Index, collated by Brand View from over 60,000 individual SKUs across the big four, fell back to 1.9% in the month to 1 January – compared with 2.5% in the month to 1 December and a peak of 2.9% in the month to 1 October.
The level of inflation over the festive period is the first time the GPI has dipped below 2% since the month to 1 July, when inflation was at 1.6%. In the corresponding month last year, prices were still falling by 0.9%.
However, the drop in the headline GPI figure does not seem to reflect any lowering of prices in the month. On a month-on-month basis, overall supermarket prices were up 0.5%, which is the largest monthly rise since May 2017.
Instead, it appears the price increases that have filtered into the market after the post-Brexit collapse in the pound are starting to annualise in earnest.
For the full story, see thegrocer.co.uk/finance later this morning.
A record week leading up to Christmas failed to halt declining underlying sales at struggling value meat chain Crawshaw (CRAW).
Like-for-like sales in the 15 weeks to 24 December slumped 6.1% as fewer customers passed through its doors than a year ago as the big four supermarkets continued to sharpen their offers.
Total group sales for the period rose 0.6%, underpinned by the strength of the growing factory shop format, which helped to offset the impact of lower footfall on the high street and the overall softer consumer sentiment, Crawshaw said in a trading update.
Sales leading up to Christmas reached a record £1.8m, with almost 3,500 value meat hampers sold.
The group said it had made progress in the period against the strategy to strengthen its position as Britain's leading value butcher.
Shares have slumped 3.3% to 11p this morning on the update.
CEO Noel Collett added: "On balance, this was a solid core Christmas trading performance against what remains a very tough high street environment. Our biggest ever Christmas week and the record number of meat hampers sold clearly demonstrates the trust our customers place in us for their most important meat spend of the year. This gives us a solid platform to improve trading momentum going into 2018."
Since the last update, Crawshaw have opened two more factory shop units to complete the five planned for the year, taking the total to 10 within the 54-shop estate.
The partnership struck with 2 Sisters Food Group last year was "progressing well", with core poultry supply routes well established and a framework for successful new product category tests landing over the festive period, the group added.
"We continue to focus on strengthening Crawshaws' position as the country's best value butcher," Collett said.
"We are excited by the performance of our factory shops and by the progress of our 2 Sisters supply agreement and, while there is much to do, we remain confident that this combination will be transformational for the long-term growth of the company."
Yesterday in the City
Ocado (OCDO) continued its meteoric rise yesterday as investor enthusiasm sent the stock another 3.5% higher to 437.8p – highs not seen since mid-2015. The online grocer has soared more than 80% since finally unveiling a much-promised international partnership late last year. The City is getting excited that Ocado is about to announce it has signed a new contract with a Swedish business to join French retailer Casino.
Marks & Spencer (MKS) slumped 3.7% to 308.8p after Aldi revealed another record Christmas performance, boasting that shoppers had flocked to its stores rather than visiting more expensive rivals. A profits warning at Debenhams won't have provided investors with much cheer on the performance of the M&S clothing division over Christmas.
Tesco (TSCO) leapt 0.8% to 211.2p as markets bet that most food retailers were winners over Christmas, as Co-op and Nisa also revealed strong festive trading periods.
However, Sainsbury's (SBRY) and Morrisons (MRW) both slipped back – 0.6% to 242.1p and 0.4% to 222.5p respectively – signalling that the City may be worried about their results next week.