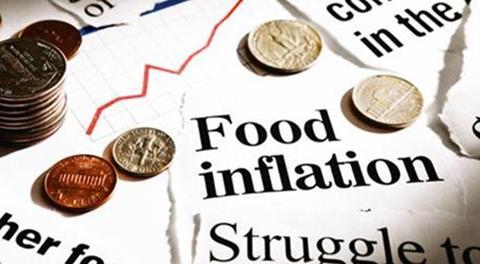 Top story
Prices in supermarkets rose at the fastest pace for two years last month as higher global commodity costs and the weakness of the pound put pressure on the food supply chain.
Food inflation accelerated to 1% in March, up from the 0.8% fall in January, according to the latest BRC/Nielsen shop price index. It was the sharpest inflationary rise since February 2014.
Fresh food reported inflation of 0.9% last month, up from 0.1% in February, while the rise in ambient prices accelerated to 1.3%, up from the 0.8% rise in February.
The latest Kantar supermarket data for the 12 weeks to 26 March, released yesterday, also flagged up that inflation showed no signs of abating as the price of everyday goods rose 2.3% compared to this time last year.
However, intense competition on the high street for general retailers dampened the impact of the return of inflation in UK food.
Non-food deflation accelerated to 2% in March, from the 1.8% fall in February, which put overall shop price deflation at 0.8% last month – from the 1% fall in February. This is the shallowest deflation rate since December 2013.
"Inflation is gaining momentum across the economy but in food retailing, the cost price increases being passed onto shoppers in March was lower than the Consumer Price Index and in the non-food channel there is still deflation," said Mike Watkins, head of retailer and business insight at Nielsen.
"We anticipate this trend to continue over the next few months. If so, this would be good news for shoppers managing household budgets when prices are rising faster elsewhere and with Easter falling later this year, it may help overall retail sales growths."
British Retail Consortium CEO Helen Dickinson added: "Global food commodity costs have risen by 17% on average over last year's figures, building substantial pressure in the food supply chain.
"Although UK food shop prices are seeing their steepest rise this month for over two years, the increase is still only 1%, reflecting the continuing intense competition between retailers.
"The limited increase is even more impressive, given the magnitude of the devaluation in sterling."
She said: "Looking ahead, ensuring the continuation of value for consumers through tariff-free trade must be at the heart of plans for a smart Brexit."
Morning update
Wholesaler Palmer and Harvey is set to announce that weeks of uncertainty about the future of the business are now over after it secured a deal with two of the world's biggest tobacco companies, according to Sky News. Click here to read more in this morning's Media Bites.
Real Good Food (RGD) has acquired a majority stake in Welsh food manufacturer Brighter Foods for up to £9m. The 84% holding will be bought on a cash and debt-free basis and paid for in two equal instalments – 50% on completion and 50% after Brighter files accounts for 2017/18.
Brighter Foods makes partner branded and its own brand of snack bars for the healthy snacking market from its factories in Tywyn, where it is a major employer with some 170 full-time staff. The company produces snacks which are targeted at areas such as diet control, gluten free, lactose free, low or no added sugar, sports nutrition, organic and fair trade. Its Wild Trail brand is stocked in major retailers and health stores.
The business commenced trading in April 2014 and has grown profits to £2.3m in 2016. Following completion of the transaction, the senior management team – led by founder and CEO Robin Williams – will retain a 15.7% stake in the business
Williams, who will remain as CEO, said: "[Real Good Food] share our vision to invest in the business and to grow it further from the strong base we have established. I'll be staying as CEO and together we have already agreed a headline plan to continue growing our manufacturing facilities in Tywyn.
"This is great news for the town and its people. Real Good Food recognises the importance of good people in business and the importance of the factory to the local community and I am really delighted that this partnership will build on our success to date."
Real Good Food executive chairman Pieter Totté added: "Brighter Foods fits well into our strategy to consolidate profitable well run businesses in niche areas of the food manufacturing industry. Robin and his team have achieved fantastic growth and stability in the business and we are looking forward to continuing the success story.
"Real Good Food investment will enable Brighter Foods to expand and improve its capacity and product range even further. We are excited about the future prospects."
Real Good Food has also agreed that the senior management of Brighter Foods can sell 50% of their remaining stake to the group after March 2020 and another 50% after March 2021.
Shares in the beleaguered Real Good Food have soared 12% as markets opened to 27.9p. The stock was down about 30% so far in 2017 and 50% over the past year as the business struggles with a turnaround.
Elsewhere, the FTSE 100 has started the day positively, climbing 0.3% to 7,346.15 points. The grocery/fmcg market is fairly quiet this morning.
Britvic (BVIC) is up strongly, rising 1% to 651p, SSP Group (SSPG) is up 0.6% to 423.3p, and WH Smith (SMWH) is up 0.4% to 1,779p. Fallers so far include McBridge (MCB), down 1.2% to 191.8p, McColl's Retail Group (MCLS), down 0.7% to 193.7p, and Cranswick (CWK), down 0.4% to 2,520p.
Yesterday in the City
The listed supermarkets slumped yesterday as the latest Kantar and Nielsen market share data showed a late Easter was holding back sales in the industry.
Morrisons (MRW) bore the brunt of the investor backlash as its growth tailed off in the past 12 weeks, with shares plunging 2.9% to 230.9p, along with a Sainsbury's (SBRY) slide of 2.2% to 257.3p.
Tesco (TSCO) escaped the sell-off, with the stock actually rising 0.1% to 185p, despite sales declining 0.4% in the 12 weeks to 26 March.
The FTSE 100 held up despite the falls in the supermarkets to climb 39 points (0.5%) to 7,321.82 points.
Ocado (OCDO) and Marks & Spencer (MKS) had decent days, rising 1.3% to 243.8p and 0.7% to 338.9p respectively. Coca-Cola HBC (CCH) was also one of the day's strong risers, up 1.1% to 2,074p.
Outside of the supermarkets, Associated British Foods (ABF), Cranswick (CWK) and Greggs (GRG) were all among the fallers, donw 2.5% to 2,537p, 1.6% to 2,524p and 0.9% to 1,031p.