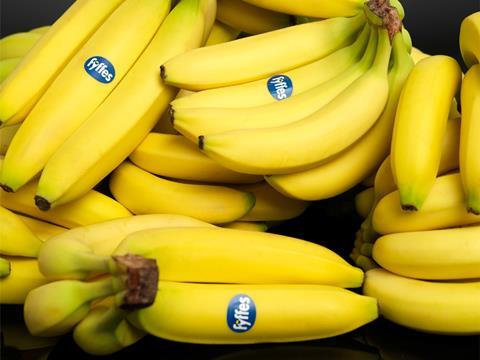 Top story
Irish banana importer Fyffes saw a small increase in full year revenues last year as it faces life as an independent company following the collapse of its mega-merger with US counterpart Chiquita.
Fyffes saw total revenues edged up by 0.8% to €1.1bn, which rose to a 2% increase (to €853) factoring out its share of joint ventures. The sales increase was driven by volume growth in pineapples and melons, though this was offset by price deflation in bananas and pineapples.
The fruit firm also posted its sixth successive year of earnings growth, with adjusted EBITA climbing 22.9% to €40.1m.
One consolation from the collapse of its merger with Chiquita was that the US firm was obligated to pay out $23.3m (€18.6m) to Fyffes as part of a non-completion clause. Fyffes incurred costs of €14.3m related to the deal, resulting in a net surplus of €4.3m from the aborted transaction.
Fyffes is not done with large scale M&A though, admitting it is "pursuing a promising number of attractive acquisition opportunities". It also said it was increasing selling prices in all markets as a response to the dollar's rise against the euro and it targeting EBIT in the range of €36m-€42m in 2015, compared to €40.1m in 2014.
Morning update
Waitrose sales are back on the up after last week's surprise fall, but growth remains at a slim 0.2% for the week to 21 February excluding fuel. Total growth of 0.2% suggests a like-for-like sales fall of over 4% during the week. Growth for the first three weeks of its financial year has also been an average of 0.2%.
Waitrose admitted said it "continues to face tough comparatives as a result of our strong growth this time last year", but pointed out that compared with the same week two years ago total sales are 5.6% higher.
This morning also saw preliminary annual results from takeover target New Britain Palm Oil. The firm, which is in the process of a £1.1bn takeover by Malaysian-based Sime Darby, saw revenues increase 10.6% to $617.9m due to an increase in total oils shipped to customers and higher prices. Profit before tax was almost six times higher, rising to $116.7m from $17.3m last year.
New Britain Palm Oil shareholders overwhelmingly backed the Sime Darby takeover, with 98.8% agreeing to the offer. The takeover is expected to close next week, with New Britain Palm Oil delisting its shares from the London Stock Exchange on Wednesday in preparation.
Also this morning, the monthly GFK consumer confidence survey suggests the public remain relatively buoyant about their financial prospects. The confidence index stayed at +1 during the month, which was shy of expectations of a +2 result but significantly higher than the -4 seen in December.
Nick Moon, MD of social research at GfK, said: "The drop to -4 in December is looking more like a discrepancy. Other than that one month, the index has been at -1 plus or minus 2 for all of the last 11 months. Unless there is some dramatic change in the indicators that get media coverage, or people start feeling significantly better off as inflation edges towards 0, it is hard to see any major change between now and the election."
Fyffes was down 1.7% to 86p in early trading as its forecast of a likely fall in earnings in 2015 hit the shares. There was little dramatic movement among the sector's big players, but Associated British Foods (ABF) is up 1.5% to 3,096p this morning, recovering from several days of share price losses this week.
Thorntons also made back some ground after heavy losses this week, climbing 3.6% to 65.5p in early trading.
Yesterday in the City
Shares in brewing leviathan AB InBev (ABI) climbed 3.1% today to €113.60 after announcing a $1bn share buyback programme and making optimistic noises about rising beer volumes in 2015, despite going up against strong comparators in what was a World Cup year. The Budweiser and Stella Artois maker grew full year revenues by 5.9% in the past 12 months and by 7.6% in the fourth quarter.
Rival SABMiller (SAB) was also up 2.2% to 3,713p on the back of AB InBev's cash-rich position fuelling speculation that a fresh takeover bid could be in the offing.
Elsewhere, British American Tobacco (BAT) also benefited from its preliminary results as its stock rose 1.7% to 3,795p. The Benson & Hedges owner posted a smaller than expected annual sales fall – with revenues down 8.4% to $14bn in 2014, but up 2.8% on a constant currency basis. Volumes declined by of 1.4%, which was against an estimated industry decline of 2.5%.
The three big listed supermarkets continued to enjoy a renaissance this week as Morrisons (MRW) ended the day 1.8% higher at 196.3p – and 5% up for the week – as investors continue to be impressed with the appointed of new CEO David Potts.
Tesco (TSCO) performed even better today with its shares jumping 2.1% to 246p – a six-month high – following analyst firm Bernstein backing the supermarket's turnaround plans yesterday. And Sainsbury's (SBRY) also benefitted from optimistic sentiment in the sector with its share price up 1.3% to 275.1p.
It wasn't all good news for retailers, however, with Thorntons (THT) having another bad day ahead of its half-year results on Monday. The chocolatier fell another 5.6% to 63.3p, putting it down more than 20% already this week. The stock has steadily declined since a pre-Christmas profit warning.