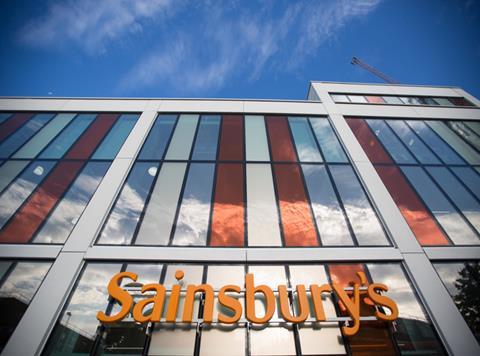 Top story
Sainsbury's (SBRY) has hailed a "good" Christmas performance as sales in the 15 weeks to 7 January rose 0.8%, with like-for-like sales nudging up 0.1%. It compared with a 2.9% like-for-like jumped reported by Morrisons yesterday.
CEO Mike Coupe said the supermarket had a record Christmas week, bringing in more than £1bn across the group.
Argos increased total sales 4.1% and 4% on a like-for-like basis, taking the combined like-for-like figure at Sainsbury's and Argos to 1%.
Sainsbury's added its total volumes in the quarter were up, but flat on a like-for-like basis.
"Sainsbury's offered customers greater quality food, choice and value than ever before, across all channels.
"We had a record Christmas week, with over 30 million customer transactions at Sainsbury's and over £1bn of sales across the group," Coupe said. "Thanks to the commitment of all our colleagues, we delivered an excellent shopping experience and helped our customers live well for less over the festive period."
He added the groceries online and convenience channels performed "well", registering more than 9% and 6% sales growth respectively, with Argos seeing record levels of online participation. Online sales made up 18% of total group sales in the quarter.
Clothing and general merchandise also had "a very strong" quarter, with clothing sales up 10% and general merchandise up 3%.
"At Argos we delivered strong growth in the quarter, driven by the key Black Friday and Christmas trading periods," Coupe said. "Our Argos digital stores in Sainsbury's supermarkets are performing well, as awareness of the convenience of shopping at both Sainsbury's and Argos under one roof grows among our customers."
Argos took more than 65% of its sales across the Black Friday weekend online, helping online sales grow 13% in the third quarter, accounting for 57% of its total sales. There are now 30 Argos digital stores and three Habitat stores in Sainsbury's supermarkets and over 200 digital in-store collection points.
Sainsbury's recorded a 50% year-on-year jump in sales for its Taste the Difference range as customers switched to premium products for Christmas (which also helped Morrisons and Aldi). Turkey volumes also climbed 30% year on year across the range.
The supermarket added that customers paid 14% less for a typical Christmas basket at Sainsbury's than they did two years ago.
"The market remains very competitive and the impact of the devaluation of sterling remains uncertain," Coupe added. "However, we are well placed to navigate the external environment and remain focused on delivering our strategy."
Shares in Sainsbury's leapt 5.3% to 272.7p as markets opened, as the City reacted well to positive sales momentum for the supermarket and solid numbers for Argos.
Morning update
Household goods manufacturer McBride (MCB) said its first-half performance had been "encouraging", with quality of earnings continuing to improve from further positive progress on margins and costs. "As a result the board remains comfortable that the business is on track to deliver its full-year expectations for adjusted operating profit," the group said in the trading statement. Underlying group revenues were 4.5% lower on a constant currency basis when compared with the first half of the prior financial year, which includes a strong comparative from December 2015. Underlying revenues were broadly flat compared to the second half of the prior financial year. The impact of McBride's customer reduction project accounted for a further 2.5% of sales reduction, such that total group revenues on a constant currency basis were 7% lower than the same period last year. The group will announce its interim results for the six months ended 31 December 2016 on 22 February.
Full-year trading at Stock Spirits Group (STCK) was in line with expectations as trading in the second half met forecasts, the listed drinks group said in a trading update. The Polish vodka market continued to show growth in volume and value terms, the group added, with its Polish business performing well in highly competitive trading conditions. The company will announce its full-year results for the year ended 31 December 2016 on 8 March.
Devro (DVO) expects underlying operating profit for 2016 to be in line with the board's projections. The sausage casing manufacturer said in a pre-close trading update that sales volumes for the second half were broadly similar to those experienced in the first six months of the year. Improved performance in second half in Russia, South East Asia and in particular in the fourth quarter in China, offset lower volumes related to product issues in Latin America and some volume reduction in North America due to customer de-stocking in the final quarter. In China sales volumes in the second half were more than double of those in the first half as capacity from the new factory came on stream.
Tesco and Morrisons also opened higher after strong days yesterday (see below), up 0.3% to 213.7p and 0.8% to 248p. McBride is down 1% so far to 179p after its trading update; Stock Spirits jumped 1.7% to 182p; and Devro climbed 2.6% to 195p
Yesterday in the City
London's blue-chip index continued its record run as resurgent supermarket stocks sent the FTSE 100 another 0.5% higher (44 points) to 7,275.47 points. The market is now on nine end-of-day peaks in a row – beating the previous record set in May 1997. The FTSE 250 also closed on a record high of 18,413 points.
Tesco (TSCO) led the charge ahead of Thursday's crucial Christmas update, rising 6.5% to 214.1p to finish the day as the second biggest riser on the FTSE 100 behind mining giant Anglo American. Tesco benefitted from optimistic sentiment around the sector thanks to Morrisons setting the bar high with its Christmas trading figures and also from a strong showing in the latest Kantar and Nielsen data. Both sets of data revealed record trading for supermarkets in the run up to Christmas as the extra two trading days paid dividends.
Morrisons (MRW) investors will also be happy after shares rose 3.8% to 246.5p after it revealed its fastest growth for seven years, with like-for-like sales up 2.9% in the nine weeks to 1 January.
Sainsbury's also rode on the coattails of its rivals ahead of its own update this morning despite Kantar showing sales in slight decline in the 12 weeks to 1 January.
Online grocer Ocado (OCDO) was among the riser, up 1.1% to 264.4p, as was Booker (BOK), which reports on Thursday, up 1.5% to 182.7p. Marks & Spencer (MKS) nudged up 0.5% to 339.3p.
PureCircle had a sweet day, with shares bouncing back 10% to 310p following its stevia shipments being held by US Customs finally being released.
Vimto owner Nichols (NICL) kept its head above water, climbing 0.7% to 1,593.2p, as it reporting strong UK and international growth in an end-of-year trading update.
And Majestic Wine was also among the risers, jumping 5.6% to 342.1p after beating strong Christmas numbers a year ago, with like-for-like sales fizzing 7.5%.
Poor old Crawshaw (CRAW) had another miserable day as its supermarket rivals won back shoppers. The value meat retailer fell 4% to 21.4p and more than 7% so far this week. Other fallers included TATE & Lyle, Britvic (BVIC) and Greggs (GRG), down 1.6% to 689p, 1.5% to 578.5p and 1.2% to 973p.