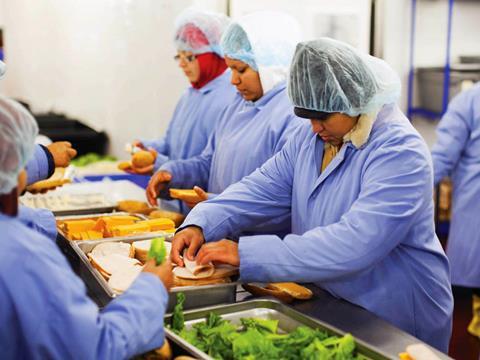 Top story
Revenues at Greencore (GNC) have leapt 54% to £640.5m in its first quarter thanks to booming food-to-go sales in the UK and a jump in US volumes.
Stripping out the gain from its acquisition of Peacock Foods in the US in December 201, pro-forma revenues in the 13 weeks to 29 December were up 7.2%.
In its convenience food division in the UK & Ireland, Greencore boosted turnover by 9.2% to £385.4m, with like-for-like sales up 8.7%.
The growth momentum was again driven by the food-to-go business, where reported revenues grew by 12.2%. The group said it reflected positive growth in the underlying market as well as the incremental impact of previously announced business wins with several of its largest customers, which include the likes of Sainsbury's and Marks & Spencer.
Reported revenues in the other parts of the convenience foods division grew by 5.7% in the quarter.
The group has also reached an agreement to sell its cakes and desserts business in Hull. This sale, together with the previously announced closure of our desserts facility in Evercreech, marks Greencore's exit from the UK cakes and desserts sector.
In the US, sales soared 297% to £255.1m, primarily reflecting the acquisition of Peacock, with like-for-like growth of 5.1%, which was underpinned by volume growth of approximately 7%.
"Commercial activity with core Consumer Packaged Goods (CPG) customers was encouraging, with strong underlying trading as a result of category growth and previously announced business wins," the trading update said. 2The broader commercial pipeline is also developing well."
Greencore also expected a $28m tax credit in the first half as a result of US president Donald Trump's corporate tax cuts.
"The group anticipates delivering a year of strong growth in FY18 and is well positioned to drive improved profitability, cash flow and returns over the medium term," the group added.
However, Greencore warned that if the pound continued to strengthen against the dollar, it would have an impact on its US profits.
Shares in the group are up 1.4% to 205.1p this morning.
Morning update
Greencore also announced this morning that it had appointed Helen Rose as a non-executive director, with effect from 11 April. Rose is currently chief operating officer with TSB Banking Group.
She has extensive operational, financial and UK retail experience and has held a number of senior finance roles at Dixons, Forte, Safeway and Lloyds Banking Group.
Greencore chairman Gary Kennedy said: "Helen will bring deep operating knowledge, with a detailed financial focus and valuable experience of the food industry. Helen's appointment will complement our strong, experienced board and executive team."
Profits at PZ Cussons (PZC) sank in the first half as its margins were squeezed on tough trading in Africa and Europe, with the UK proving particularly difficult as shoppers spend cautiously.
Adjusted operating profits in the six months to 30 November fell 10.3% to £37.5m, while adjusted pre-tax profits were down 15.4% to £34m.
The group said strong profitability in Asia was offset by reduced margins in some business units in Europe and Africa. But added profitability was expected to improve in second half as a result of further new product launches and distribution expansion.
Revenues in the half increased 1.9% to £385.4m, underpinned by a strong and innovative product pipeline, PZ Cussons said.
In the UK, where general cost inflation is outstripping wage growth, cautious consumers resulted in lower profitability in the washing and bathing division versus the prior year.
"Product launches across Imperial Leather, Carex and Original Source brands have been well received, however, volumes remain very sensitive to price points and discounting," the group added. "Further brand initiatives are planned for the second half, with innovation for the consumer increasingly important to secure distribution and deliver stand out on shelf."
Chairwoman Caroline Silver said: "In the first half of the financial year, the group has faced tough trading conditions in many of the markets in which it operates, and whilst revenue was 1.9% higher than the previous period, adjusted operating profit was 10.3% lower as a result of reduced margins in certain business units in Europe and Africa.
"Initiatives are underway to improve performance of these business units and, together with the positive momentum elsewhere in the group and in particular in Asia, provide a solid basis for improved performance in the second half of the year.
"The board has maintained the interim dividend at 2.67p per share.
"The group's brand portfolio remains strong and, with a strong balance sheet, the group is well placed to pursue growth opportunities."
Shares in PZ Cussons slumped 3% to 320.2p as markets opened this morning.
Yesterday in the City
Conviviality (CVR) investors were left nursing a serious hangover after shares in the drinks group collapsed by 11.1% to 318p as profits in the first half and margins came under pressure. The stock plunged by as much as 20% in early trading before clawing back losses by the end of the day. Overall sales for the 26 weeks to 29 October 2017 were up 9.2% to £836.3m as the group reported "strong gains in market share" during the period. However, those gains led to a 0.3% point reduction in gross margin. An analyst source said the fall in the share price was caused by a negative reaction by the City to the group's net debt at the half year of £133m. It was expected to be down to £100m by the end of its financial year in April, but this is now unlikely. "It was a bit of an overreaction by the City in all honesty," the analyst said.
Elsewhere, Greencore fell 2.6% to 203.5p ahead of this morning's update, British American Tobacco (BAT) was down 1.3% to 4,875p and Dairy Crest (DCG) slipped 1.1% to 561.5p.
Reckitt Benckiser (RB), SSP Group (SSPG) and WH Smith (SMWH) were among the risers, up 1.1% to 6,802p, 1.1% to 637.5p and 0.7% to 2,180p respectively.