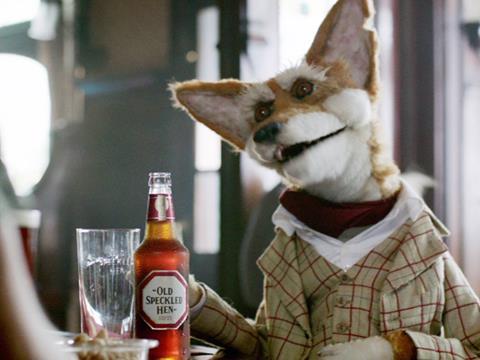 Top story
Greene King (GNK) has seen annual retail revenues exceed £1bn for the first time as group revenue increased 5% to £1.3bn in the year to 3 May.
The brewing and pub group's like-for-like sales growth in the retail business grew by 0.4% during the year, while profit before tax was 1.7% down to £168.5m
Its brewing & brands division saw revenues grow by 3.9% to £192.7m. Brewing volumes were up 4.2% in a UK ale market down 1.2%, with its share rising 40bps to 10% of the total market.
Its Hen range saw volume growth of over 16% compared against 6.5% growth in the wider UK premium ale market. Greene King said Old Speckled Hen "remains the number one premium ale brand in Great Britain" and has seen its volume almost quadruple since it was acquired in 1999.r
Operating profit in the division was 0.1% lower at £29.8m, reflecting the sale of 275 leased and tenanted pubs to Hawthorn Leisure at the beginning of the year. Excluding the impact of disposals, operating profit was up 4.4% to £29.3m.
Its pub partners division saw like-for-like net income growth of 3.5%. Greene King acquired Spirit Pub Company on 23 June 2015 for £774m to add 416 pubs to its portfolio.
Rooney Anand, chief executive officer of Greene King, said: "Greene King has delivered another record year in a challenging trading environment. We have also completed a successful five-year strategic plan, surpassing our goals, as we delivered significant progress, changed the business mix and better positioned the company for the future."
Morning update
Greene King shares are up 1.2% to 854.5p in early trading.
More generally the FTSE appears to be starting on the road to recovery from recent falls as the FTSE 100 is up 0.8% to 6,574.1pts in early trading, despite last night's Greek IMF debt default. Most major fmcg stocks are moderately up, but Tesco (TSCO) and Sainsbury's (SBRY) have opened just below par after a tough day yesterday (see below).
Meanwhile, Premier Foods (PFD) is hosting an investor and analyst visit at its Carlton cake bakery in Barnsley today. The visit will include a tour of the site and presentations on the Company's Sweet Treats business unit. The Company will provide a Quarter 1 trading update on 23 July
Yesterday in the City
As Greece's potential exit from the euro and looming debt default dominated the news, there were few signs of cheer in the City yesterday.
The FTSE 100 was down another 1.5% to 6,520pts yesterday, making June the index's worst month for three years.
The news was little better for the supermarkets after the publication of Kantar Worldpanel's market share data yesterday. Sainsbury's was down 3.3% to 265.3p after Kantar suggested its 12-week sales were 1.7% down. Tesco dropped 2.8% to 212.5p after its sales were down by the same figure.
Morrisons (MRW) fared slightly better, with its shares down 1% to 180.8p after being the only one of the big four to show a small sales increase. But M&S was caught up in the supermarket sell-off and its exposure to Greece falling 2.7% to 536p.
The day's undisputed winner was Ocado (OCDO), which saw its shares climb by 3.7% to 445.9p after posting strong sales and profit growth for the first half of the year. Ocado shares are now 22.3% in the past month and back to their highest point since early 2014.