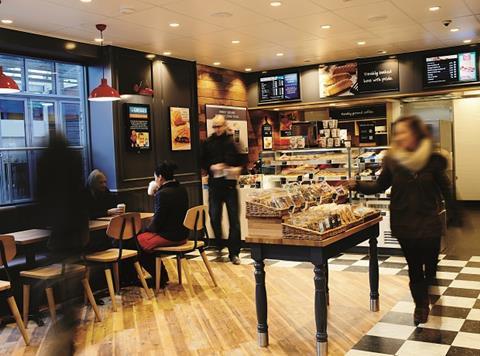 Top story
Greggs (GRG) boasts of a year of "exceptional" progress in its preliminary results this morning as CEO Roger Whiteside's refocusing of the business toward healthier sandwiches, coffee and food-on-the-go continues to pay dividends.
Favourable market conditions – with a recovery in the UK economy and low inflation putting more money in shoppers pockets – and better weather drove like-for-like sales growth at the fastest rate since 2007 (up 4.5% compared with a decline of 0.8% in 2013). It led to record underlying pre-tax profits of £58.3m for the 12 months to 3 January, 41.1% ahead of the previous year.
Total sales across the 1,650-strong estate came in at £804m, a 5.5% jump on 2013.
Investors will also be celebrating as Greggs announced increased returns, with a 13% hike in dividend to 22p and a £10m share buyback programme, which was not expected by the analyst community.
"2014 was a year of significant change and an exceptional step up in performance for Greggs as we began to implement our new strategic plan centred on the growing food-on-the-go market," Whiteside said.
"Overall we are confident of delivering a further year of good growth and progress against our strategic plan in 2015."
He added that Greggs had already started the new financial year strongly, with like-for-like sales in the eight weeks to 28 February growing 6.3%. And with lower food input costs going forward coupled with higher disposable income for consumers, plus benefits from an operational restructuring set to come through, there doesn't seem to be any signs that Greggs' meteoric rise is set to falter any time soon despite going up against tough comparators.
Shares in the bakery chain opened more than 2% higher to 895p after slipping yesterday before falling back to 1.3% up.
Morning update
Prices on the high street fell for the 22nd month in a row in February, accelerating to 1.7%, according to the latest British Retail Consortium-Nielsen Shop Price Index. Food reported annual deflation of 0.4% for the month, from a 0.5% fall in January.
BRC director general Helen Dickinson said fresh food edged down to its lowest level on record with milk, cheese and eggs, vegetables and convenience food all cheaper than they were a year ago. "The fiercely competitive market will see retailers continuingly responding to their customers with keen prices and promotions to maintain market share," she added.
Mike Watkins, head of retailer and business insight at Nielsen, said: "The challenge for food retailers is that in-store promotions also remain close to an all-time high at 33% of sales and the use of vouchers or coupons continues, making consumer demand rather unpredictable. Even so, shoppers are seeing a double benefit of price cuts and promotional offers."
Yesterday in the City
McColl's Retail Group (MCLS) was among the biggest fallers in retail yesterday, finishing 4.7% down at 162p following its full-year results. The c-store chain was down 11% earlier in the day, with a low of 150p, despite announcing the year of its flotation to be its best ever. Revenues exceeded £900m for the first time, growing 6.1% from £869.4m in 2013 to £922.4m in the 53 weeks to 30 November, but like-for-like sales growth of just 0.7% and talk of a "challenging and competitive" took its toll on investor confidence.
Another loser has been a winner in the past week. Glanbia (GLB) shares fell 4.4% to €16.30 after closing 5% up at €16.88 on Monday. The Irish dairy and sports nutrition group recently posted strong results and was bullish about its 2015 prospects as it eyes M&A opportunities.
High street bakery chain Greggs (GRG) ended the day 2% down to 870.5p ahead of its full-year results. The company's share price has boomed over the past 12 months as Greggs reporting enviable growth on the back of its renewed sandwiches and coffee offering. Fellow food-to-go specialist Greencore (GNC) also fell 3% to 326.3p.
In grocery, Ocado (OCDO), after rising in the morning, fell back to finish 4.3% down at 357p. Tesco (TSCO) stock also decreased 0.7% to 245p.
However, rival Morrisons (MRW) finished in the top five of the FTSE 100 to continue its recent good run following David Potts appointment as CEO. The supermarket's share price was up 1.6% to 202p – the highest it has been since May 2014. Sainsbury's (SBRY) was also up 0.6% to 273.7p.