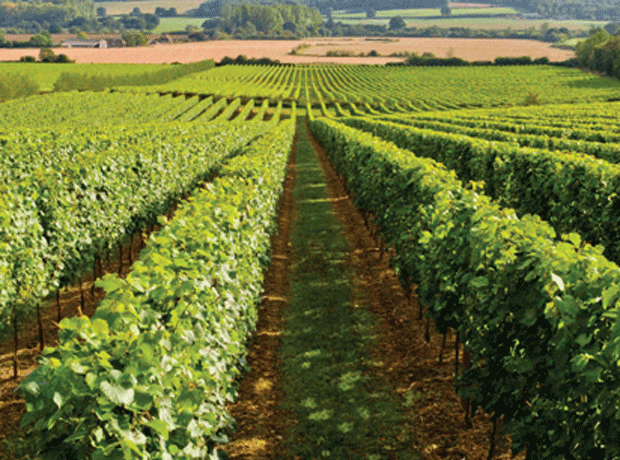 Top story
English sparkling wine producer Gusbourne (GUS) is aiming to raise up to £10m through a bonds issue to spend in its vineyards and increase its stocks.
The business intends to raise up to £8m with the secured deep discount bonds, but will increase the total amount to no more than £10m if there is demand.
Gusbourne's said the production of premium sparkling wine from new vineyards is a long-term project and requires funding to support the investment in new vineyards, additional winery capacity and wine stocks.
It will use the proceeds from fundraising for:
Capital expenditure on immature vineyards planted between 2013 and 2015 in Kent and West Sussex
Capital expenditure on additional plant and equipment for the vineyards and winery;
Working capital to fund in particular the continuing increase in the Company's sparkling wine stocks
Ongoing investment in the further development of the award winning Gusbourne brand;
Repayment of the existing convertible bond held by chairman and interim CEO Andrew Weeber and Caroline Weeber
Establishment of a cellar door sales facility including vineyard and winery tours
The bonds, when issued will have a five-year term with a discount rate of 9% per year. Deep discount bonds are usually purchased price that is significantly below face value allowing an investor to lock in a better rate of return for a longer period of time. However, these kind of bonds are perceived to be riskier than similar bonds.
Chairman Andrew Weeber intends to apply for at least £600,000 in the bonds issue. Tory peer Lord Ashcroft, who hold a 64.4% stake in Gusbourne, also said he would apply for 64.4% of the total amount raised.
Morning update
It's a quiet morning on the markets ahead of a busy day tomorrow. But The Grocer looks at how the biggest stocks and shares have fared since the UK electorate took the decision to quit to the EU. The Grocer looks at who the share price winners and losers have been since the vote. An examination of the 30-day share price movement available on thegrocer.co.uk/finance suggests food and drink manufacturers and retailers have been spared the worst of the post-Brexit share price falls. Read the full story on the finance channel of the thegrocer.co.uk.
Dairy Crest announced yesterday after the markets closed that it had appointed Adam Braithwaite as an executive director. He had spent 14 years with the business and held a number of senior management positions, including group commercial director.
Takeaway food delivery business Just Eat has completed the sale of hellofood Brazil to IF-JE1, its Brazil joint venture in a $11m deal. It also sold to IF-JE a 49% stake in its enlarged Mexico business, formed of SinDelantal, acquired in February 2015, and hellofood Mexico, acquired in February 2016.
After managing to keep its head above water yesterday despite the higher than expected inflation, the FTSE 100 has opened up another 0.5% to 6,728.05 points. SSP Group (SSPG) has continued to make gains, up 1.5% to 304.5p so far. British American Tobacco (BAT), TATE & Lyle (TATE) and Reckitt Benckiser (RB) are also up 1.2% to 4,848p, 1.2% to 698.5p and 1.2% to 7,488p respectively. The early fallers include Tesco, down 1% to 162.2p and Ocado (OCDO), down 0.6% to 263.2p.
Yesterday in the City
European Coke bottler Coca-Cola HBC (CCH) was the biggest riser on London's blue-chip index yesterday, climbing 3.4% to 1,573p after JP Morgan Cazenove set a target price of 1,800p for the stock – a near 17% upside to today's price.
Dairy Crest (DCG) made gains of 2% to 583p when it said it was happy with its full-year expectations in a Q1 update. It added Q1 had met expectations with combined sales volumes of the four key brands (Cathedral City, Clover, Country Life and Frylight) in line with the same period last year.
Travel concession group SSP (SSPG) rose 1.7% to 300.3p after revenues jumped 9% thanks to the softening of the pound against major European currencies.
Conviviality made more healthy gains to close 6% up at 207.5p. It takes the stock 17% higher since it announced profits and sales had more than doubled thanks to the acquisition of Matthew Clark and added the integration of Bibenedum PLB was ahead of plan.
The FTSE 100 just kept its head above water – up 0.1% to 6,698.77 points – despite other European stock markets faltering as data showed Brexit worried hit the German economy.
Of the few grocery stocks in the red, B&M Bargains (BME) was down 2% to 265.5p, Britvic (BVIC) fell 1.1% to 618p ahead of a trading update on Thursday, Sainsbury's (SBRY) was down 1.1% to 228p and Tesco (TSCO) was 1% in the red at 164.4p.