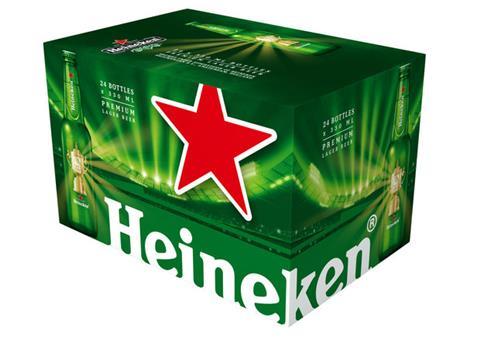 Top story
Revenues and profits have climbed at brewing giant Heineken in its first half despite strong comparatives in 2014 and challenging conditions in a number of markets.
Volume growth continued at the Dutch group in the second quarter, although more moderate than in the prior year.
It helped push revenues in the first six months of 2015 up 7.2% to €10.93bn and operating profits up 8.3% to €1.69bn. On an organic basis, the top line grew by 2%, comprising of a 0.9% increase in group total volume and a 1.1% increase in group revenue per hectolitre.
Heineken said that innovation played an important role in its half-year progress, contributing revenues of €854m in the period.
Volume in the premium segment also grew 4.7%, with positive performances in almost all regions. In particular, Heineken volume saw double-digit volume growth in China, Brazil, Vietnam and Spain.
Global brands Desperados, Affligem and Sol Premium also registered double-digit volume growth.
Heineken chairman and CEO Jean-François van Boxmeer said: "These solid results are in line with our expectations and demonstrate the further progress we have made in delivering on our strategy. "Despite strong prior year comparatives and challenging conditions in a number of markets, we saw positive top line and profit growth. Heineken volume in the premium segment grew a further 4.7%, outperforming the total beer market. This continued positive momentum reflects the benefit from our exposure to high-growth markets, a sustained focus on marketing and innovation, and the ability to drive efficiencies throughout the business."
He added that despite economic conditions and the pricing environment in certain key markets remaining challenging, the full-year expectations for the group were unchanged.
The second half of the year has a number of campaigns which Heineken expects to be beneficial, including a partnership with the new James Bond film and sponsorship of the Rugby World Cup.
Morning update
Listed packaging group DS Smith has completed the £135m acquisition of the corrugated activities of Grupo Lantero after being given the all-clear by competition authorities. The Iberian group has a strong focus in the fmcg sector, operating seven sites across Spain.
DS Smith CEO Miles Roberts said: "It is a further important step in our strategy to leverage our scale and strengthen our geographic footprint and we look forward to working with Grupo Lantero stakeholders and contributing to the overall growth of DS Smith."
Grupo Lantero chief executive Enric Holzbacher added: "We are convinced that DS Smith has a strong alignment within the fmcg sector and will further develop our well established customer relationships."