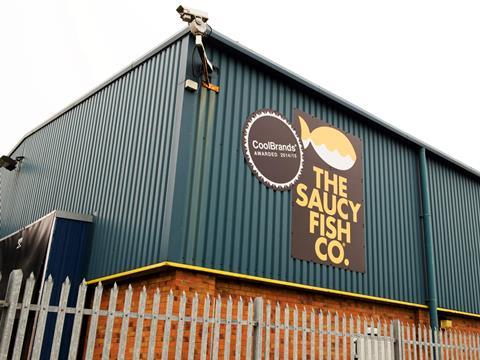 Top story
Tesco red meat supplier Hilton Food Group (HFG) has confirmed it is in talks to acquire Saucy Fish Co owner Icelandic Seachill, which was put up for sale in April.
The group issued a statement to the London Stock Exchange yesterday after markets closed responding to media speculation that it was in pole position in the auction process.
Hilton has reportedly secured exclusivity with Seachill parent Icelandic Group ahead of a host of other bidders, including Young's Seafood, Cooke Aquaculture and Icelandic consortium Steinasalir, which bought Belgian subsidiary Gadus from Icelandic in April, according to the story in Undercurrent News.
"Hilton Food Group notes the media speculation in relation to a potential acquisition and confirms that it is at an early stage of discussions in relation to such a transaction," Hilton said in the statement.
"There can be no certainty at this time whether any agreement on such transaction will be reached, and a further announcement will be made as and when appropriate."
The Grocer reported at the start of April that Seachill was being prepared for sale, with the company confirming it was on the market a few weeks later.
Dealmakers said at the time that Tesco, which is Seachill's main customer and has a long-term partnership with the fresh fish supplier, would be kingmaker for any deal.
Hilton has been a long-time partner to Tesco and supplies most of the red meat used in the supermarket's Boswell Farm brand. Increased volumes at Tesco contributed to a 12.8% rise in revenues to £1.2bn in the year to January, with operating profit up 18.4% to £34.3m.
Hilton also has a significant presence in overseas markets, including a joint venture with Portuguese food retailer Sonae Modelo Continente signed at the turn of the year and an agreement with Australian retailer Woolworths to build and operate a new production facility in Queensland.
Hilton shares were up more than 5% to 705p yesterday before the announcement came after the markets had closed. The stock has leapt a further 5% to 739.5p since markets opened this morning.
Grimsby-based Seachill, which employs about 750 staff, reported revenues totalling £266.3m in 2016, with EBITDA of £10.4m.
Peel Hunt head of research Charles Halls said: "This would be an interesting move for Hilton and it would only do it if supported/encouraged by Tesco. It does fit with its strategy of broadening the product range to its key customers – having started in red meat, the company now produces a range of other products including pork and pizza.
"A transaction could be nicely accretive as it could be funded with cash/debt given that Hilton had net cash of £32m at the end of last year."
He added: "We do not have a clear view on the price being touted and it will depend on current performance (the business lost an M&S contract last year), the level of investment required, and the ongoing relationship with Tesco. The latter is particularly important given the cost/long-term contract structure Hilton operates for Tesco out of its Huntingdon facility.
"We would normally be cautious on a food company branching into a new area. However, Hilton is different and has proven that its model works over different product categories. We await developments with interest."
Morning update
Applegreen (APGN) has agreed to acquire UK forecourt operator the Carsley Group for £21m as the Irish group continues its expansion plan.
The listed company will buy a network of seven sites from Carsley, consisting of six service areas and one petrol filling station. The service area sites are predominantly located on the major arterial route of the A1.
Under the terms of the deal, Applegreen will acquire the business for a consideration of £21m – to be funded from existing company resources. The transaction is expected to complete in the early part of the fourth quarter later this year.
Applegreen CEO Bob Etchingham said: "This transaction will accelerate our strategy to establish a major service area presence in the UK market, complementing our strong position in Ireland and growing footprint in the United States.
"The service area sites we are acquiring are well located on very busy roads with a number situated on the A1 which is a major arterial route. The assets being acquired provide a set of large and strategically important sites that can accelerate Applegreen's growth in this key marketplace.
"This acquisition demonstrates our commitment to enhancing our existing estate in the UK and leveraging our expertise in operating high quality service areas offerings with a strong food-to-go focus for the benefit of our customers."
Last month, Applegreen made its first venture into the US after agreeing a $5.4m (£4.1m) deal for South Carolina forecourt operator Brandi Group.
Yesterday in the City
Fresh from the boost B&M European Value Retail (BME) got from rumours Asda was about to make a takeover bid, the discounter jumped another 3.5% to 372.2p yesterday after it announced a £152m deal for Heron Foods. The move breaks the chain into the convenience sector and expands it food and drink offering from its current small range.
The supermarkets all closed trading among the risers as rival Asda revealed profits tumbled by £200m in 2016 as the price war took its toll on the Walmart-owned grocer. Tesco (TSCO) was up 1.3% to 178.2p, Morrisons (MRW) rose 1% to 245.2p and Sainsbury's (SBRY) climbed 0.6% to 249.7p.
Ocado (OCDO), Marks & Spencer (MKS) and Booker Group (BOK) increased 0.4% to 303.1p, 0.3% to 325p and 1.1% to 195.9p respectively.
Irn-Bru owner AG Barr (BAG) jumped 1.3% to 609p after it said sales had grown 8% in the first half to £136m.
Fallers included Greggs (GRG), down 0.8% to 1,120p after good gains on Tuesday, Compass Group (CPG), down 0.7% to 1,607p and Cranswick (CWK), down 0.4% to 2,911p.
The FTSE 100 fell 0.2% to 7,411.43 points.