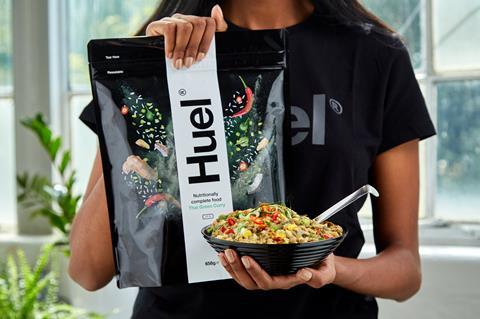 Top story
Plant-based meals brand Huel saw revenues top £100m last year amid strong growth in the UK and its international business.
In the year to 31 July 2021 the brand's revenues jumped 43% to £103m as demand for its "nutritionally complete, sustainable food" continues to build.
The brand saw strong growth in the UK as revenue grew 45% during the year, supported by its distribution network enabling next day delivery and RTD in major supermarkets supporting brand awareness.
UK growth was also boosted by continued product innovation, with successful launch of 'Hot & Savoury' as Huel's first warm, savoury meal option, now selling over 10m meals since launch.
Huel's US business also grew 42% during the year as localised production and fulfilment across three sites has strengthened its customer proposition.
Its ROW business, covering EU territories and Japan, grew 43% during the year. Growth within the EU was supported by its most recent fulfilment centre in Poland.
Overall, it saw a 30% increase in its active customer base reflecting strong retention despite Covid restrictions and a subsequent acceleration in new customers as restrictions lifted
During the year, it began to experiment with greater investment in wider digital marketing channels, which it hopes will be supportive of building broader awareness and reaching new customers globally.
Underlying EBITDA increased £0.7m to £2.0m whilst making significant investment into customer acquisition, product innovation and team expansion.
James McMaster, CEO of Huel, said: ""Our momentum has continued into the new financial year, both in the strength of our trading performance and in how we set the business up for continued growth.
"As we look to 2022 and beyond, I am confident that the opportunities for Huel are significant. We face an unsustainable food system, with a huge carbon footprint and significant food waste. At the same time, obesity is high and yet almost 1bn people globally are undernourished.
"That backdrop is why Huel was founded – to provide food that prioritises nutrition, has minimal environmental impact and is convenient and affordable. We're proud to have now supplied more than 200 million meals since we launched in 2015 and we believe Huel's mission leaves the business well placed for long-term future growth."
Meanwhile, it announced the appointment of Robyn Perriss to its board as an Independent non-executive director.
Perriss was CFO of Rightmove for 12 years and is also currently a non-exec director at Dr Martens, Softcat and Next 15 Communications Group.
Morning update
Higher costs are pushing up retail inflation, according to the latest monthly BRC-NielsenIQ Shop Price Index.
Shop price annual inflation accelerated to 2.1% in March, up from 1.8% in February, which marks the highest rate of inflation since September 2011.
Food inflation in particular accelerated to 3.3% in March, up from 2.7% in February, which represents the highest inflation rate since March 2013.
Fresh Food inflation was up 3.5% in March, up from 3.3% in February – above the 12- and 6-month average price growth rates of 0.8% and 2.4% respectively and the highest inflation rate since March 2013.
Ambient food was up 3% in March, up from 2% in February, which was comfortably above the 12- and 6-month average price increases of 1.2% and 1.8% respectively, but only the highest rate of increase since April 2019.
Non-food inflation accelerated to 1.5% in March, up from 1.3% in February, which is the highest rate of inflation since February 2011.
BRC CEO Helen Dickinson commented: "Consumers were hit once again by rising prices, with March seeing the fifth consecutive month of inflation. There have been mounting cost pressures throughout the supply chain for some time, including rising wages, input costs, global commodity prices, energy, and transport. Many of these costs are beginning to be exacerbated by the situation in Ukraine, but the full impact on prices is yet to be seen. Wheat prices have risen sharply, while the rise in oil prices has not only impacted domestic energy costs, but also the costs of fertiliser and transporting goods.
"Our Shop Price Index has been rising more modestly than other inflation measures as retailers were able to limit price rises on many essential goods. By keeping the prices of key items down and expanding value ranges, retailers are trying to support customers most affected by the cost-of-living squeeze, many of whom will face higher energy prices and National Insurance Contributions from 1 April. With overall inflation likely to rise even higher according to the Bank of England, consumers will not have an easy ride this year. The war in Ukraine, and volatility in commodity markets is likely to further dampen consumer confidence in the coming months."
Mike Watkins, head of retailer and business insight, NielsenIQ, added: "With cost-of-living increases accelerating, the next few months will be a difficult time for consumers. Rising food prices will start to impact what's put in the shopping basket so supermarkets will need to adapt ranges to help shoppers manage what they spend on their weekly groceries. Whilst high street retailers will be competing for discretionary spend that's coming under increasing pressure"
On the markets this morning, the FTSE 100 is up another 0.2% to 7,555.4pts this morning.
Risers include Coca-Cola Europacific Partners, up 3.6% to €45.45, Hotel Chocolat, up 2.3% to 450p and Glanbia, up 1.8% to €11.00.
Fallers include Pets at Home, down 3.1% to 383.6p, Deliveroo, down 3.1% to 121.1p and SSP Group, down 2.1% to 247.7p.
Yesterday in the City
The FTSE 100 bounced back from a mild fall on Monday to rise 0.9% yesterday to 7,537.3pts.
Strong consumer risers included THG, up 11.4% to 96.6p, Deliveroo, up 9.5% to 124.9p, Ocado, up 7.1% to 1,166.5p, Marks & Spencer, up 6.4% to 165.4p, SSP Group, up 6.2% to 253p, Coco-Cola HBC, up 5.8% to 1,681.5p, Just Eat Takeaway.com, up 5.7% to 2,781.5p, WH Smith, up 4.8% to 1,542.5p and FeverTree, up 4.6% to 1,864p.
The day's fallers included British American Tobacco, down 2.4% to 3,219p, B&M European Value Retail, down 2.3% to 546p, Finsbury Food Group, down 2.1% to 69p, Imperial Brands, down 1.7% to 1,632p, and Sainsbury's, down 1.3% to 257.7p.
AG Barr was up 2.3% to 544p after posting strong rebounds in annual sales and profits as consumption on the go returned after the easing of Covid restrictions.