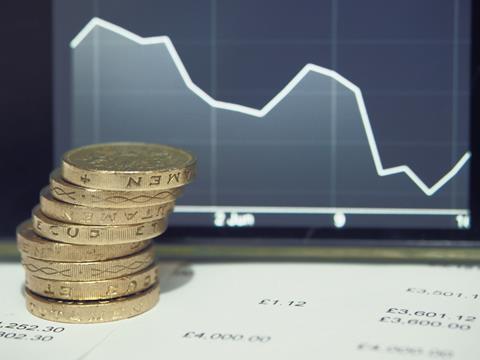 Top story
Supermarket shelf prices are on the rise for the first time in more than two-and-a-half years.
The industry-wide deflation that has gripped the grocery market since mid-2014 fell back to zero in the month to 1 February and prices have now risen by 0.5% year on year in the month to 1 March, according to The Grocer Price Index collated by Brand View.
The rate of inflation has increased by more than two percentage points in the past four months as deflation was still at -1.4% in the month to 1 December.
Each of the big four included in the GPI calculation saw prices rise last month for the first time since inflationary pressure returned to the market.
Tesco remains the most reluctant to raise prices, with overall prices up just 0.03% year on year. Asda showed the largest annual price increases at 1%.
Morning update
Cider producer C&C Group (CCR) has issued a pre-close trading update for the year to 28 February this morning.
The Bulmers, Magners and Tennent's producer said operating profit is expected to be between €94-€96m after second half operating profits were broadly level with last year despite the impact of currency movements.
However, this represents a decline in overall group operating profit largely due to the devaluation of sterling and the benefits of its cost reduction programme being outweighed by brand investment and price deflation.
It said volumes across its three main brands were resilient, with Bulmers expected to post growth of 3%, Magners 7% and Tennents will be flat.
Niche & speciality volume, including Heverlee, Menebrea and Chaplin & Cork's will be up 50%-plus in the year and now constitutes 2% of the group's owned brand volume.
Cider in Ireland continued to grow its share of long alcohol drinks as a generation of younger drinkers entered the category, but Bulmers brand growth slowed slightly in the second half.
In Scotland, Tennent's grew volume and share in the independent free trade channel, outperforming the overall UK beer market which declined -1%. The Magners brand in the UK maintained a strong performance with volume expected to be up 11% for the full year. However, the negative pressures on pricing and on pack and channel mix evident in the first half of the year remain unchanged.
Its export volumes are likely to be up in the low single digits for the full year with Tennent's in double-digit growth.
In terms of outlook, C&C warned: "The impact of currency, negative market pressures on pricing and pack/channel mix have impacted the Group's profitability.
"In FY18 we will continue to invest in our core brands to deliver long term growth, remain disciplined on costs and look to strengthen our route-to-market where possible. Given market dynamics and consumer concerns we remain cautious on the outlook for our domestic markets and are not anticipating improved trading conditions in the short term."
On the markets this morning, C&C Group shares have plunged 7.8% down to €3.58 on the gloomy outlook.
Elsewhere, The FTSE 100 has rebounded 0.4% to 7,343.4pts.
Risers include Nichols (NICL), up 1.6% to 1,875p, Majestic wine (WINE), up 1.1% to 329p and Booker (BOK), up 0.9% to 199.7p.
Fallers include Glanbia (GLB), down 3.4% to €18.07, Real Good Food (RGD), down 3.2% to 30p and CARR's Group (CARR), down 1.8% to 147.4p.
Yesterday in the City
It was a grim day for the listed supermarkets yesterday as shares were hammered despite what appeared to be a positive set of results annual from Morrisons (MRW).
Morrisons shares plunged 6.6% to 230.8p The shares were down 5.8% to 232.7p by midday despite a 2.5% like-for-like sales improvement in Q4 and an 11.6% to £337m in underlying profits
The shares were sent downwards by suggestions Morrisons' sales growth was beginning to tail off once more and sober commentary from the supermarket, which warned of challenges ahead "especially around the impact on imported food prices if sterling stays at lower levels".
Morrisons shares had been on a strong run before yesterday, rising by almost 20% over the past year and by over 40% since early summer 2016.
But the sector's shares were also not helped by Waitrose announcing a 0.2% decline in annual like-for-like sales as it warned of "significant one-off costs" and trading pressures ahead.
Sainsbury's (SBRY) shares fell back 1.4% to 262.4p and Tesco (TSCO) dropped 1.1% to 186.4p as investor fears were raised over how the mults will cope with rising prices and the resurgent threat of the discounters.
Overall the FTSE 100 dipped 0.3% to 7,314.9pts as it continues to fall back from last week's all-time high.
There were some notable risers, including Unilever (ULVR), up 2.6% to 4002.5, B&M European Value Retail (BME), up 1.8% to 311.3p and PZ Cussons (PZC), up 1.2% to 326p.
There were also rises at Hilton Food Group (HFG), up 3.5% to 646.5p, Glanbia (GLB), up 3.4% to €18.70, Produce Investments (PIL), up 3.1% to 200p and Nichols (NICL), up 2.2% to 1,846p.
Other fallers included Science In Sport (SIS), down 2.9% to 83.5p, Stock Spirits (STCK), down 2.2% to 176p and Devro (DVO), down 1.7% to 188.8p.