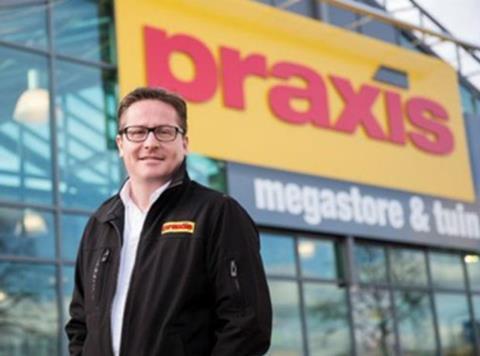 Top story
Majestic WINE (WINE) MD John Colley is leaving the wine retailer a little more than 18 months after joining to take a new role closer to his young children in the South of England.
The short statement to the stock exchange this morning does not disclose any details of Colley's new role.
Colley, a former director at B&Q and CEO of Dutch DIY chain Praxis, joined wine merchant in October 2015 to free up group CEO Rowan Gornley to oversee the long-term strategic decisions of the combined Majestic and Naked Wines plc, as revealed by The Grocer at the time.
Gormley, who took charge after the £70m takeover of Naked Wines in April 2015, will add the MD role of Majestic Retail to his other responsibilities.
Gormley said Colley, who leaves the business on 31 May, had played a key part in the first phase of the transformation of Majestic Retail.
The retail and commercial board, built by Colley since joining in October 2015, will carry on running the day-to-day business, reporting directly to Gormley. No other management changes would need to be made and the Naked Wines and Lay & Wheeler businesses would continue to also report directly to Gormley, the statement added.
"John leaves with our best wishes, and our heartfelt thanks for the hard work, dedication and expertise he has given us," Gormley.
"For the first time in many years Majestic is organically growing sales and our job is now to accelerate that by building our customer base through loyalty.
"This is exactly what gets me excited and what I love doing so it's a perfect time for me to get more involved.
"Congratulations John. Thank you for getting Majestic back on its feet and the very best of luck in your new role."
Shares in Majestic fell 0.4% on opening this morning to 360.3p.
Analysts at Liberum added: "The departure of John Colley is a disappointment but one should not see this as a strategic step-back. John has put in place systems, processes and a team in the Retail business that had not previously existed.
"The heavy-lifting has been done and the business is in a much stronger positon. Sales growth has returned, KPI's are all moving in the right direction and it is now time to focus on improving second shop rates, lifetime value of customers and building the customer base through loyalty. This plays to the strengths of Rowan Gormley' skill sets."
Morning update
Food retailers managed to record growth in March but the rise was mainly driven by inflation as the sector pins its hopes on a bumper Easter.
The latest figures from the BRC – KPMG monthly monitor showed food sales decreased 0.2% on a like-for-like basis but increased 1.2% in total over the three months to the end of March.
It was the first time in four months that the three-month average total growth was below 2%, but the 12-month total average growth rose to 1.5%.
The picture on the high street in general was grimmer as the rise in overall food sales in March failed to offset falls for other retailers. On a total basis, sales fell 0.2% in March, against flat growth in March 2016. This remains below the three-month average of 0.1% and the 12-month average of 0.8%, but was negatively distorted by the timing of Easter, the figures revealed.
UK retail sales slumped 1% on a like-for-like basis from March 2016, when they had decreased 0.7% from the preceding year.
Over the three-months to March, non-Food retail sales in the UK declined 1.1% on a like-for-like basis and 0.8% on a total basis. This is the slowest three-month total average growth since May 2011, and drags the 12-month total average growth to 0.3%, the lowest since April 2012.
"Food sales continue to outperform non-food sales as shoppers focus their spending on essential items," said British Retail Consortium CEO Helen Dickinson.
"This marginal growth in food was bolstered by slightly higher shop prices following increases in global food commodity costs and a weaker pound. The pressure on prices continues to build, albeit slowly, and will inevitably put a tighter squeeze on disposable income and so to ensure consumers continue to enjoy great quality, choice and value on goods, securing tariff free-trade must be the priority as the Brexit negotiations begin in earnest."
IGC chief executive Joanne Denney-Finch cautioned that it was difficult to interpret the food retail figures for March because of the shifting Easter week.
"Although sales dipped versus last year, there is every opportunity for retailers to recoup the lost ground in April," she added.
"Easter is the second-biggest peak in the year for food shopping and, just as at Christmas, online is playing a growing part. 43% of shoppers say they have bought some of their groceries online in the last month, while 60% intend to shop online for groceries over the next three years."
Paul Martin, UK head of retail at KPMG said: "Food sales remained in the black for a full quarter, although this is largely being driven by rising inflation, so no reason for too much celebration."
Dickinson added: "First impressions of March's sales figures are underwhelming, with the first decline since August last year. That said, the distortion which results from the timing of Easter always makes spring a tricky period to assess and the later timing of the holiday this year certainly detracted from last month's performance."
The FTSE opened 0.2% up to 7,361.74 points. Marks & Spencer, Tesco and WH Smith lost some of yesterday's gains as the BRC-KPMG retaill monitor flaged tough conditions for the high street, falling 0.6% to 343.5p, 0.4% to 193.4p and 0.1% to 1,818p respectively.
Booker was amog the early risers, up 0.5% to 201.1p, as was Britvic (BVIC), up 0.4% to 658.5p and Dairy Crest (DCG), up 0.4% to 568.5p.
Yesterday in the City
Associated British Foods (ABF) was the big riser yesterday as its shares leapt 3.8% to 2,578p. It came as reports emerged that the Primark owner had appointed head hunter Spencer Stuart to identify a successor to chairman Charles Sinclair, who has led the company for eight years.
Elsewhere, there was strong growth for Tesco (TSCO) on the back of analysts forecasting better-than-expected profits on Wednesday in the full-year results. Shares were up 2.4% to 194.2p as a result. Also, the retailer confirmed its agreement with the UK Serious Fraud Office to pay a £129m fine to escape prosecution for the accounting scandal had been officially approved.
Booker (BOK) was also lifted 1.6% to 200.2p.
Marks & Spencer (MKS) had a strong day as the stock price rose 2.8% to 346.3p, and online grocer Ocado (OCDO) also recorded a 1.8% increase to 242.7p.
WH Smith (SMWH) completed a decent showing for the high street as its shares jumped 1.1% to 1,819p ahead of half-year results on Wednesday.
The strong gains for FTSE 100 companies Tesco, ABF and M&S was not enough to lift the blue-chip index, which was flat for the day at 7,348.94 points.
Yesterday's fallers included Coca-Cola HBC (CCH), down 1% to 2,060p, Compass Group (CPG), down 0.7% to1,517p, and Imperial Brands (IMB), down 0.6% to 3,892p.