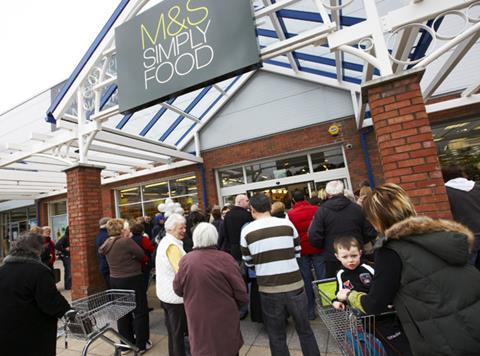 Top story
Profits at Marks & Spencer (MKS) dropped by almost a fifth last year as it struggles to turn around its sagging clothing business, but food continued its "outperformance" and M&S has pledged to step-up Simply Food opening programme.
Overall, in the 52 weeks to 26 March 2016 M&S saw profit before tax drop 19.5% to £483.3m on revenues up 0.8% to £10.4bn. Underlying profit before tax, which strips out one off costs, was up 3.5% to £684.1m.
M&S has reported results for the 53 weeks to 2 April, though the 52 week figures are comparable with 2014/15. In the 53 week period revenue was £10.6bn and pre-tax profit £488.8m.
Full-year food like for like sales were up 0.2% with overall food sales up 3.6% during the year.
Clothing and home like-for-likes were down 2.9% and 2.2% on an overall sales basis.
M&S has also announced the initial results from its strategic review this morning. In clothing it will focus on lowering prices and reduced promotional stance, while concentrating on sharper ranges, better availability and investment in store staffing.
In food M&S has pledged to continue its outperformance with a focus on innovation, quality and choice, while also retaining competitive pricing while maintaining margin.
It also announced it is accelerating its Simply Food opening programme. In addition to the 250 new Simply Food stores already due to open by March 2017, it is extending the opening programme by 100 stores per year in 2017/18 and 2018/19.
However, CEO Steve Rowe warned that "these actions, combined with the difficult trading conditions, will have an adverse effect on profit in the short term."
He added: "M&S is a great business with a strong customer base and loyal employees and we have much to be proud of. We also know that we have lots of opportunities to improve and be better for our customers, our employees and our shareholders. We are putting customers right at the heart of our business.
"Our results last year were mixed. We continued to outperform on Food but we underperformed on Clothing & Home sales. This is not satisfactory and today we are outlining our initial plans to address the issues and to position Marks & Spencer to deliver profitable sales growth. "
"We are, however, confident that our commitment to delivering the right product, price and service will help return Clothing & Home sales to growth. This, together with continued momentum in Food, will provide us with a solid base from which to build a long term sustainable business."
M&S shares have plunged 8.21% to 408.3p on the news that the new strategic initiatives will hit profits.
Morning update
Meat packing firm Hilton Food Group (HFG) has issued an update on trading for the period from 3 January 2016 to date ahead of its AGM today.
Hilton said its performance has been in line with the board's expectations and it has continued to grow by developing the business in existing markets and also through geographic diversification.
In Western Europe, Hilton said it has made "good progress" in a number of markets. In the UK, as anticipated, volumes have continued to grow relative to last year. It said the Irish business has also continued to show "encouraging signs" and it has seen first quarter volume growth in the Dutch market. In Sweden, volumes have been flat although turnover is up, reflecting the availability and price of Swedish pork. In Denmark, conditions have "remained challenging", while in Central Europe, it has seen steady volume growth.
International fruit and veg supplier Total Produce (TOT) has also issued a trading update today, raising its earnings expectations for the year.
The company said that trading for the first four months has been "satisfactory", and it is raising its full year adjusted earnings per share target into the upper half of the previously announced 10.50 cent to 11.50 cent range.
Since the beginning of 2016, the Group completed the acquisition of a 65% shareholding in Progressive Produce which is headquartered in Los Angeles, California, and has also completed a number of smaller acquisitions.
It said today: "Total Produce is in a strong financial position and continues to pursue attractive acquisition opportunities to further expand the group."
The FTSE 100 has shrugged off the M&S share price plunge this morning to rise 0.6% to 6,257.7pts.
Hilton Food Group is unchanged at 592.5p, but Total Produce is up 2.1% to 128.7p.
Ocado (OCDO) is back up 1.4% to 261.3p this morning and Fever-Tree has gained 1.1% to rise above 700p again after moving to 707p.
Applegreen (APGN) is down 5.4% to 332.5p, while Glanbia (GLB) is down 1.4% to €16.78.
Yesterday in the City
Tesco (TSCO) continued its recent share price roller-coaster ride yesterday, this time lurching up to become the FTSE's biggest riser of the day.
Tesco ended the day a healthy 6.8% up to 171p after Bernstein said it detected positive momemtum at The Grocer after studying its annual report. Bernstein yesterday reiterated its "outperform" rating on the stock with a price target of 220p. Bernstein said the ambitious level of the management incentive targets suggested Tesco may be more confident than the market is about its opportunities to grow margins.
Tesco led a strong rebound for the FTSE, which ended the day 1.1% up at 6,205.3pts.
Also caught up in the positive momentum around Tesco were Sainsbury's (SBRY), up 2.3% to 264.1p and Morrisons (MRW), up 2.1% to 196.2p.
Other risers yesterday included PZ Cussons (PZC), up 3.2% to 340.3p and Imperial Brands (IMB), up 3% to 3,769p.
Despite the better sentiment for supermarkets, Ocado (OCDO) ended the day down 2.2% to 257.8p, while Coca-Cola HBC (CCH) dropped 3% to 1,324p after the confirmation of the creation of a new European bottling giant Coca-Cola European Partners yesterday.
Dairy Crest (DCG) was also down 3.4% to 559p, while Hotel Chocolat (HOTC) continues to come back down to earth after its first week float bump, dropping 2.6% to 190.5p.