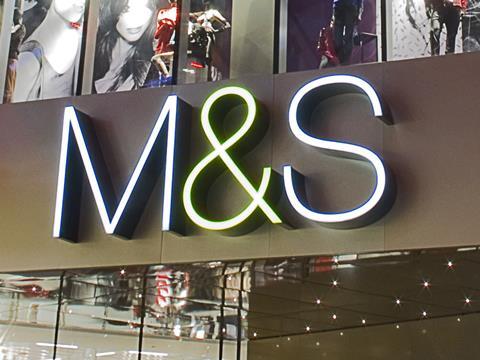 Top story
Marks & Spencer (MKS) shares slipped yesterday after one broker forecast a 5.5% slump in general merchandise sales over the festive period.
Nomura analyst Fraser Ramzan predicted a 5.5% collapse in general merchandise sales at stores open more than a year during the 13 weeks to December 26.
General merchandise sales fell 1.6% in the M&S' previous trading quarter.
Nomura also cut its full-year pre-tax profit forecast by 5% and trimmed its target price from 600p to 565p.
M&S polled 11 analysts on their Christmas trading forecasts, with consensus on general merchandise sales being down 2%.
The shares fell 1.1% yesterday to 442.9p.
Morning update
After a busier day that could probably have been expected yesterday, today is a more typically quiet Christmas week morning.
Hain Celestial managed to squeeze in its acquisition of Orchard House Foods before the the City packs up for Christmas, but there are no grocer or fmcg updates to speak of this morning as the City winds down for the festive period. Though in wider retail the signs are still worrying, with shares in Game this morning sliding 40% after a profits warning.
However, the supermarkets got a welcome boost heading into Christmas as the sector's shares staged a strong recovery this morning.
Tesco (TSCO) led the way, rising 3.8% this morning to back above 150p at 150.4p. Morrisons (MRW) followed, rising 2.2% to 151.8p, while Sainsbury's (SBRY) rose 1.4% to 262.8p
The FTSE 100 was up 1.4% to 6,170.1pts on a strong morning of trading in the City. Fmcg firms joined in the fun, with Diageo (DGE) up 1.6% to 1,834.5p and Associated British Foods up 1.4% to 3,302p.
M&S was more subdued, clawing back 0.3% to 444.6p.
Yesterday in the City
In the US Hain Celestial shares spiked to a three week high after the announcement it has acquired Orchard House Foods from Wellness Foods for an undisclosed price as it seeks to make its portfolio healthier.
The shares peaked at $41.90 before settling back down to end the day 0.9% down at $40.04. The shares have collapsed from $70.65 in August.
Worries over M&S' Christmas trading prospects had something of a dampening effect on the grocers, pulling back some of Monday's gains.
Tesco slipped 0.3% to 144.85p, Sainsbury's was 0.2% down to 259.1p, but Morrisons had a better day, rising 0.7% back to 148.6p.
Despite the M&S trading concerns, the FTSE 100 ended the day up 0.8%, at 6,083.1 after a surge in energy stocks.
Oil prices fell to a new 11-year low earlier this week, with brent crude touching $36 a barrel on Monday, but it recovered to $36.45 a barrel yesterday.
Merry Christmas!
The Grocer finance newsletter is signing off for Christmas this morning and will be back for the glut of Christmas trading updates (starting with M&S on the 7th) in the New Year. So from all on The Grocer's finance team, have a merry Christmas and Happy New Year.