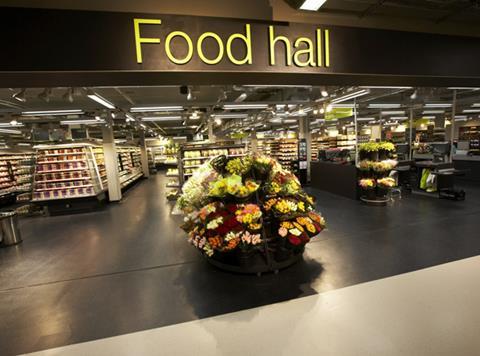 Top story
Marks & Spencer (MKS) is planning to accelerate the rollout of its food stores and reduce its clothing offer as it seeks to turn around the struggling business and rebuild profits.
The retailer will open more than 200 new Simply Food stores by the end of 2018/19, while closing 30 full-line shops and downsizing another 45 to food halls.
It is also planning to exit 10 of its loss-making international markets, including all its stores in Belgium, Estonia, Hungary, Lithuania, the Netherlands, Poland, Romania and Slovakia, making 2,100 staff redundant across 53 shops.
The changes in strategy will cost M&S about £350m in the UK over the next five years and £150m to £200m for withdrawing from overseas markets.
"At the end of five years, we will operate from fewer, better clothing & home stores, but from substantially more Simply Food stores," the business said. "In total, M&S expects to have more stores, in more convenient locations for our customers, offering greater employment opportunities for employees."
Underlying profits plummeted 18.6% in the 26 weeks to 1 October to £231.3m as clothing and home sales declined further. Pre-tax profits almost halved to £25.1m after one-off costs of £206m.
Group revenues nudged up 0.9% to £4.99bn thanks to its food business where sales increased 4% overall thanks to 21 net new stores. However, on a like-for-like basis food sales slipped 0.9% as Tesco and Morrisons made recoveries.
The decline in the beleaguered M&S clothing division slowed in the second quarter but sales were down 5.3% in the half.
CEO Steve Rowe said: "In May, we laid out a number of questions which we would answer as part of our strategic review. We committed to creating a simpler business with customers at its heart, and taking action to start to recover our clothing & home business and continue to grow in Food.
"Our aim is to build a sustainable business which will delight our customers, provide a robust foundation for future growth and deliver value for our shareholders in the long term. We have made good progress on our plans and customers are already noticing a difference, particularly in clothing & home."
He added: "These are tough decisions, but vital to building a future M&S that is simpler, more relevant, multi-channel and focused on delivering sustainable returns."
Shares have fallen 1.1% to 345.6p so far this morning on the back of the results and the new strategy.
Morning update
Associated British Foods (ABF) increased revenues and profits in the past year as Primark continued its rapid expansion, the sugar business improved and grocery achieved growth. Revenues in the 53 week to 17 September rose 5% to £13.4bn and adjusted operating profits were up 3% to £1.1bn.
CEO George Weston said 2016 was a "turning point" for the AB Sugar business as it arrested the heavy profit falls in recent years as price increased. Sales in the division were down just 1% (and up 5% when stripping out currency movements) to £1.8bn, with adjusted profits up 3% to £34m. Taking over full control of the Illovo business, at a time when increasing populations and rising incomes are driving growth in the African sugar market, is expected to accelerate its performance improvement and commercial development.
The grocery division, which includes Twinings, Ovaltine and Kingsmill, achieved revenue growth of 3% to £3.3bn against a background of food commodity price deflation as bread volumes increased substantially.
Weston said: "This has been a year of progress for all of our businesses with a substantial expansion in Primark's selling space, increased margins in all of the food businesses and fundamental structural changes at AB Sugar.
"The recent decline in the value of sterling presents both benefits and challenges to the group. The diversity of our operations and our broad geographical footprint, combined with a strong balance sheet, equip us well to take advantage of these opportunities as they arise."
Imperial Brands (IMB) increased net tobacco revenues 9.7% to £7.2bn despite overall volumes slipping 3% as its growth brands performed strongly. Total adjusted operating profit was also up 10.4% to £3.4bn in the year to 30 September. Overall revenues rose 9.3% to £27.6bn and operating profits were up 12.1% to £2.2bn.
CEO Alison Cooper said: "We delivered another strong performance this year with great results from our expanded US business, and we further improved the quality of our growth. We grew the dividend by 10% for the eighth consecutive year and remain committed to this level of increase over the medium term.
"Our strategy is delivering and we see scope for significant further shareholder value creation by remaining relentlessly focused on the same four strategic priorities. We are today also announcing further investment behind our strategy to support revenue growth over the medium term. This investment will be supported by a new phase of cost optimisation, targeting a further £300m of annual savings by 2020, at a cost of £750m. We have established an excellent platform for sustainable quality growth, which will continue to provide growing returns for shareholders."
Food sales have grown for the fourth month running in October as Halloween provided the high street with a much-needed boost. UK retail sales increased by 1.7% on a like-for-like basis from October 2015, when they had decreased 0.2% from the preceding year, according to the BRC-KPMG. And total sales jumped 2.4% year on year – the strongest growth since January. Over the three-months to October, food sales increased 0.1% on a like-for-like basis and 1.5% overall.
Chief executive IGD Joanne Denney-Finch said: "Although there's been widespread discussion about the possible return of food inflation after such a long run of falling prices, the tide has yet to turn, so the fourth consecutive month of sales growth is particularly encouraging for the grocery sector.
"After a strong spike in the run-up to Halloween, food retailers will also feel optimistic about Christmas. However, concern about inflation is definitely heightening, with 75% of shoppers expecting food prices to rise in the year ahead, up from 62% who felt this in September."
British Retail Consortium CEO Helen Dickinson added: "It is clear from today's figures, that despite the inflationary pressure that's gradually building in the supply chain, retailers are currently effectively managing the additional cost burdens and continue to entice their customers with great choice and value."
Shares in ABF have jumped more than 6% so far this morning to 2,639p on the back of the positive full-year results, while Imperial Brands has fallen 2.6% to 3,705.5p. The FTSE 100 has nudged up 0.1% to 6,810.07 points as we head into the final day before polls close in the US election.
Yesterday in the City
Premium mixer brand – and City darling – Fever-Tree (FEVR) has set another record as it closed above 1,000p for the first time after upping its profit expectation yet again. The stock fizzed 12% higher yesterday to 1,082.1p as it flagged strong second half sales. It is now up almost 81% in 2016, valuing the business at £1.2bn – and eightfold increase on the £154m Fever-Tree was worth when it floated in November 2014.
Marks & Spencer and Associated British Foods both increased in value ahead of results this morning, up 1.4% to 349p and 0.8% to 2,489p respectively. Imperial Brands, which also has a trading update out this morning, slipped 0.5% to 3,803p.
Sainsbury (SBRY) nudged upwards by 0.3% to 255.6p ahead of half-year figures on Wednesday. The supermarket announced the appointment of Poundland CEO Kevin O'Byrne as new CFO yesterday.
The FTSE 100 rallied after uncertainty on Friday to close 1.7% higher at 6,806.9p as Hilary Clinton pulled ahead in the race for the White House just a day before polls close.
Tesco (TSCO) fell 1.2% to 200.2p as the supermarket was forced to halt online payments for all its current account bank customers today, after hackers raided money from 20,000 accounts.
Ocado (OCDO) was also among the day's fallers, registering a 1.1% decline to 271.5p.