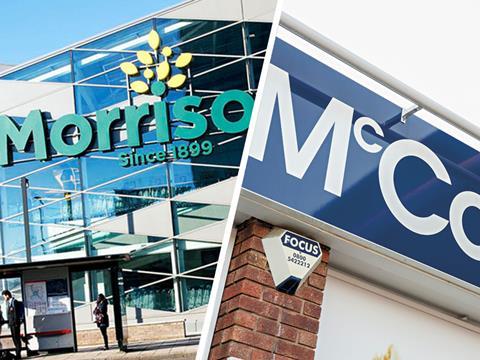 Top story
McColl's Retail Group has extended its wholesale supply agreement with Morrisons and is converting hundreds of stores to the supermarket's convenience offering.
Over the next three years, 300 McColl's convenience stores will be converted to the Morrisons Daily format. The stores will offer a full Morrisons convenience range and will be branded Morrisons Daily but will continue to be owned and operated by McColl's.
McColl's said this morning that the 31 existing Morrisons Daily stores in its estate had consistently delivered positive like-for-like sales performance, driven by "a higher mix of grocery sales, breadth of offer and value proposition". The group added these stores had performed strongest during the pandemic and were in the best position to meet customer demand in the future.
In addition, the two group's extended their existing partnership by a further three years, with Morrisons to act as McColl's sole wholesale supplier until to 2027.
McColl's said the agreement represented "a significant milestone" in its strategic goal of becoming a food-led convenience retailer, giving even greater access to Morrisons grocery expertise and brand.
CEO Jonathan Miller added: "In Morrisons we retain a long-term partner with best-in-class sourcing and manufacturing capabilities and a leading convenience offer for the local neighbourhood communities we serve across the country.
"Despite the challenges presented by Covid-19, the new partnership represents another significant step forward in achieving our strategic goal of increasing our fresh food offering in our store estate, while offering the best value for money for our customers. We are well positioned to continue enhancing our convenience offer and improving the quality of our estate at a time when the importance of neighbourhood stores has never been greater."
Under the terms of the new agreement, Morrisons will supply the entire McColl's estate of more than 1,200 stores with its own-label convenience range for a further three-year period to January 2027. McColl's will continue to have access to a fresh food and grocery offer through the Safeway brand, where further range extensions are planned.
Morrisons CEO David Potts said: "Today's agreement is another example of Morrisons extending the reach of our popular brand. In doing so, we are building a broader, stronger Morrisons for customers, and leveraging our existing assets to achieve capital light, profitable growth.
"We are delighted to be further expanding our successful partnership with McColl's and look forward to growing together for many years to come."
The partnership is supported by McColl's existing banking syndicate, with an agreement in place to amend the existing debt facilities to provide increased headroom and extend the maturity of the facility to February 2024. The updated facility consists of a £100m revolving credit facility and an amortising £67.5m term loan.
Miller added: "Today's important milestone has been achieved with the welcome support of our banking syndicate, enabling us to execute our strategy to deliver sustainable profitable growth."
Sales at McColl's increased 7.9% on a like-for-like basis in the 12 weeks to 21 February thanks to strong demand for the local convenience offering driven by the ongoing lockdown, the company said in a brief trading update accompanying the wholesale announcement.
However, a shift in the pattern of trade away from higher-margin impulse categories continued to generate lower gross margins overall, the group added.
Shares in McColls soared by more than 9% to 26p this morning after revealing the news, while Morrisons was up a more modest 0.7% to 172p.
Morning update
Ocado has kick-started operations at its new mini customer fulfilment centre (CFC) in Bristol.
The new 150,000 sq ft facility, a quarter of the size of Ocado's Erith CFC, has the capacity for more than 30,000 orders per week and will support around 815 jobs when it is operating at peak capacity.
The group said the mini-CFC offered local customers shorter lead times for delivery, while opening up more capacity for new and existing Ocado customers across the country.
Prior to the Bristol facility opening, Ocado Retail has been delivering around 374,000 orders a week from Ocado.com. CFCs in Purfleet and Andover (85,000 and 60,000 orders per week, respectively) remain on track for opening in the fourth quarter of 2021.
Once all three new sites are fully ramped up, Ocado Retail will have increased capacity by 40% compared with 2020.
Ocado Retail has another mini-CFC planned to go live in the first half of 2022 in Bicester, while Kroger in the US is currently constructing a mini-CFC to open in Michigan at a similar time.
Ocado Solutions CEO Luke Jensen said: "Grocery boardrooms worldwide are wrestling with the question of how to build online capacity that not only meets the growth in demand they have seen in the past year, but that also serves that demand profitably and flexibly in the long term, with a better customer offering than competitors.
"This mini-CFC underlines the flexibility Ocado's solutions bring to our partners, complementing the scaled benefits of Ocado Retail's larger sites and shortening the order lead times available to customers in Bristol."
Ocado Retail CEO Melanie Smith added: "We are so proud to be delivering the first orders from our newest CFC in Bristol today. Mini-CFCs like this allow us to better serve our customers, as we provide the best quality products from the widest range of any grocer. We continue to put our customers' needs first, prioritising speed, amazing service and exceptional value."
The FTSE 100 rebounded strongly this morning to climb 1.9% to 6,603.22pts as equity and bond markets round the world stablised following heavy falls last week as investors worried about the prospect of inflation when economies reopen later this year.
The positive mood spilled over into the food industry, with hardly any shares in the red first thing.
Climbers included Total Produce, up 5.9% to 180p, Marston's, up 3.3% to 98.8p, and Science in Sport, up 3.2% to 46.9p, with most stocks in positive territory.
This week in the City
The main news this week as a new months begins is the Budget on Wednesday lunchtime, but there's also plenty of other updates scheduled.
Tomorrow brings half-year results from Hotel Chocolat, the latest monthly Kantar grocery sales figures and first dealings in the Virgin Wines IPO, while HelloFresh also reports its latest quarterly figures.
Packaging firm DS Smith issues trading update on Wednesday, alongside Vimto maker Nichols, which reports its full-year results on the same day, and there is also the latest shop price index from the BRC. Also on Wednesday evening, we get the latest quarterly FTSE Index review, with Morrisons at risk of demotion as new listings Dr Martens and Moonpig look to step into London's blue-chip index.
Thursday brings the Q4 results from Ocado's big US client, the supermarket giant Kroger.