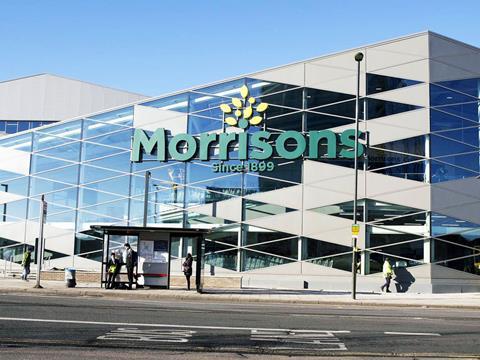 Top story
Morrisons (MRW) continued to make progress with a turnaround as it reported a seventh successive quarter of like-for-like growth.
Revenues in the first half to 30 July increased 4.8% to £8.4bn, with like-for-like sales, excluding fuel and VAT, rising 3%, compared with just a 1.4% rise a year ago.
The supermarket registered a 2.6% like-for-like increase during the second quarter, the seventh period of growth in a row, with 2.5% coming from stores and 0.5% from the wholesale operations.
Underlying pre-tax profits jumped 12.7% to £177m and reported profits were up 40% to £200m.
Chairman Andrew Higginson said: "This is another good performance from Morrisons. Our seventh consecutive quarter of positive like-for-like means that we are able to report profit growth on growth for the first time in the turnaround.
"With good trading momentum and a strategy to build a broader, stronger Morrisons, the business is well set to continue to deliver consistent and sustainable growth for its stakeholders."
CEO David Potts added: "A new Morrisons is beginning to take shape. The capability of the team continues to improve and we are making strong headway with our plans to 'Fix, Rebuild and Grow'.
"Our supermarkets continue their focus on improving the customer shopping trip and, in wholesale supply, we are beginning to realise some of the opportunities that our unique team of food makers and shopkeepers bring us."
Following the recently announced landmark supply agreement with McColl's, Morrisons expected total annualised wholesale sales to all its partners to exceed £700m (including tobacco) by the end of 2018 – and to pass £1bn "in due course".
Morrisons said in the interim results that while it was still in turnaround in many areas, it had made "good progress" with plans to build a "broader, stronger business".
The City failed to be impressed as shares crashed 3% to 237.7p as Morrisons warned of a competitive landscape and inflationary pressures.
Morning update
Profits plunged almost 20% at Waitrose in the first half as the upmarket grocer chose to swallow higher costs caused by the weak pound instead of passing them on to customers.
Inflationary pressures driven by the fall in sterling since the Brexit vote have squeezed margins at the business, which decided not to raise prices as it strained to remain competitive with rival supermarkets and the discounters.
Operating profits before exceptional items fell 17.4% to £100.8m in the six months to 29 July 2017, with property profits relieving some of the pressure as reported operating profits fell just 8.5% to £88.1m.
Revenues at Waitrose rose 2.2% in the half to £3.1bn, with like-for-like growth of 0.7%.
Owner John Lewis Partnership also increased sales 2.2% to £4.8bn, with John Lewis contributing £1.6bn, a jump of 2.4%.
Profits at the group fell 53.3% to £26.6m.
Chairman Sir Charlie Mayfield said: "As we anticipated in our full year results statement in March, the first half of this year has seen inflationary pressures driven by exchange rates and political uncertainty. These have dampened customer demand, especially in categories connected to the housing market. Against that backdrop, our market share gains in fashion stood out. The exchange rate driven increase in cost prices has also put pressure on margin. We have chosen to hold back on increasing prices across many areas."
For the first six weeks of the second half, Partnership gross sales were up 2.4%. Waitrose gross sales were up 1.2% (0.4% like-for-like, excluding fuel) and John Lewis gross sales were up 4.5% (2.6% like-for-like).
"Sales growth has continued in the first few weeks of the second half," Mayfield added. "We are well set for our all-important seasonal peak, but we expect the headwinds that have dampened consumer demand and put pressure on margins to continue into next year. In addition, we will incur higher pension accounting charges in the second half year, as a result of low market interest rates. These will all impact our full year profits."
Booker Group (BOK) has reported another "good" quarter as total sales rose 1.1%, with non-tobacco revenues up 5.8%. The wholesaler revealed like-for-like growth of 1.3% in the 12 weeks to 8 September – its second quarter – with a 6% jump in like-for-like non-tobacco sales. Tobacco sales continued to be hampered by changes in legislation for packaging and display, with sales down 9.7% in the quarter. Booker said it continued to make progress with Booker Direct, Chef Direct, Ritter and Booker India. Premier continued to grow and Budgens and Londis were performing well, the group added.
"Booker Group continues to make good progress with like-for-like non tobacco sales up 6.0%," CEO Charles Wilson said.
"Our plans to 'Focus, Drive and Broaden' Booker Group are on track. The competition review of the planned merger with Tesco plc is progressing. We continue to help our retail, catering and small business customers prosper through improving our choice, prices and service."
Beleaguered Real Good Food (RGD) is planning to appoint external advisors to conduct a full review of the company's corporate governance and financial reporting procedures following the news last month that payments to former executive chairman Pieter Totté totalling almost £2m had not been disclosed properly.
"The board is clear that the standards of corporate governance and reporting have historically been below those which investors might reasonably expect and is committed to rectifying this important aspect of operations and disclosure," a statement to the stock exchange said this morning.
The owner of Renshaw cake decoration business and Haydens bakery also released a profits warning last month after discovering its profits would be well below what it had previously announced.
Yesterday in the City
Greencore (GNC), which has been under pressure recently as the City worries about its US business, fell another 3.3% yesterday to below 200p at 197.4p.
It was a quiet day on the markets in terms of news flow from the stock exchange.
Morrisons (MRW) received a 0.9% bump to 245.9p ahead of this morning's results. Associated British Foods (ABF) clawed back 0.8% of the losses incurred on Tuesday to 3,168p.
Booker (BOK) and Tesco (TSCO) also registered heavy falls, down 2.4% to 198.8p and 1.7% to 181.9p respectively.
Supermarket supplier Premier Foods (PFD) was also in the red, down 3% to 40.8p, with Britvic (BVIC) and Ocado (OCDO) also fallers, down 1.4% to 761p and 0.8% to 305.7p.
There was welcome relief for beleaguered Real Good Food as the stock jumped 6.1% to 26p. The cake decoration and bakery group has been hammered in the past month after a profits warning.
Other risers yesterday included Conviviality (CVR), up 1.3% to 385.8p, B&M European Value Retail (BME), up 0.9% to 367.5p, and Marks & Spencer (MKS), up 0.9% to 325.6p.
The FTSE 100 softened 0.3% to 7,379.70 points as the strengthening of sterling caused worries for the overseas constituents of the index.